The Hidden Joule | Episode 10
The Hidden Joule | What is this material they call SiC?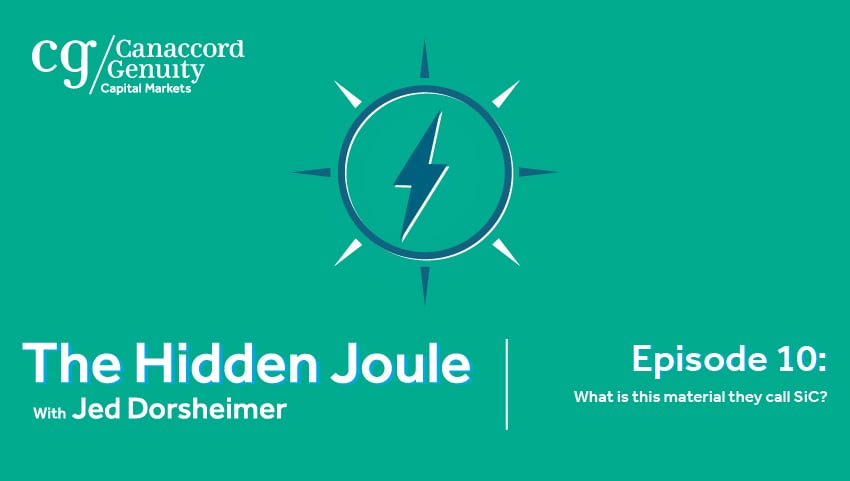 Episode 10: What is this material they call SiC?
Silicon Carbide is a critical wide band gap semiconductor used in the burgeoning power electronics markets. We sit down with world renowned expert in SiC device design, Dr. Peter Gammon, to discuss its efficacy and value in our automotive, solar, grid and motor control applications. We address the following key points:
SiC's role in electron mobility and transport of electricity.
EV adoption of SiC in traction inverters and other automotive applications.
Our transistor "dam" metaphor to make the technology more understandable for those without a EE background.
Silicon and Gallium Nitride as substitute and competitive material sets.
About the Hidden Joule Podcast
The Hidden Joule Podcast is our return to science and conversation. Our goal is to leverage our extensive network of thought leaders, investors and companies to facilitate conversation around prickly topics such as Climate Change, Human Evolution and Behavior, System Complexity, Technological Progress, Allocation of Resources, Scale and Growth. With the responsibility of the Sustainability/ESG practice at Canaccord Genuity, we feel a moral obligation to address these key issues as we begin to shift from shareholder returns to broader stakeholder returns. We believe that in order for the ESG investment framework to be successful, a high level of scientific rigor and discussion must be applied and utilized. We believe that the availability of different resources (including financial) shape the future of companies and economies. Further, investment criteria and decision-making processes for ESG will be a critical component influencing corporate behavior and governing policies in our shared future society.
Find this information useful? Share it with others...
How can we help?
If you would like to find out more about Canaccord Genuity or any of our services, please get in touch.