Driven By Diversity & Inclusion
A career at Canaccord Genuity means working for a client-centric organization with a global reach across 10 countries. We are driven to achieve for our clients, our shareholders and each other – our people and culture are at the heart of our success. No matter what your role, you have the opportunity to make a positive difference through your ideas and hard-work and be rewarded for your performance.

Canaccord Genuity is committed to encouraging a diverse workforce and to promoting a respectful and inclusive culture in which everyone has the opportunity to thrive and realize their potential. We recognize that diversity across our business strengthens relationships, enables more innovative solutions for our clients, as well as creating a more stimulating place to work. Building and developing a truly varied team of talented people from all walks of life is essential for tackling new global challenges, adapting to changing markets and appealing to an increasingly diverse client base.
Accountable
We are constantly seeking to meet and exceed the expectations of our customers, partners and colleagues by fulfilling our role effectively and with great enthusiasm.
Aligned
Our values and brand image are reflected in our corporate culture. By working together in harmony, we get better results and provide a brilliant experience for our clients.
Approachable
Our friendly culture keeps us engaged with our clients, partners and colleagues.
Youth INC Partnership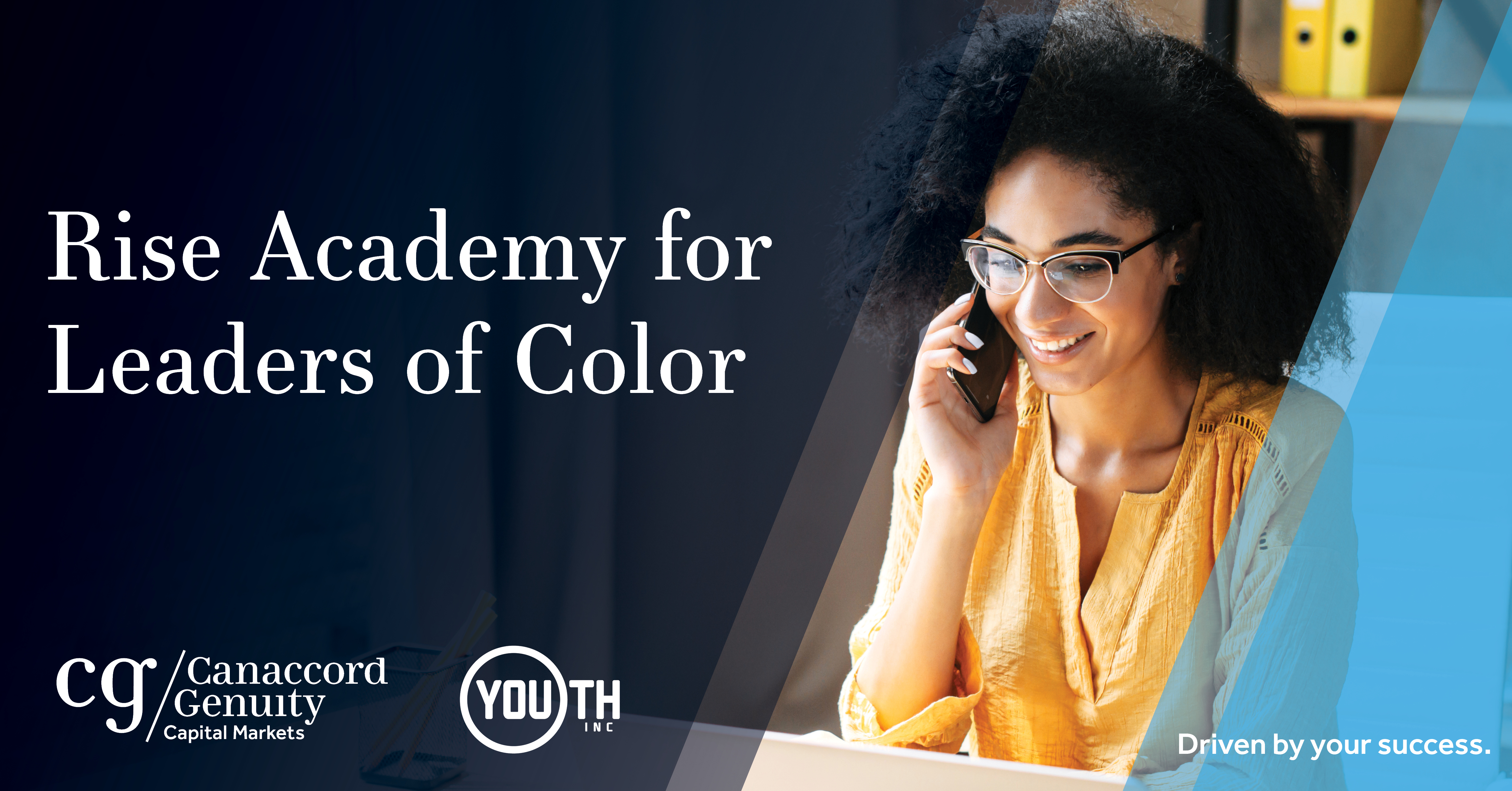 Canaccord Genuity partners with Youth INC's Rise Academy for Leaders of Color, a program aimed to shift the landscape for BIPOC nonprofit leaders in youth development organizations.
"Over a decade of supporting Youth INC, we have witnessed the incredible work they do to provide youth development organizations with resources to help young develop skills and confidence to achieve their full potential."
Jeff Barlow
President, Canaccord Genuity LLC
Read the Press Release
Our People, Our Values
The best examples of our values are the people who work here
Meet our team
Previous Events


brainSHIFT: 3 Steps to Break the Stress-Success Cycle

BlackNorth Talks | An Exclusive Virtual Speaker Series

Celebrating International Women's Day

Unconscious Bias to Inclusive Leadership

CG Pride: A Presentation on Gender Diversity and Mindset/Practices for Cultivating a Gender-Friendly Company Culture

How to be a LGBTQ+ Ally with Kevin Mclean,

Co-chair of CBRE's PROUD network
How can we help?
If you would like to find out more about Canaccord Genuity or any of our services, please get in touch.