Our specialist service
At Canaccord Genuity Wealth Management (CGWM) we offer a comprehensive estate and probate valuation service, to support both legal professionals and executors acting independently.
Our highly experienced team will provide quality advice and help you by undertaking some of the most specialist administrative tasks. We will act efficiently and quickly, bringing you the accurate information you need as soon as possible.
We'll work closely with you to provide a stress-free service for your clients, offering them convenience and reassurance at a difficult and sensitive time.
For probate purposes we can value a deceased's investment assets as at the date of death. After that, if the beneficiaries wish, we can provide a dealing and stockbroking service to liquidate some or all of the investments, helping you with ongoing financial planning and investment management advice.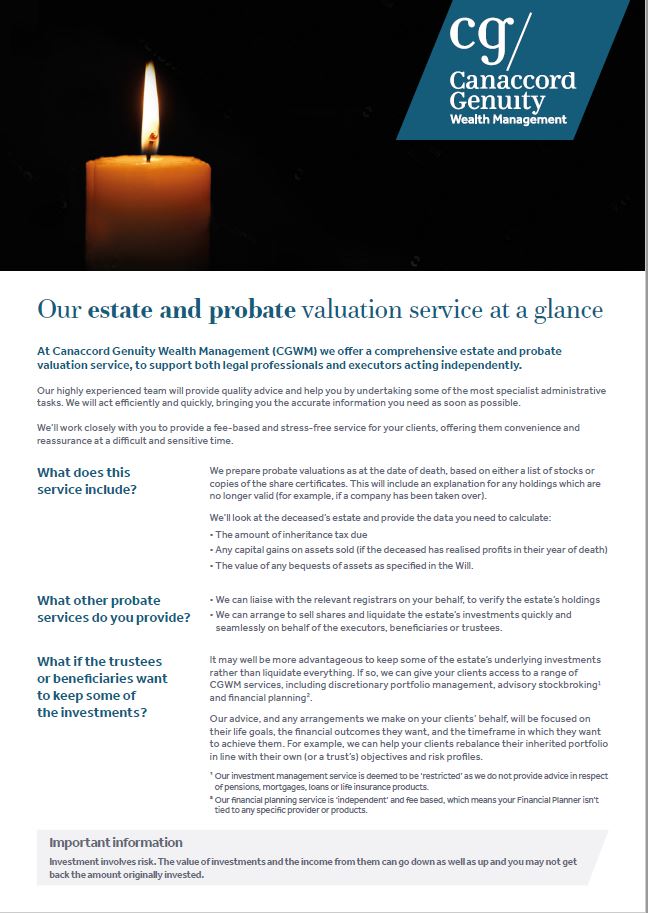 Download our estate and probate sales aid
Find out more about our comprehensive service

Read more about how we can calculate various things such as the amount of IHT due

Find out more about our wider services.
Download
How can we help?
If you'd like to know how we can help with your clients' investment needs, our intermediary team will be delighted to answer your questions and provide more details of our services.
IMPORTANT: Investment involves risk. The value of investments and the income from them can go down as well as up and you may not get back the amount originally invested. Past performance is not a reliable indicator of future performance.