Important information
For financial advisers and investment professionals only
The information in this area of the website is aimed at financial advisers and other professional financial intermediaries in the United Kingdom and it is not intended for direct use by private investors or onward distribution to retail clients or the general public. Please visit our home page for information and resources for private clients.
The website is for information purposes only and is not to be construed as a solicitation or an offer to purchase or sell investments or related financial instruments.
I confirm that I am an investment intermediary authorised and regulated by the Financial Conduct Authority. I have read and understood the legal information and risk warnings.
Services for intermediaries
When you are choosing a partner to help you manage your clients' wealth, you want to be confident their investment process is rigorous, robust and trustworthy. Our main objective is the same as yours: to ensure your clients feel confident, valued and satisfied.
Our team is supported by 12 investment committees, 65 in-house researchers and analysts, and industry-leading tools including Quest®, Canaccord Genuity's proprietary equity valuation system. You can use our flexible investment framework to access model-based to fully tailored portfolios, accommodating high- to low-risk profiles, at various investment levels – all on our in-house platform. In the UK, our Managed Portfolio Service (MPS) and Inheritance Tax (IHT) Portfolio Service are also available through third party platforms.
We work with IFAs, international advisers, lawyers, insurance companies, accountants, trust companies, charities, family/multi-family offices and other third party introducers, providing a service for your individual clients or the charities or organisations you represent.
We will tailor our partnership to meet your needs and preferences as well as your clients', and your lead manager will build an enduring relationship that works for you and your firm.
Services to suit your profession
Our investment process
Our goal is to meet your clients' personal investment needs and achieve the best possible returns for each client's level of risk.
Find out more
All document downloads
If you need to access any of our documentation, whether for yourself or your clients, you can find the forms and more here.
Access documents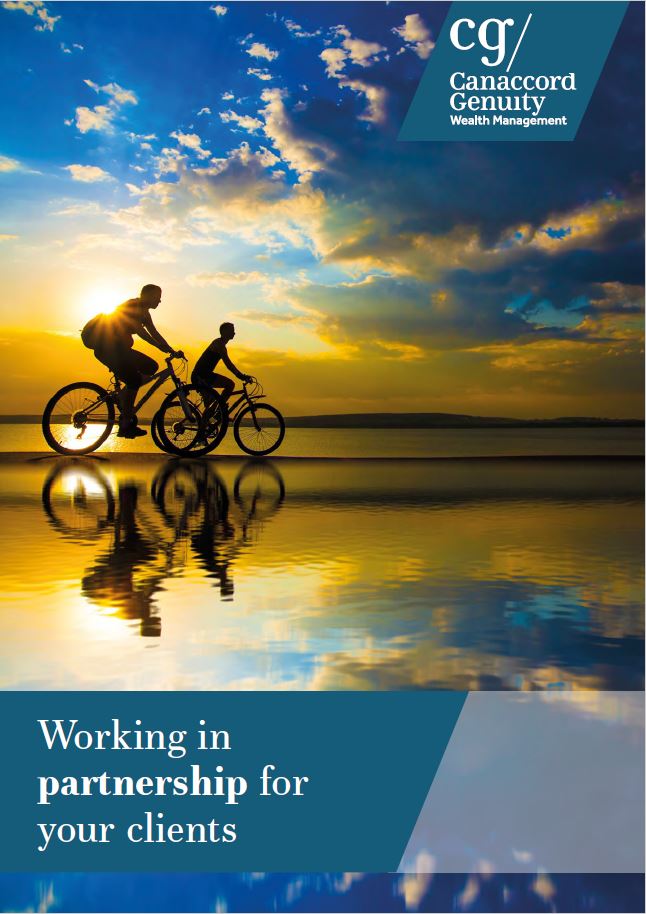 Download our intermediary brochure
Find out more about our investment process
How we'll keep you up-to-date
Our range of services.
Download
Why choose to work with Canaccord Genuity Wealth Management?
Our highly analytical centralised investment process includes in-depth research and continuous monitoring
We actively manage investments, aiming to maximise returns and minimise losses
We'll communicate with you regularly in whichever way suits you
Your clients' wealth is in safe hands – we have a strong track record of meeting our investors' wealth management needs and delivering consistent returns
Your client's Investment Manager will always be on hand when you need them
You can clearly assess our performance with a number of investment consultants including ARC, Defaqto, Distribution Technology, Enhance, Morningstar and FE
How can we help?
If you would like to know how we can help with your investment management, wealth or financial planning needs, get in touch. We will be delighted to provide more details of our services.
Investment involves risk and you may not get back what you invest. It's not suitable for everyone.
Investment involves risk and is not suitable for everyone.