Managed Portfolio Service (for intermediaries)
Important information
For financial advisers and investment professionals only
The information in this area of the website is aimed at financial advisers and other professional financial intermediaries in the United Kingdom and it is not intended for direct use by private investors or onward distribution to retail clients or the general public. Please visit our home page for information and resources for private clients.
The website is for information purposes only and is not to be construed as a solicitation or an offer to purchase or sell investments or related financial instruments.
I confirm that I am an investment intermediary authorised and regulated by the Financial Conduct Authority. I have read and understood the legal information and risk warnings.
Managed Portfolio Service for intermediaries
Our Managed Portfolio Service offers a range of risk-rated discretionary portfolios for intermediaries with clients who don't need a tailored portfolio. For a recommended minimum investment of £100,000 they'll have access to a level of resources usually reserved for high net worth discretionary clients.
They can choose from seven portfolios investing in collectives and ETFs, and for larger investments they can use five MPS direct portfolios investing in UK equity, fund and bond holdings, which they can access either directly or through third party platforms.
These portfolios include such themes as technology, healthcare and infrastructure, to broaden each client's investment solution. Dynamic asset allocation means we can adapt investments in line with changes in the investment market and economic outlook.
If you're an IFA or trustee, we're committed to supporting you, and we'll respect your views of which investments are suitable for each of your clients – so we'll map our models to your own risk-profiling tools.
Why choose our Managed Portfolio Service?
Our global presence and intellectual capital support an advanced approach to portfolio diversification
Active, dynamic decision-making means client investments aren't constrained by geography, sector or benchmarks
We deliver consistent, risk-adjusted returns across the risk spectrum, to make sure we meet each client's objectives
You choose exactly how our flexible partnership works
We offer a structured, robust and disciplined investment process
You can contact your Canaccord Genuity Wealth Management team by phone or email whenever it suits you (within working hours)
It's consistently rated 5 star by Defaqto.
The investments discussed on this website may not be suitable for all investors. Investors should make their own investment decisions based upon their own financial objectives and financial resources and, if in any doubt, should seek advice from an investment adviser.
Our portfolios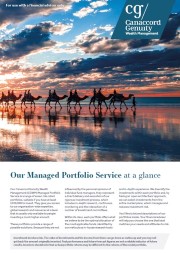 Download our brochure
Find out the details of the service

Read about how we'll keep you informed

Find out more about our wider services.
Download
How can we help?
If you'd like to know how we can help with your clients' investment needs, our intermediary team will be delighted to answer your questions and provide more details of our services.
How can we help?
If you would like to know how we can help with your investment management, wealth or financial planning needs, get in touch. We will be delighted to provide more details of our services.
Investment involves risk and you may not get back what you invest. It's not suitable for everyone.
Investment involves risk and is not suitable for everyone.