Our ESG investment strategy explained
Investors are increasingly considering ESG (environmental, social and governance) principles alongside traditional financial factors, to create a more sustainable portfolio. There is even evidence that companies that meet high ESG standards tend to outperform those that don't by a significant margin. Equally, companies that act irresponsibly have seen catastrophic repercussions, both ethically and commercially.
Our ESG Portfolio Management Service lets you take a more responsible approach to investing; helping you invest in funds that work towards making the world a better place, while also doing your best for your long-term financial security.
ESG investment principles
Looking at the criteria set out below allows investors to assess a company's social and economic impact and think about how this might affect a business model over time. Businesses working in a more sustainable way, with robust policies and procedures around ESG issues may also be attractive from a risk and return perspective.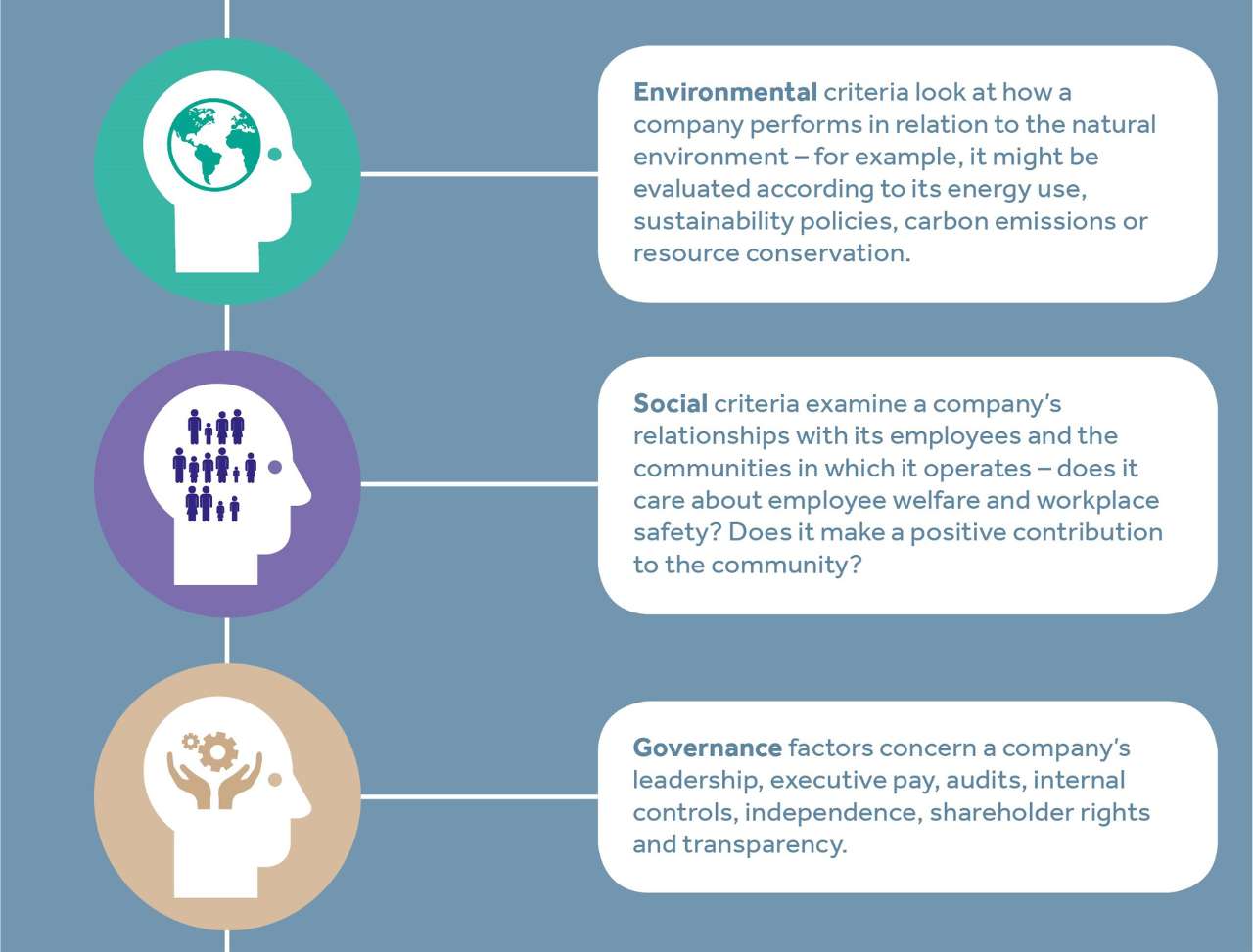 Our ESG investment criteria
We look for funds investing in businesses that generate a measurable social or environmental benefit alongside an investment return. The companies in the funds we select are thinking about the bigger picture and doing their best to give something back. We believe this will ultimately make them more sustainable, which is good for your investment portfolio.
Our ultimate aim is to find funds that deliver competitive returns, mitigate ESG risks, pursue ESG opportunities and focus on measurable impact solutions. To achieve this, we thoughtfully combine the following methods to create a portfolio that offers a sensible long-term investment strategy while making a positive difference:
1. Socially responsible investing (SRI)
Focusing on screening out companies with links to controversial activities. Confirmed by Morningstar Sustainalytics, the funds in your ESG portfolio will have zero exposure to any company that:
Has any ties to controversial or nuclear weapons
Violates the UN Global Compact principles – 10 universal corporate sustainability principles on human rights, labour, environment and anti-corruption
Derives 5% or more of its revenue from mining or power generation from thermal coal (coal burned to make electricity)
Produces civilian firearms or small arms ammunitions, or derives 5% or more of its revenue from distribution to civilian markets
Is classified as a producer of tobacco, or derives 5% or more of its revenue from the distribution, retail and supply of tobacco-related products
Derives 5% or more of its revenue from oil sands extraction (known to produce more greenhouse gas than other sources), or owns oil sands reserves and discloses evidence of deriving revenue from oil sands extraction.
2. Sustainable or ESG investing
Attempting to rank companies according to a variety of factors, in order to assess how sustainable a business is when compared with its peers.
3. Impact investing
Choosing companies which have a demonstrable positive impact on the world, as well as offering a financial return. We choose funds with investment strategies that aim to support the United Nations (UN) Sustainable Development Goals. These are 17 goals that the UN has set out for its member states to achieve by 2030 for peace and prosperity for people and the planet.
Our ESG portfolios
Our multi-manager ESG portfolios are designed to work over a typical investment cycle of 7-10 years, so we recommend you stay invested for at least seven years.
Our Cautious Balanced portfolio aims to achieve a balance between capital appreciation and reduced volatility
Our Balanced portfolio aims to achieve a balance between capital appreciation and income
Our Growth portfolio aims to achieve capital appreciation.
Within our ESG portfolios, we use funds containing global equities and fixed interest and cash-type investments to provide diversification, focusing on the themes we consider likely to perform in the prevailing economic environment.
As funds improve their ESG credentials and ambitions, we use dynamic asset allocation to adapt your investments and keep them in line with your objectives.
We will also make changes to reflect our current views of the investment market and economic outlook. This may result in a larger weighting in alternative investments (like commodities, currencies and absolute return funds) to help reduce volatility, as these alternatives generally don't move in line with equities and bonds.
Investment involves risk. The value of investments and the income from them can go down as well as up and investors may not get back the amount originally invested. Past performance is not a reliable indicator of future performance.
Our portfolios are designed to work over a typical investment cycle of 7-10 years, so we recommend you stay invested for at least seven years.
The information provided is not to be treated as specific advice. It has no regard for the specific investment objectives, financial situation or needs of any specific person or entity.
Read more of our ESG content
Meet our ESG investment experts
If you would like to know more about our ESG Portfolio Management Service, please get in touch. We will be delighted to give you more details.
Investment involves risk and you may not get back what you invest. It's not suitable for everyone.
Investment involves risk and is not suitable for everyone.