20171214 - Covering the cost of care homes
Covering the cost of care homes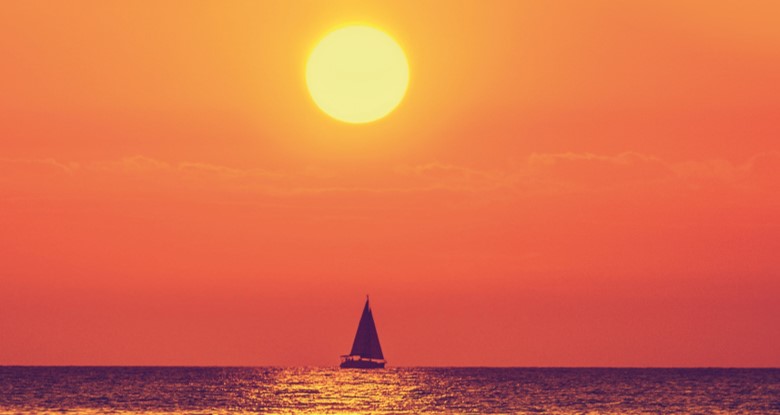 Although the government is aiming to cap the total cost of care fees at £72,000 by 2020, people with assets worth more than £23,250 are expected to pay for themselves.
The facts about care homes are alarming, says Baroness Ros Altmann:
One in four of us may need to pay someone to look after us in old age, either at home or in a care home
The state does not cover care costs, and the NHS will not necessarily pay for dementia care or other needs considered part of the ageing process
Publicly funded social care is means-tested – you'll only get help if you have less than around £23,250 in assets (often including the value of your home)
A care home can cost over £30,000 a year and care at home over £10,000 rising to £30,000 or more, depending on how much care you need.
There are now 1.5 million people aged 85 or over living in the UK and this figure is predicted to more than double in the next 23 years, to over 3.4 million*. The number of UK centenarians has also risen – by 72% over the last decade – and nearly one in five people will live to see their 100th birthday.
*Age UK (2016) - Later Life in the United Kingdom
"It would be wise to consider making contingency plans for care" says Baroness Altmann, "Having money earmarked for care could give you greater peace of mind and the means to choose the best option."
Of course, when you or any other family members need care, planning what to do can be very stressful. You'll be faced with many decisions and may be unsure where to start or who to talk to, particularly when it comes to sorting out how to pay for care as long as it's needed.
On average you can expect to pay around £29,250 a year in residential care costs, rising to over £39,300 a year if nursing care is necessary. You should also be aware that 41% of all people receiving care have to fund it entirely themselves.
That's why, if your circumstances change and residential care is required for you or another family member, it's so important to make sure your adviser takes a holistic view of your total wealth. They can set up the right financial plan to see you, or your family member, comfortably through the rest of life.
The following case study shows how restructuring your wealth can help maximise income to cover care home fees, while maintaining your capital tax-efficiently for inheritance purposes.
Case study: Violet Smith
Violet Smith, aged 80 and widowed, was in poor health and had recently moved in with her daughter and her husband, as they were increasingly worried that she wasn't coping at home alone.
As Violet's health deteriorated she made the decision to move into a local care home where she could get the care she needed. Despite having a total of £1.1 million from the sale of the family home and her existing savings, all of Violet's £10,000 annual pension income would now be needed to pay for care home fees.
Conscious of her concerns about the shortfall in care costs and her desire to leave as much as possible to her family, her solicitor sought the advice of Canaccord Genuity Wealth Management. Our specialist care homes financial planner reviewed her financial position – income, savings and forecast costs – to see whether he could suggest an alternative to dipping into her capital each month that would also maximise her family's inheritance.
Violet's care home fees will initially be £54,000 a year – and may well reach £80,000 by the time she's 95 (assuming a 3% rate of inflation).
Currently, the only way for her to pay these fees is from her savings and annual pension income – which, over time, will reduce from a combined amount of around £1.25 million to an estimated £245,000** when she reaches 95.
**£245,000 is Violet's savings plus her annual pension income minus her estimated care home fees.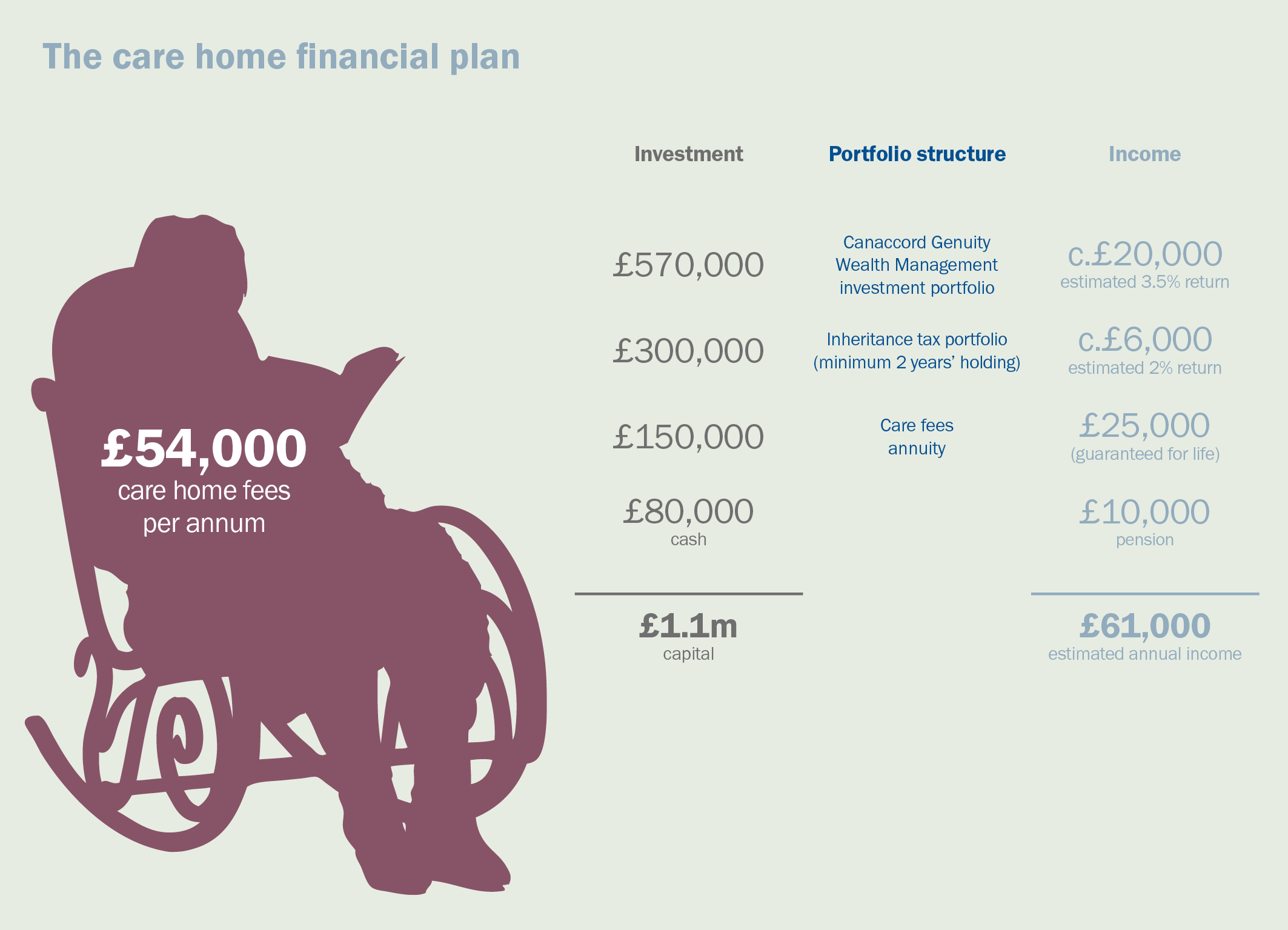 Our care home financial plan for Violet
Our specialist came up with a combination of financial solutions (above) that would give Violet an additional income each month to fund the care home fees, as well as some capital maintenance and inheritance tax planning ideas.
This illustration provides an estimated income of around £61,000 a year, which more than covers her care home fees. In fact, it gives a surplus of approximately £7,000 in the early years, so there should be no need to dip into Violet's capital. As well as the security of knowing that her fees are covered until she dies, it means that theoretically Violet should be able to leave about £873,000*** to her family if she lives to 95 (as opposed to £245,000 in her current situation), so they'll get around £628,000 (£873,000 - £245,000) more gross capital.
Furthermore, because the estate will have been set up more tax efficiently, the family will not need to worry about IHT. Previously, the remaining estate would have been worth £245,000 and exempt from IHT.
As Violet followed our advice:
If she dies at 95, according to her financial plan, her estate may be worth approximately £873,000 gross (after £150,000 has been taken out of the estate to buy the care fees annuity)
£300,000 (in the IHT plan) is not subject to IHT. The balance of the estate (£573,000) is subject to IHT, however, since Violet's individual nil rate band of £325,000 is combined with her late husband's of the same amount, there is no IHT payable.
***£873,000 is £950,000 (Violet's savings of £1.1 million minus her £150,000 annuity) plus her estimated income over 15 years, minus her estimated total care home fees of around £1m. We've calculated the figure of £873,000 by using a professional cash flow planning tool which makes various assumptions, including an expected rate of inflation, an estimated investment return rate and Violet's tax position. In reality, these figures may fluctuate – so it's important to review your financial plans and any assumptions regularly.
Important information: This is for illustrative purposes only and not to be treated as specific advice. This article is based on our current interpretation of inheritance tax proposals. It has no regard for the specific investment objectives, financial situation or needs of any specific person or entity. Tax benefits depend upon the investor's individual circumstances and clients should discuss their financial arrangements with their own tax adviser before investing. The levels and basis of taxation may be subject to change in the future.
Find this information useful? Share it with others...
IMPORTANT: Investment involves risk. The value of investments and the income from them can go down as well as up and you may not get back the amount originally invested. Past performance is not a reliable indicator of future performance.