The Asia investment opportunity
The Asia investment opportunity - beyond Japan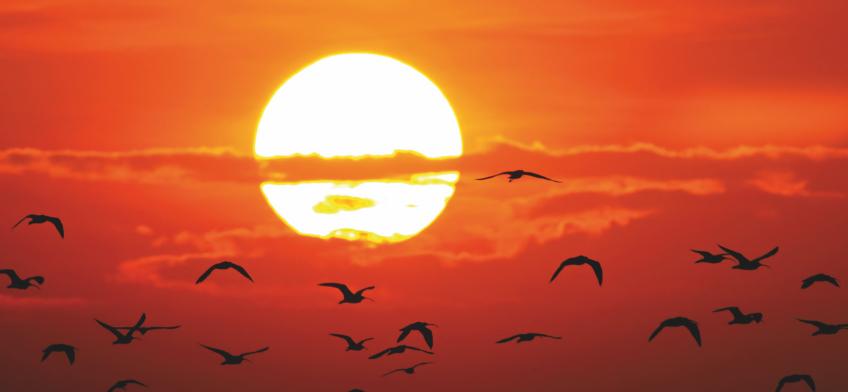 At Canaccord Genuity Wealth Management, we have taken significant positions in Japanese equities in our clients' discretionary portfolios for some time now, highlighting changes to corporate culture, strong balance sheets and a wide range of interesting companies listed there.
But the Far East has far more to it than just the land of the rising sun – in fact, equities from other Asian countries are attractive in their own right for many reasons.
Why Asian equities beyond Japan may appear attractive:
Emerging middle classes in China, India, Indonesia and elsewhere are driving big growth in consumption
The region is blessed with many exciting and world-leading technology companies
Economic growth is stronger than pretty much anywhere else on the planet
Asian countries have generally handled the COVID-19 pandemic better than the developed western economies
Although Asian governments have long been seen as laggards in matters environmental, there is now burgeoning evidence of changing attitudes to ESG (environmental, social, governance) factors in the area
Last but not least, a weaker US dollar has traditionally been seen as a positive for the performance of equities in Asia in particular, but emerging markets more generally.
This combination of factors makes for a powerful investment case, and one we are happy to support.
But should we be investing in Asian equities?
Of course, we have to remain highly aware of the threats to this comfortable view. From a western perspective, there are very legitimate concerns about how human rights are handled, especially in China. Investing in companies that sell products made by forced labour is inherently problematic, indeed immoral, and the US and others have accused China of genocide over the treatment of the Uighur population in Xinjiang province. From a broad cultural perspective, there is a developing cold war between the liberal, democratic norms we in the west have grown used to after the second world war, and the state-centred, collectivist view of freedom espoused in China and elsewhere.
Espionage, unfair trading practices, intellectual property theft and selectively closed markets, allied with vast economic development in China, mean that there is now a war of civilisations. The established western-centric order of the second half of the last millennium is going head to head with a re-emerging China, which looks likely to become the world's largest economy in the next decade or so for the first time since the 1500s. Should we invest in an economy that is our adversary in this war?
Despite these concerns, the answer for us is an unequivocal yes.
Concentrate on the positive
First, let's look at the demographics that support this. We all know that China's population growth is decelerating, largely because of the 'one child' policy of the late 20th century. Indeed, the population there is expected to peak in around 2040. However, more widely in the region population growth is still strong. India, with a population today of 1.39 billion, should overtake China (1.45 billion) by around 2035, according to UN estimates. Nor should we forget countries like Indonesia (population 275 million), Pakistan (224 million), Philippines (111 million) and Vietnam (100 million), among others.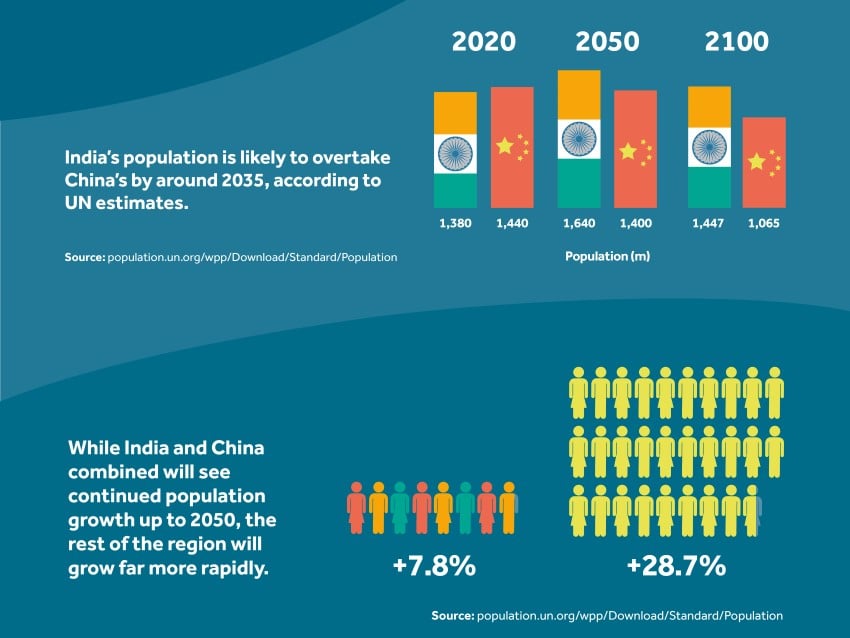 Combining these countries and other smaller regional states creates a bloc comparable in size to China and India by 2050. Populations may shrink in China and India in the second half of this century, but we think the growth we are likely to see over the next 30 years will help underpin investment in the region over our current time horizon.
More important for investors, however, is the growth in the middle classes, where the propensity to spend on a wider range of goods, rather than predominantly just food, increases markedly. Over the longer term this trend opens a huge consumer opportunity for companies. Some estimates have the value of spending power in the Chinese and Indian middle classes growing to US$14.1trn and US$12.3trn respectively by 2030. This compares with an estimated US middle-class spending power over the same timeframe of $15.9trn.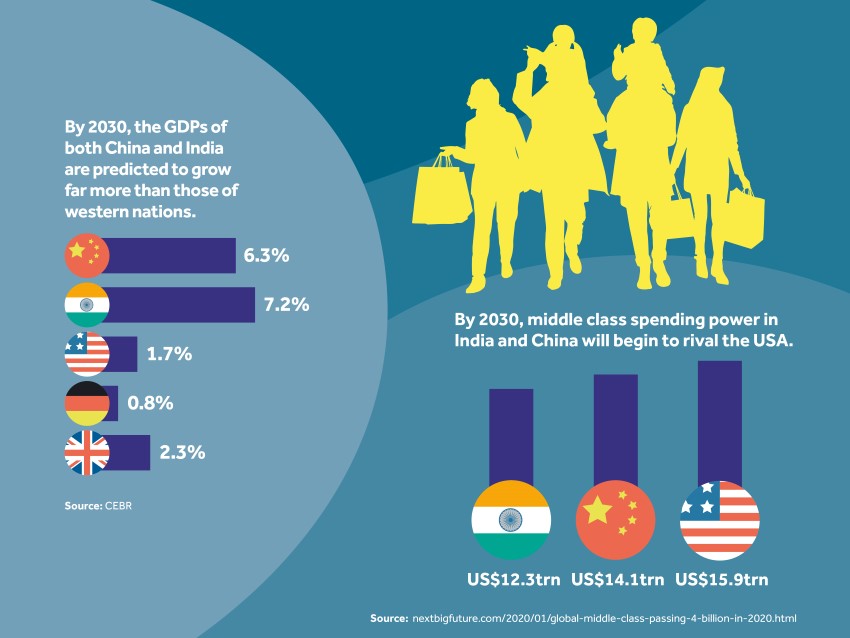 Going for growth
The second factor influencing our view is economic growth. 2021 is expected to be a bumper year for growth across the world, as economies recover from the pandemic. However, long term, the trend rate of growth in Asia will far outstrip developed markets such as the US, Europe and the UK, driven by population growth and that growing middle class.
According to the Centre for Economics and Business Research (CEBR), a leading UK-based economic forecasting consultancy, Chinese GDP is expected to grow at just over 6% per annum up to 2030, and India's by a little more than 7%. This compares with 1.7% and 2.3% for the US and UK respectively. This would make China 10% larger than the US, and India very comfortably larger than the UK or Germany by that time.
This growth advantage is likely to be boosted by recently signed trade agreements within the region, such as last year's Regional Comprehensive Economic Partnership (RCEP). This includes 15 countries, from China and Japan to Australia and New Zealand, in a bloc with a larger GDP than either the EU or the United States-Mexico-Canada trade deal enacted in 2020.
Talking technology
The third fundamental reason for investing in the region is the strength of the technology sector there. Asia isn't just the world's primary manufacturing centre, it is now a leader in intellectual property.
Whether this is in China (with Alibaba in online retail, Tencent in social media or Baidu in search), or in Taiwan (TSMC in semiconductors), or Korea (with Samsung in mobile phones and semiconductors), Asia now has a wealth of very powerful, strongly growing technology names in world-leading positions. Technology as a broad sector is now almost as large in the region at just over 25% as it is in the US (nearly 40%).
Growth has been bolstered by the emergence of an army of science graduates from regional universities, especially in China. These companies are benefiting from powerful secular global growth trends in artificial intelligence, cloud computing, quantum computing, solar energy, electric vehicles, 5G mobile technology and new applications for social media; all areas where Asia enjoys strong competitive advantages.
Ethical improvements
Fourth, despite deep concerns over human rights, especially but not exclusively in China, the region is nonetheless seeing improvements in ESG factors that we think will support equities in the area. China is now deeply concerned about the impact its economic growth is having on the environment and remains a signatory and supporter of the Paris Climate Treaty. It is also working at a regulatory level to improve the transparency of reporting amongst its largest companies.
Elsewhere, in India there is slow progress towards better corporate governance backed by structural reform that makes businesses more secure. This isn't to say we are starting from an ideal point, and human rights certainly need to be considered carefully, but the direction of travel is towards better, rather than worse.
Finally, at times when the US dollar is falling in value, it is often the case that assets in less developed markets do better. This is because the dollar is often treated as a safe-haven currency, while assets in emerging Asia are seen as attractive or 'risk-on'. It also reflects in part the portfolio flows seen at such times, where investors are allocating more towards markets in the area, and therefore need to buy local currencies to settle their trades. We are seeing signs now of quite persistent dollar weakness, which we think further underpins our view.
Is Asia an attractive area for investment?
Asia's population continues to grow, and it is a region where economic development is now building very significant middle classes, ready to spend on discretionary goods rather than just essentials. In addition, it has a large, well-diversified and world-leading technology sector making it potentially attractive for investors.
On top of these reasons to have a position in our clients' discretionary portfolios, the region benefits from improving governance and environmental protection and being in the right place and right time as far as currency is concerned.
Speak to one of our experts
If you have any questions about the current environment or about your investments, please get in touch with us or email questions@canaccord.com.
Please remember, if you hold an account with Canaccord, you can check your portfolio value at any time, through Wealth Online or by getting in touch with your Investment Manager.
Find this useful? Read more here:
Investment involves risk. The value of investments and the income from them can go down as well as up and you may not get back the amount originally invested. Past performance is not a reliable indicator of future performance.
The information provided is not to be treated as specific advice. It has no regard for the specific investment objectives, financial situation or needs of any specific person or entity.
This is not a recommendation to invest or disinvest in any of the companies, funds, themes or sectors mentioned. They are included for illustrative purposes only.
The information contained herein is based on materials and sources deemed to be reliable; however, Canaccord Genuity Wealth Management makes no representation or warranty, either express or implied, to the accuracy, completeness or reliability of this information. All stated opinions and estimates in this document are subject to change without notice and Canaccord Genuity Wealth Management is under no obligation to update the information.
Find this information useful? Share it with others...
Investment involves risk and you may not get back what you invest. It's not suitable for everyone.
Investment involves risk and is not suitable for everyone.