Investing in battery technology
Does battery technology have the power to energise your investment portfolio?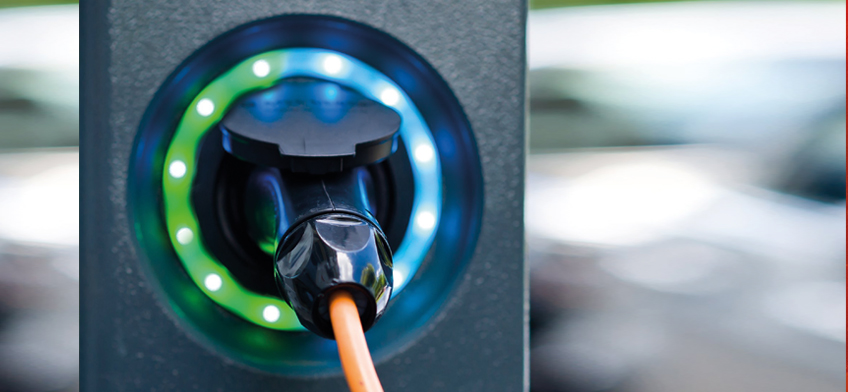 New developments in battery technology are changing the way we transport and power the world. Significant progress has been made in improving battery energy density, price, lifespan and safety while mitigating the impact on the environment. At Canaccord, we believe battery technology is a highly important investment theme, set to underpin our changing world.

However, there are still many concerns around this technology – particularly environmental concerns for ESG (environmental, social and governance) investors. In a recent interview, Patrick Thomas, Head of ESG Investments, asked Aanand Venkatramanan, Head of ETF (exchange traded funds) Investment Strategies at Legal & General, about some of the frequently cited concerns around battery technology and the outlook for innovation. Watch the video here or read the write up below.
1. How important is battery technology in helping the world decarbonise?
Around 15-20% of today's greenhouse gas emissions come from transportation, the majority of which is road transportation. So electric vehicles, and therefore battery technology which is taking the market leadership in producing clean energy for transportation, will be at the forefront of the world's transition to a lower-carbon economy. According to BCC Research[1], the global market for large and advanced batteries reached US$64.1bn in 2019 and could reach US$109.9bn by 2024. The broader market for clean energy storage where battery technology is used, is also expanding, with a 20-30% annual growth rate.
2. Governments around the world are generally supporting the adoption of electric vehicles (EVs). What has the response been from the auto industry?
Automakers continue to increase their EV portfolios, thanks to improvements in battery technologies, their decreasing cost and the need to comply with stringent regulations. BloombergNEF (BNEF)'s Electric Vehicle Outlook 2020 forecasts that about 500 different EV models will be available worldwide by 2022. We believe automakers will continue to increase their electrification portfolios despite the short-term ups and downs of the market.
Automobile and battery manufacturers are focusing their efforts on achieving 80% charge in 15 minutes, which will help to alleviate concerns around how far EVs can travel on one full charge (range anxiety).
3. What are the main challenges to EVs being more widely adopted?
From our perspective, the four main challenges are:
Battery costs
Range anxiety
Recharge time and charging infrastructure
Life span of a battery and safety concerns.
4. So, how is battery technology evolving to help solve these problems?
There is constant innovation in all areas of battery technology to address these issues:
According to BNEF, lithium-ion battery costs will fall below US$100/kWh in 2024 and reach US$61/kWh in 2030. At US$100/kWh, EVs will start to reach price parity - in terms of the purchase cost for the consumer - with ICE (internal combustion engine) vehicles.
Continual improvements are being made to increase battery energy density so electric vehicles can cover longer distances, such as innovations in the lithium-ion battery space, or research into solid-state batteries that support greater energy density.
Recharge time and charging infrastructure
Fast EV chargers and technology already exist. Pennsylvania State University researchers developed a lithium-ion battery capable of adding 200 to 300 miles of driving range to an EV in 10 minutes by charging it at an elevated temperature. In terms of infrastructure, charging stations have grown at a 32% annual growth rate over the last seven years[2], while EV owners now also have the option to buy a home charger.
Life span of a battery and safety concerns
Batteries are currently guaranteed for up to eight years or 100,000 miles. A long lifespan reduces pressures on resources and any negative impacts of manufacturing and recycling.
5. As ESG investors, the environmental impact of battery technology is important to us. Can you talk a little about the environmental cost of battery technology and how it's being addressed?
Mineral extraction and refining, dismantling old batteries, and building and delivering vehicles all involve CO2 emissions. These environmental costs are being addressed in multiple ways:
Battery technology producers are working towards using clean energy rather than fossil fuels
The auto industry is expected to benefit from economies of scale as more EVs are built – this increases efficiency and reduces pollution in the manufacturing process
The large penetration of EVs and the need for batteries will create a market for recycling these storage devices, reducing the pressure on mining
EV batteries can be reused for energy storage projects, reducing waste and extending their lifespan.
6. We have also seen issues with cobalt mining – how are these being dealt with?
The high concentration of cobalt production in the Democratic Republic of Congo (DRC) may be associated with certain ethical and political risks. However, cobalt is not necessarily needed for batteries. Tesla has already decreased the amount of cobalt in a cell to less than 3%, and is targeting 0% use in the future, while researchers from the University of Austin say they have developed a cobalt-free lithium-ion battery that does not sacrifice battery performance.
7. There is a lot of excitement around hydrogen and its potential. What are your views?
Hydrogen-based fuel cells have attracted attention recently, with industry leaders expressing views both for and against. However, the technology has a long way to go before it can challenge batteries.
8. What do you think the overall EV landscape will look like in five years?
The wider adoption of battery storage is being supported by public policies across the world. On the corporate side, multinational energy company, Enel recently announced plans to deploy up to 1 GW in grid storage capacity by 2022.
We expect EV prices for consumers to fall in line with those for ICE vehicles, giving EVs up to 10% of global passenger vehicle sales. We believe innovation in battery technology will accelerate further in the next few years, while alternative battery types to lithium-ion could emerge in the longer term. We expect China and Europe to drive EV demand, thanks to the European vehicle CO2 regulations and China's city policies.
At Canaccord, we believe battery technology plays a vital role in helping to address some of the world's biggest environmental challenges as it is the main driver for the faster adoption of electric vehicles as well as grid storage capacity, which is needed for the renewable energy market. So it could form part of an environmentally responsible investment strategy. Watch the video interview with Aanand below.
*This video was recorded on 7 September 2020.
Speak to one of our experts
If you would like to find out more about investing in battery technology, please get in touch with us or email wealthmanager@canaccord.com. Please remember, if you hold an account with Canaccord, you can check your portfolio value at any time, through Wealth Online or by getting in touch with your Investment Manager.
Let us contact you
If you're unsure which of our teams to contact, let us help you. We can put you in touch with one of our experts who will discuss your wealth management needs with you.
Find out more
Find this useful? Read more here:
Download News & Views
The UK and EU post Brexit
US election watch
The battle against cancer
Download
Investment involves risk. The value of investments and the income from them can go down as well as up and you may not get back the amount originally invested. The information provided is not to be treated as specific advice. It has no regard for the specific investment objectives, financial situation or needs of any specific person or entity.
This is not a recommendation to invest or disinvest in any of the themes or sectors mentioned. They are included for illustrative purposes only.
---
[1] Source: BCC Research 2020 https://www.bccresearch.com/
[2] Source: BCC Research 2020 https://www.bccresearch.com/
Find this information useful? Share it with others...
Investment involves risk and you may not get back what you invest. It's not suitable for everyone.
Investment involves risk and is not suitable for everyone.