investing in renewable energy
Why investing in renewable energy is a key investment theme in 2022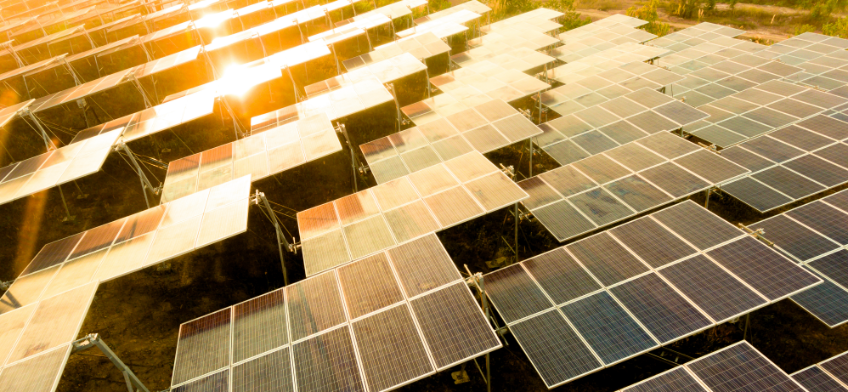 Patrick Thomas, head of ESG investments explains how urgent demand for renewable energy is a powerful catalyst for the development of clean energy technologies and solutions across the energy value chain – and why we expect investing in renewable energy to be a significant investment theme in 2022 and beyond.
How does the urgency of climate change impact investing in renewable energy?
Populations and economies need energy. Unfortunately, primary energy supplies are still dominated by hydrocarbons, and global carbon emissions continue to rise.
The urgency of climate change has propelled efforts to 'green' the global economy, triggering disruptive innovation that is rapidly altering the energy landscape.
Governments worldwide have announced massive new initiatives aimed at decarbonising entire economies. Prominent among them are strong commitments from the US and China, which are finally aligned with global ambitions to tackle climate change.
Certainly, if we are to achieve the ambitious goals of the Paris Agreement to limit temperature rises to 1.5°C, we will need investors to play a central role.
What is the role of carbon-free electricity?
Front and centre in the race to decarbonise is the carbon-free electricity provided by renewables. Projections show that by 2050, solar power generation is likely to increase by a factor of 20, while wind power generation from on- and off-shore sources will increase by a factor of 10.
This will allow the share of electricity, as a percent of global energy consumption, to grow from 20% today to 50% by 2050. In parallel, renewables' share of the electricity mix will nearly triple.

Has COVID-19 accelerated the demand for renewable energy?
The shift from fossil fuel-based energy towards renewables is a structural one that has developed over several years, backed by the falling costs of renewable energies.
This trend has certainly been accelerated by the events of 2020, when demand for energy generated by coal and oil fell by -8.5% and -6.7% respectively, but demand for renewable energy rose by +1%, demonstrating the sector's resilience even in a recession.
And while fossil fuels have high and fixed costs, renewable energies are on a declining cost trajectory, implying that they will soon be cheaper than fossil fuels.
What else should I know if I am thinking of investing in renewable energy?
In addressing the myths around investing in renewables, you should consider:
Renewable energy is being adopted because it makes financial sense. Over half the coal plants operating today cost more to run than building new renewable energy infrastructure. Meanwhile, the 'Levelised Cost of Energy' (LCOE), which is directly linked to the cost of building and operating an energy generator, has fallen significantly for both wind and photovoltaic solar power.
Even as we manage the transition to the low-carbon model, we don't need to ditch fossil fuel power plants immediately, and we do not yet have enough power from renewables to cover all our needs. It is, then, more effective to improve the efficiency of the existing energy model, and many energy companies have been moving towards 'combined-cycle' power plants (that use both a gas and a steam turbine) to produce energy, which drastically cuts greenhouse emissions.
It is wrong to think that new energy relies on subsidies. New energy has developed to such an extent that subsidies are no longer needed in most parts of the world, and the feed-in tariff system used by European countries to accelerate investment into new energy technology has largely come to an end. None of this would be possible unless new energy was inexpensive, reliable and profitable.
How can I invest in renewable energy?
Here at Canaccord, we are looking to invest on behalf of our discretionary clients in a wide range of companies at the leading edge of innovation in renewable and green energy solutions, such as:
Nordic energy companies who are pioneering a broad move away from fossil fuels to renewables, especially wind
Companies involved in the 'distributed energy' model. Decentralised electricity production, close to the point of consumption, will have a huge impact on the efficiency of renewables - especially when they are coupled with innovative alternatives to battery storage, such as 'green hydrogen' fuel cells
Solutions that reduce energy consumption and improve efficiency, such as installing or retro-fitting heat pumps and solar cells in private homes and public buildings, improving insulation, or designing more energy-efficient cars.
These are just a few examples of how companies are working towards building a cleaner future. We believe that the emergence of a more sustainable economy, while it will take time, is inevitable and that it will provide a significant opportunity for investors, who also have a key role to play in the low carbon transition.
Watch our video to find out more:
Find this useful? Read more here:
Speak to one of our experts
If you have any questions about the current environment or about your investments, please get in touch with us or email wealthmanager@canaccord.com.
Please remember, if you hold an account with Canaccord, you can check your portfolio value at any time, through Wealth Online or by getting in touch with your Investment Manager.
New to Canaccord Genuity Wealth Management?
If you are new to wealth management and would like to learn how this can benefit you, we can put you in touch with our team of experts that can help.
Get in touch
Investment involves risk. The value of investments and the income from them can go down as well as up and you may not get back the amount originally invested. Past performance is not a reliable indicator of future performance.
The information provided is not to be treated as specific advice. It has no regard for the specific investment objectives, financial situation or needs of any specific person or entity.
This is not a recommendation to invest or disinvest in any of the companies, themes or sectors mentioned. They are included for illustrative purposes only.
The information contained herein is based on materials and sources deemed to be reliable; however, Canaccord Genuity Wealth Management makes no representation or warranty, either express or implied, to the accuracy, completeness or reliability of this information. Canaccord is not liable for the content and accuracy of the opinions and information provided by external contributors. All stated opinions and estimates in this article are subject to change without notice and Canaccord Genuity Wealth Management is under no obligation to update the information.
Find this information useful? Share it with others...
Investment involves risk and you may not get back what you invest. It's not suitable for everyone.
Investment involves risk and is not suitable for everyone.