Investing in sustainable food
Why investing in a sustainable food system is a key investment theme in 2022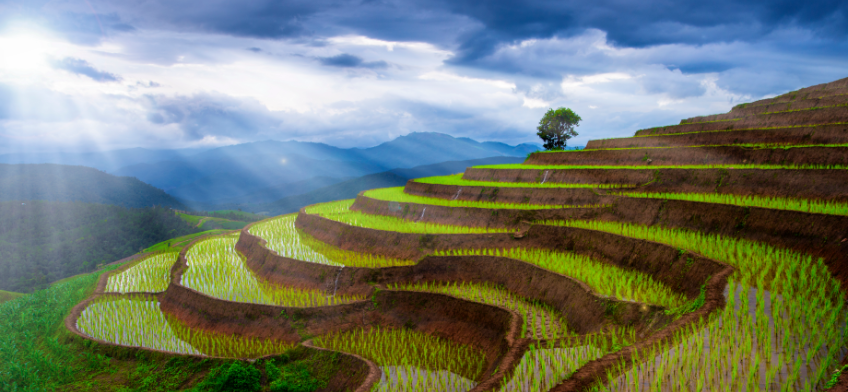 Here at Canaccord, we think of investing in food as a way of accessing growth in a rapidly evolving sector.
The world is faced with two trends happening simultaneously. Global resources are dwindling and the population growing. We therefore have a huge challenge and potentially a significant opportunity to invest in a sustainable food system which can:
Provide sustainable, nutritious and healthy food to a growing, urbanising population more efficiently
Reduce the environmental damage to the planet which is currently intensifying.
Around 20% of the global population suffer from a 'poor' diet according to the Food and Agriculture Organisation – and if we are to provide a growing global population with nutritionally high-quality food and deliver this in an efficient and sustainable way, vast investment is needed.
This is a space where companies are improving access, quality, and sustainability of food production, with the most innovative companies growing because of their involvement across the entire food production chain - from farm to fork.
What are three main attractions for investing in sustainable food production?
1. Long-term growth potential
Consumers are demanding higher quality food, while governments are increasing regulation to improve diets. Companies providing 'healthy' and nutritional products should see good revenue growth.
2. A responsible and sustainable approach is a catalyst for growth
Companies that provide innovative solutions to increase output, while decreasing environmental impact and waste, will be crucial in the shift towards a more sustainable food system.
3. A richly diverse and resilient investment opportunity
The food value chain spans several sectors and geographies, with different characteristics and correlations. This is a rare theme that contains companies who can navigate market cycles while capturing more secular growth: we regularly buy milk because a cup of tea is non-negotiable, whereas crop growing is all about food prices and cyclicality.
What innovations are we seeing in sustainable food production?
We see three main areas of investment opportunity where companies are developing innovative solutions to secure the world's future food supply:

Investing in productive farming
Continued improvements in agricultural practices, such as using land more efficiently, will be essential to produce the required quantity and quality of food over the years to come.
Yet this must not come at the cost of sustainability. Soil, for instance, is an essential resource for 95% of the food that we produce. But today, 33% of soil has been degraded - and this is not easily reversible: it can take up to 1,000 years to produce just 2–3cm of fertile topsoil.
Dealing with this will be a major challenge, although it also represents an opportunity for companies able to provide solutions, such as precision monitoring tools which enable the accurate application of fertilisers to correct soil imbalances.
Better farming machinery and food production systems are also essential to meet the increasing demand for higher nutrient-content food products, such as animal protein, which tend to require significantly more critical resources to produce them.
Investing in companies that adopt best-practice farming techniques will lead to increased efficiency, less waste and lower costs due to economies of scale.
Investing in food transportation and processing
From food producers to distributors to the consumer, all have a role to play in reducing waste.
With food waste occurring during harvest, processing, transport and storage, there are many opportunities for companies to increase efficiency. Innovations include anti-microbial packaging that helps to prevent damage during transport and maintain food safety, while innovative sensors on food packaging can help avoid confusion about 'use-by dates', reducing the vast amount of food thrown away.
Investing in nutritional food
Advances in farming productivity and food distribution have disproportionately focused on producing calories, with little regard for quality. This has led to the increased consumption of processed food, with unintended consequences – most notably the excess consumption of sugar, widely regarded as a major cause of global obesity levels. Global hunger, poor nutrition and obesity are costing the world trillions of dollars in health costs and lost productivity.
Nutrient loss can be averted through better efficiency in the supply chain, and also through fortifying foods with nutrients, improving awareness through better labels and even modernising food safety regulations. In both developed and emerging countries, a greater focus on health is changing consumer and regulatory attitudes towards improving the nutritional content of food.
Companies involved in this transition through the development of high-quality food products, whether that be through better ingredients, reformulation, testing, quality control or certification, are all set to benefit from the growing global focus on health, sourcing and treatment of food.
How can I invest in the sustainable food revolution?
It is clear there is a significant investment opportunity in developing a sustainable food system. This is not confined to popular areas like plant-based meat or milk alternatives. While these areas are exciting and growing fast, there are far more diverse areas for investors to think about. Simply put, we see companies involved in helping to secure the world's future food supply as a sustainable long-term investment theme. That is food for thought.
Watch our video to find out more:
Find this useful? Read more here:
Speak to one of our experts
If you have any questions about the current environment or about your investments, please get in touch with us or email wealthmanager@canaccord.com.
Please remember, if you hold an account with Canaccord, you can check your portfolio value at any time, through Wealth Online or by getting in touch with your Investment Manager.
New to Canaccord Genuity Wealth Management?
If you are new to wealth management and would like to learn how this can benefit you, we can put you in touch with our team of experts that can help.
Get in touch
Investment involves risk. The value of investments and the income from them can go down as well as up and you may not get back the amount originally invested. Past performance is not a reliable indicator of future performance.
The information provided is not to be treated as specific advice. It has no regard for the specific investment objectives, financial situation or needs of any specific person or entity.
This is not a recommendation to invest or disinvest in any of the companies, themes or sectors mentioned. They are included for illustrative purposes only.
The information contained herein is based on materials and sources deemed to be reliable; however, Canaccord Genuity Wealth Management makes no representation or warranty, either express or implied, to the accuracy, completeness or reliability of this information. Canaccord is not liable for the content and accuracy of the opinions and information provided by external contributors. All stated opinions and estimates in this article are subject to change without notice and Canaccord Genuity Wealth Management is under no obligation to update the information.
Find this information useful? Share it with others...
Investment involves risk and you may not get back what you invest. It's not suitable for everyone.
Investment involves risk and is not suitable for everyone.