Supporting the battle against cancer
ESG investing: supporting the battle against cancer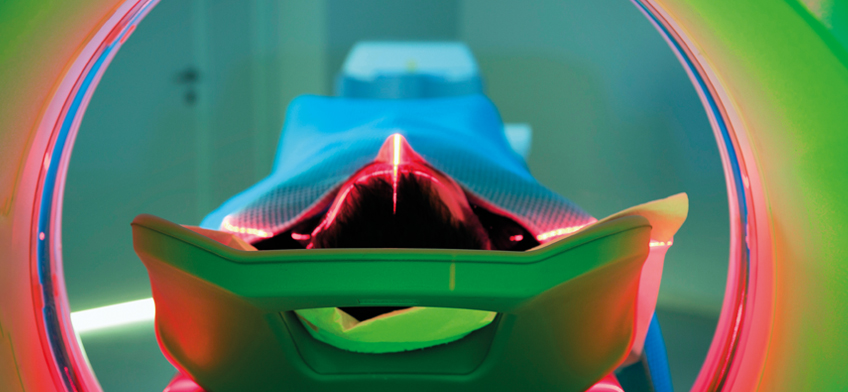 Conscientious investors are increasingly considering ESG (environmental, social and governance) issues alongside traditional financial factors, to create a more sustainable portfolio.
Looking at these aspects allows investors to assess a company's social and economic impact and think about how this might affect a business model over time. Businesses working in a more sustainable way, with robust policies and procedures around ESG issues, may also be attractive from a risk and return perspective.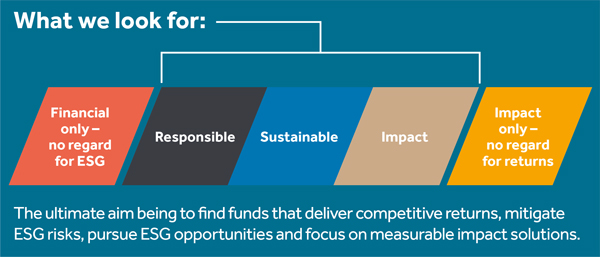 Our ESG themes
Five sustainable and responsible investment themes underpin our sustainable investing strategy. They are:
The thinking behind all our ESG themes follows a similar process. We consider challenges facing the world, either from an environmental (helping the planet) or social (helping people) perspective, and look for companies offering potential solutions as well as offering our clients sustainable investment returns.
One of the long-standing societal themes in our discretionary portfolios is the need for more people to access better and more effective healthcare. We have been investing in the long-term opportunities in healthcare for some time, and this year we looked at ways of making this more specialised and more measurable in terms of the positive impact we are generating – for both the world and our clients.
Investing in healthcare: why oncology?
Globally, cancer is still the second-leading cause of death – and because the incidence of cancer increases with age, its prevalence is unfortunately linked to the ageing of the world's population. While advances are being made, there are still urgent needs and wide markets for solutions, creating huge investment opportunities. We believe investing in oncology companies is a positive way to join in the solution to one of our society's great global problems.
Cancer statistics remain frightening. By 2030 there will be over 22 million new cases a year, up from 14 million in 2012, according to the International Agency for Research on Cancer. Despite scientific advances, the outlook for patients is not good enough. Agencies such as the National Institution of Health and the World Health Organization (WHO) forecast a worldwide increase in cancer deaths between 2012 and 2030 from 8 million to 13 million annually.
The challenge here is the combination of demographics and complexity. Our world is getting older and more susceptible to a disease that remains hard to treat. As noted, cancer is complex: rather than a single disease, it encompasses multiple distinct diseases, including solid tumours such as lung, skin, breast and kidney, as well as blood cancers such as lymphoma and leukaemia. The challenge lies in catching it early (screening and diagnostics) and treating it with the most effective solutions (drugs and therapeutics).
Finding new ways to beat cancer
As the world marked the 20th anniversary of World Cancer Day earlier this year, scientists continue in their battle to beat it. In 2019, for the second year in a row, the Nobel Prize in Medicine went to researchers whose insights are influencing the field of oncology.
In 2018, James Allison and Tasuku Honjo were awarded for their work on checkpoint inhibitors, which have changed the paradigm of cancer treatments worldwide.
Last year, a trio of researchers (William Kaelin, Peter Ratcliffe and Gregg Semenza) won the 2019 Nobel Prize in Medicine for deciphering how cells sense and respond to changing oxygen levels by switching genes on and off[1]. Thanks to their work, it is now possible to harness one of nature's essential processes to treat cancer.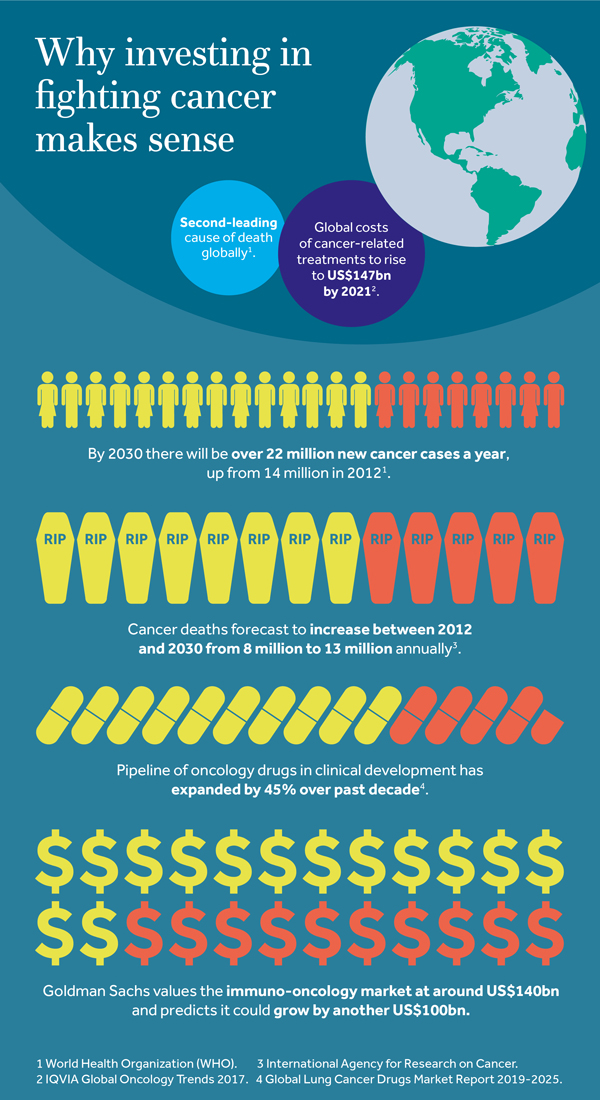 A world-changing investment opportunity
Three developments make this a particularly exciting area of healthcare to invest in.
Demand for cancer treatments is rising as prevalence increases and the world's middle classes – who can afford insurance – expand. Between 2012 and 2016 the global costs of cancer-related treatments grew from US$91bn to US$113bn, according to IQVIA[2], a health-data firm.
Cancer enjoys faster regulatory approvals than other diseases. This makes sense given the fatality statistics, which mean that regulatory hurdles are lower.
Scientific progress, particularly around manipulating genes and cells, has been exponential. Amazing, almost unimaginable innovations are taking place across many areas – see next section.
Exciting scientific developments
Firstly, the pipeline of oncology drugs in clinical development has expanded by 45% over the past decade.
Secondly, progress in immuno-oncology, where the patient's own immune system is used to attack cancerous cells, has been particularly impressive. To put this into perspective, Goldman Sachs values the immuno-oncology market at around US$140bn and predicts it could grow by another US$100bn.
Screening and diagnosis methods have also improved. According to the WHO, some of the most common cancers have high recovery rates if they are detected and treated in time. This is particularly notable in breast cancer, cervical cancer and oral and colorectal cancers. However, there are some glaring healthcare inequalities in terms of screening. Not all cancers can be detected early, chiefly because certain tumours – such as skin cancers – are undetectable before the initial symptoms appear. Not all countries have access to screening either, particularly the poorest nations.
Lastly, 'profiling' to match the solution to the patient is becoming more successful, thanks to investment in artificial intelligence and data collection to help identify people with more susceptibility to varying types of cancers. Linked to the above, this enables treatment to begin earlier and potentially work more effectively.
Two vital ways to invest in fighting cancer
The most straightforward way to invest in treating cancer is through shares in pharmaceutical companies that sell effective drugs.
Alternatively, the biotechnology sector tends to be where a lot of the earlier innovation occurs. Typically, 40% of US biotechs are oncology related. Big pharma now buys rather than builds much of its innovation, so backing oncology start-ups can be an especially lucrative (if riskier) approach. According to CB Insights[3], equity investment in cancer-therapeutics start-ups has grown from US$2bn in 2013 to US$4.5bn in 2017.
Challenges for investors
Despite the long-term opportunities, there are two main concerns behind investing in healthcare:
Financial risk: investments in oncology and in biotech more generally have historically been very volatile and investors have seen wild price swings; part of the problem is that success is not just about medical efficacy – new treatments can be brilliant but may never become cheap enough to sell
Impact risk: we want to make a difference; Cancer Research UK noted last year that much of the welcome inflow of capital into cancer research is chasing similar opportunities, and rarer types of cancer can get neglected.
To overcome these concerns, we believe investors should consider looking at actively managed funds specialising in oncology, with investment universes created in conjunction with leading oncology scientists. These funds have exposure to investment opportunities on multiple fronts – from bigger pharmaceutical companies to more innovative smaller biotech companies.
Click here to watch our recent video interview with Dan Mahony, Co-Head of Healthcare at active fund manager Polar Capital, where he shares more of his insights into the US$8trn healthcare industry.
What this means for investors
The pandemic has brought the need for effective healthcare into sharper focus. We believe there are plenty of opportunities to earn investment returns while making a positive impact on the wider world. We see our oncology theme as an excellent way for our capital to support global innovation where it is most needed.
Speak to one of our experts
If you have any questions about the issues raised in this article or about ESG investing more generally, please get in touch with us or email wealthmanager@canaccord.com. Please remember, if you hold an account with Canaccord, you can check your portfolio value at any time, through Wealth Online or by getting in touch with your Investment Manager.
Let us contact you
If you're unsure which of our teams to contact, let us help you. We can put you in touch with one of our experts who will discuss your wealth management needs with you.
Find out more
Find this useful? Read more here
Download News & Views
The UK and EU post Brexit
US election watch
The battle against cancer
Download
Investment involves risk. The value of investments and the income from them can go down as well as up and you may not get back the amount originally invested. The information provided is not to be treated as specific advice. It has no regard for the specific investment objectives, financial situation or needs of any specific person or entity.
This is not a recommendation to invest or disinvest in any of the themes or sectors mentioned. They are included for illustrative purposes only.
Find this information useful? Share it with others...
Investment involves risk and you may not get back what you invest. It's not suitable for everyone.
Investment involves risk and is not suitable for everyone.