Investment outlook 2023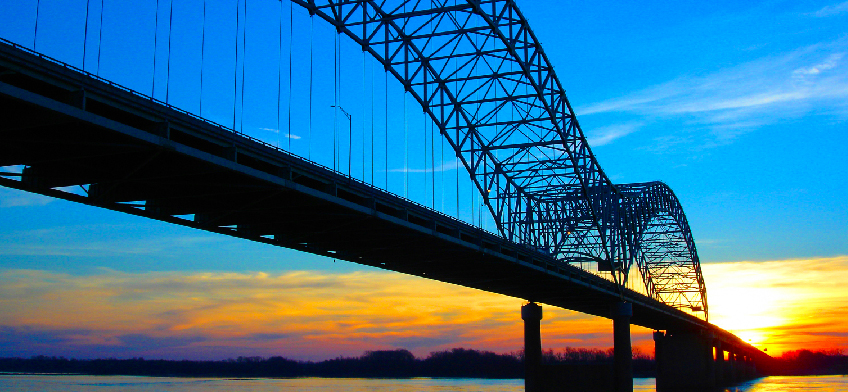 To borrow a phrase from our late Queen, 2022 was mostly an 'annus horribilis' for investors. Indeed, if we had sat down at this time last year and wondered what unhealthy combination we could conjure for investors, it would probably have been very similar to the noxious cocktail served up over the last year. We are all pleased to see the other side of 2022 and start afresh, even if we must acknowledge that there is still a tough equation for investors to deal with as we work our way through 2023.
On one side of this equation, there are a range of challenges for the world and risks for investors across a range of factors. On the other side, the major repricing of risk assets in 2022 has contributed towards our conviction that investors are being adequately compensated for the risks being taken, while the outlook for future returns has brightened materially.
Emerging on the 'other side'
We have called this article 'The other side'. We hope this suggests our optimism at the idea of starting anew: emerging from the current situation on the far side and finding ourselves in a different world where we will welcome volatility, accept the higher interest rate environment and continue to safeguard your portfolios with our 'inflation+' proposition.
It also suggests looking at things from both sides, to ensure we have considered every aspect before we make predictions for the future.
Watch our Chief Investment Office summarise their key themes for 2023 here or read the full article below.
Four key questions
To shape your investment portfolios for the uncertain path ahead, we need to answer four main macroeconomic questions:
This may seem obvious, but will there be a US and global recession in the year ahead?
Have recent developments in China promised an economic improvement in 2023? This will be an important contributing factor to the first answer.
Has inflation peaked, as recent data in the US is suggesting?
Finally, and arguably most important, given markets' sensitivity to liquidity, will a likely drop in inflation ensure that interest rates don't rise much further?
Major shifts in financial markets
Some of the more notable features of the last 12 months were at an asset level. First and foremost is the fact that we now appear to have come out on the other side of the decade-long historical aberration of zero interest rates and extraordinarily low fixed interest yields. The repricing in fixed interest markets in 2022, which was basically the worst year ever recorded, has ensured that investors once again have a broad opportunity set in bonds.
We could also be witnessing a shift from the persistent outperformance of perceived 'growth' themes back towards those parts of equity markets which have been shunned for so long. It is possible that the era of US equity domination is over, given the recent underperformance of the world's biggest equity market, leading to a period where other global markets could finally return to favour with investors after a pronounced period of poor relative performance.
Exploring and exploiting these market shifts will be the key to outperforming in the coming years, but we first need to work out the answers to the four questions posed above. It is easiest to do this by considering five key 'pillars', or themes, that will affect our investment decisions in 2023. These are:
The global economy
Inflation
Interest rates
Corporate earnings
Market valuations and investor positioning.
Key pillar 1: the global economy
Our first question was: will there be a US and global recession in the year ahead?
We still don't know whether the most widely forecast recession in history will materialise at a global level in 2023. However, whether growth is negative or barely positive is a moot point. The basic fact is that growth will be low and a long way away from the promise of the 'Roaring Twenties' that many forecasters optimistically proclaimed as we emerged from the COVID-19 shock.
The easiest region to discuss is the UK and Europe, both of which have big issues, made worse by our politicians and our structural weaknesses. While this doesn't mean that regional investments need to perform poorly, we should prepare ourselves for a prolonged period of insipid growth.
The US remains an enigma, with the all-powerful consumer on one side and the slumping housing and manufacturing sectors on the other. Given the power of the US consumer in dictating economic growth across the Atlantic, it is some comfort to us all – and a boon for global economic growth – that they continue to spend so voraciously. At least for now.
The issue that lingers over any forecast is that we do not know what damage is yet to be inflicted by the interest rate rises that we have already seen, and we should note that this is the fastest pace of rate increases witnessed in the US since the 1980s. A low growth rate or shallow recession is our forecast for the US economy in 2023.
Past performance is not necessarily a guide to future performance.
The wild card in 2023 is China. The 'Middle Kingdom' was extremely weak in 2022, as the Chinese Communist Party (CCP) pursued a very different path in tackling COVID-19 to the rest of the world. It targeted parts of the economy, not least the property sector, to try and bring better balance to an ill-balanced society. Recent signs that the CCP is starting to adjust its policies could be positive for growth in 2023, as could helpful signs of a more conciliatory tone between the US and China.
Key pillar 2: inflation
While the economy might now be taking centre stage, inflation was the key driving factor behind a difficult year for investments in 2022. Our view that we would be reaching a cyclical peak in inflation and the start of a decline in the US around now is seemingly being realised. This is undoubtedly encouraging and has triggered a welcome short-term recovery in asset prices across the world. It is probably too early to shout the all-clear, but it is surely a step in the right direction. We expect it to continue, even if the questions of how far and how fast inflation falls still need to be answered.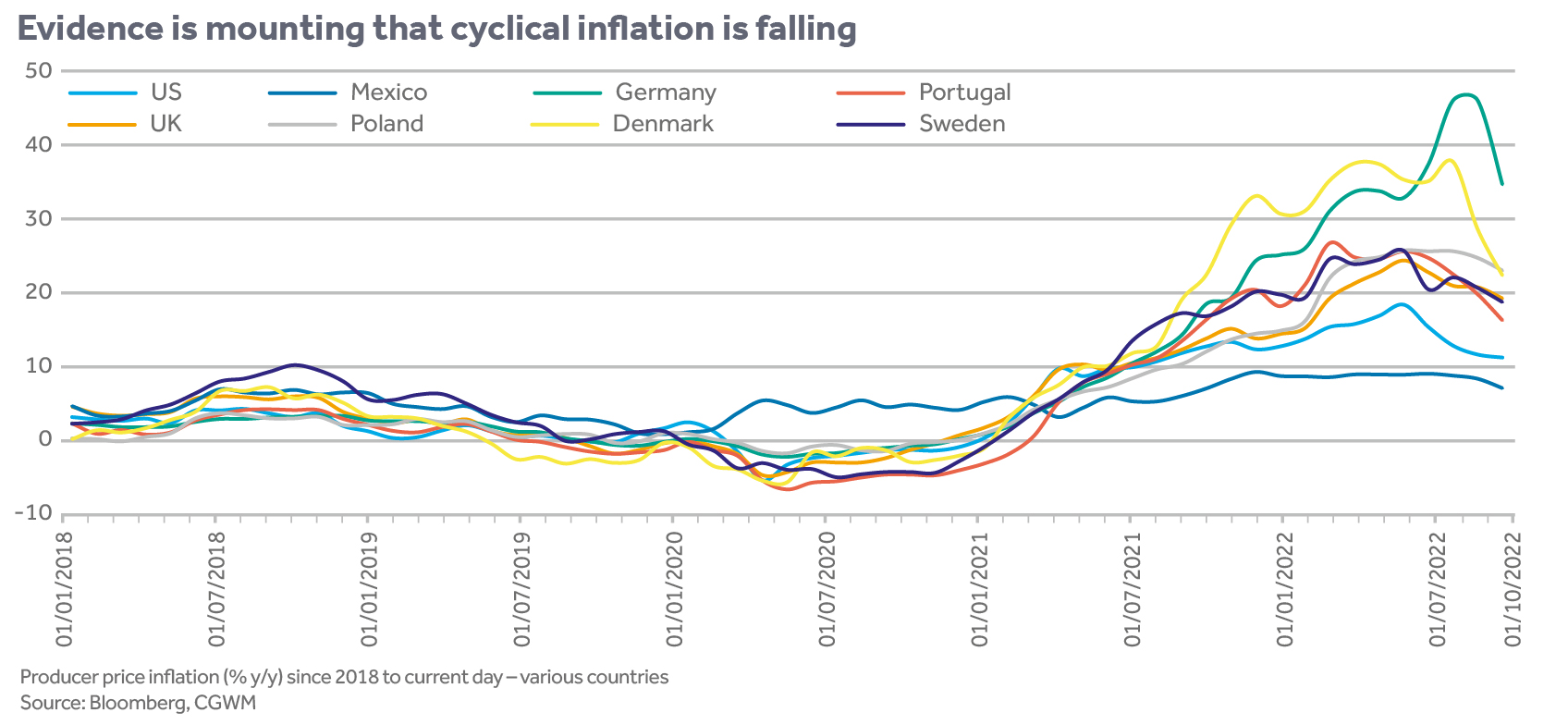 Past performance is not necessarily a guide to future performance.
Key pillar 3: interest rates
The simplest way to consider the aggressive actions of central bankers in the last half of 2022 is that they deemed it necessary to risk a recession to quell rampant inflationary pressures. The US Federal Reserve (Fed) implied that interest rate rises will continue into 2023 and will be held at restrictive levels for some time to come. These monetary heroes are looking to slay the inflationary dragon, which they themselves were at least partly responsible for setting free.
Our central case is that easing inflation will lead to a reduction in their most aggressive interest rate forecasts, along with a slower pace of rate hikes followed by an eventual pause. It could well be that a rate cut is a long way off in the future, but surely a lesson from this unpredictable decade so far is that we should keep an open mind. Ultimately any sense that the Fed is changing course would be a mighty spur to a market recovery.
The Bank of England will follow the direction of the US Central Bank, but ultimately it is dancing in the dark. The inflation it is trying to stamp out is not being generated by rampant consumption within our shores, but rather by external factors that it has no control over. Interest rate rises might help a little and could support our currency, but ultimately the greater risk (when allied with restrictive fiscal policy) is a pernicious recession.
Putting together the macroeconomic and market mix
Our central macroeconomic case for 2023 is that economic growth will be very low and patchy, with inflationary pressures subsiding but resting at relatively elevated levels compared with the last decade; central banks have already front-loaded their interest rate rises. Assuming our base case is not wildly out, we can start to figure out how markets might behave in the coming year. To evaluate this further we need to explore our final two key pillars: earnings and valuations.
Key pillar 4: corporate earnings
Ultimately, we believe that in a world that has moved on from zero interest rates and back to some sort of normality, companies will start to be judged far more stringently on their success. This once again ensures that the outlook for corporate profits is vital.
As with the economic outlook, there is a high degree of uncertainty around how companies might grow their profits in the year ahead. In the recent earnings releases from the world's largest companies, we learned that overall revenues are still rising, a factor of significantly higher prices in this current inflationary environment. However, at least for the largest part of the corporate sector, profits have stopped growing. Companies are struggling to generate higher earnings because they are suffering from rising wages and major rises to their various inputs, while consumers are not in sufficiently good health to swallow major price increases.
Interestingly, despite the likely challenging economic outlook, the consensus for expected earnings in 2023 is for moderate improvements in corporate profits. While we would rule nothing out for the year ahead, it might well be that such optimism is unwarranted, and this is an overriding concern that prevents us from taking a more 'risk-on' stance.
Key pillar 5: market valuations and investor positioning
In 2023, it is entirely possible that we will continue to see elevated levels of market volatility. We are not afraid of this; we treat volatility as a friend, not an enemy, as it affords us the opportunity to make rewarding tactical decisions in your portfolios.
What do valuations in equity markets tell us currently? It is a mixed bag, in all honesty. The bad news is that relative to history and other markets, the enormous US market remains dear. As mentioned earlier, a great deal of the overvaluation was worked through in 2022, but there could be more to come. The US market is too big to ignore and fortunately we continue to spot specific opportunities, not least in healthcare and renewable technologies, where we believe we have found attractive growth companies at reasonable prices.
Away from the US, valuations are not expensive, assuming we do not see an outright economic collapse or a wage price spiral in the coming years. At a regional level, we can look through the economic misery in the UK and recognise that our equity market is far from expensive. The Far East continues to be a source of contrarian investment opportunities and our faith in the region, not least in Japan, could be rewarded in 2023. Chinese assets might also recover, if China moves on from its problematic pursuits against the property sector and insistence on zero COVID-19.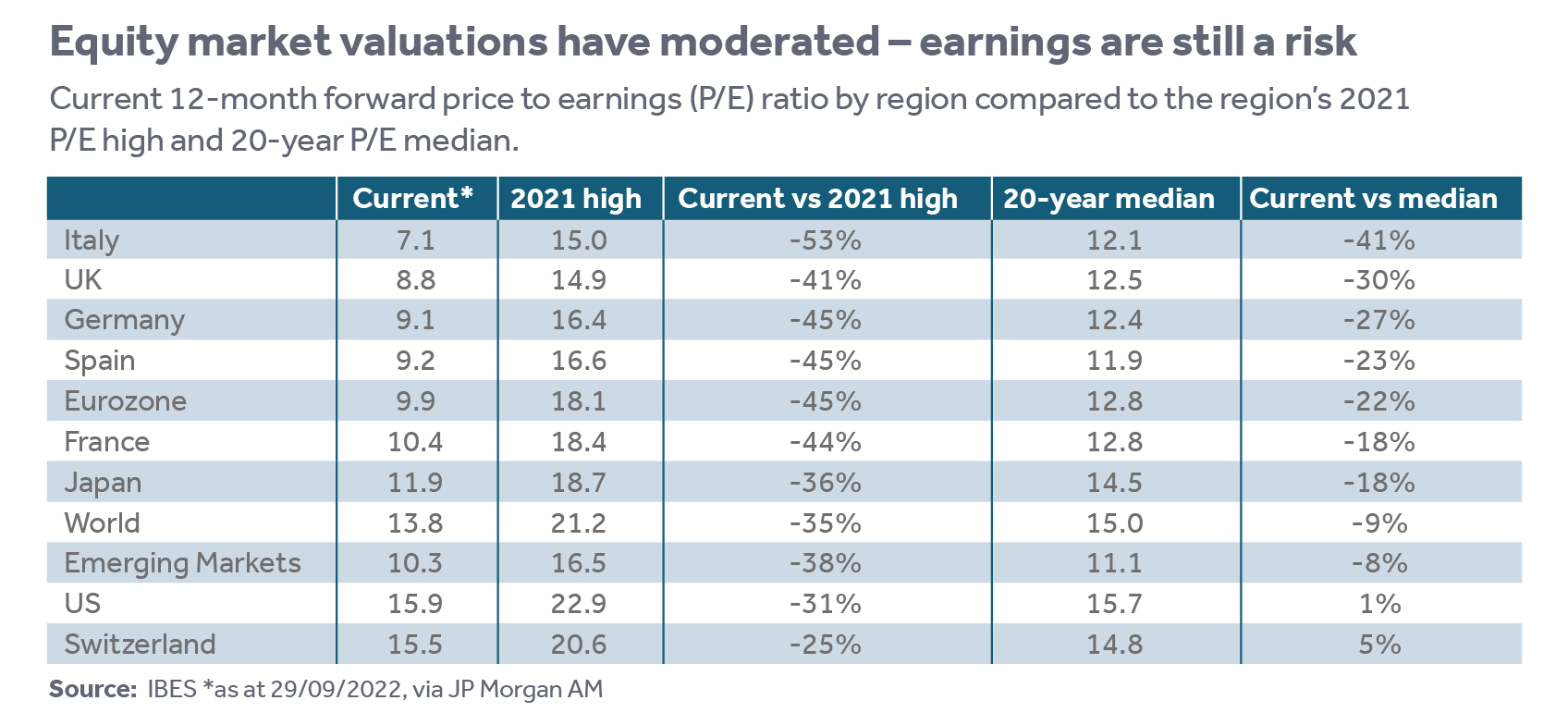 Past performance is not necessarily a guide to future performance.
Fixed interest markets are exciting. No, really!
During a decade of central bank manipulation, with interest rates and government bond yields at zero and, for the most part, corporate bond yields pinned low because of the influence of low interest rates, investors lost interest and focused more on the exciting world of equities. After the worst year for fixed interest investments since many indices were created, there are now opportunities aplenty and we believe investors should take notice.
It could well be, as discussed immediately above, that in a recessionary scenario corporate earnings and, by implication, stock markets have further to fall. However, that might not be the case in certain fixed interest markets. We would argue that the levels of yield now available are pricing in not just a downturn but severe economic distress.
Investors need to remember that fixed interest investing is a mathematical equation. Can the company we are lending money to continue to pay us our interest through the term of the loan and then repay our principal at its conclusion? And how much are we prepared to pay for this risk? This was less relevant when debt was free and the yields on offer were low, but now fixed interest is potentially a great source of return once again.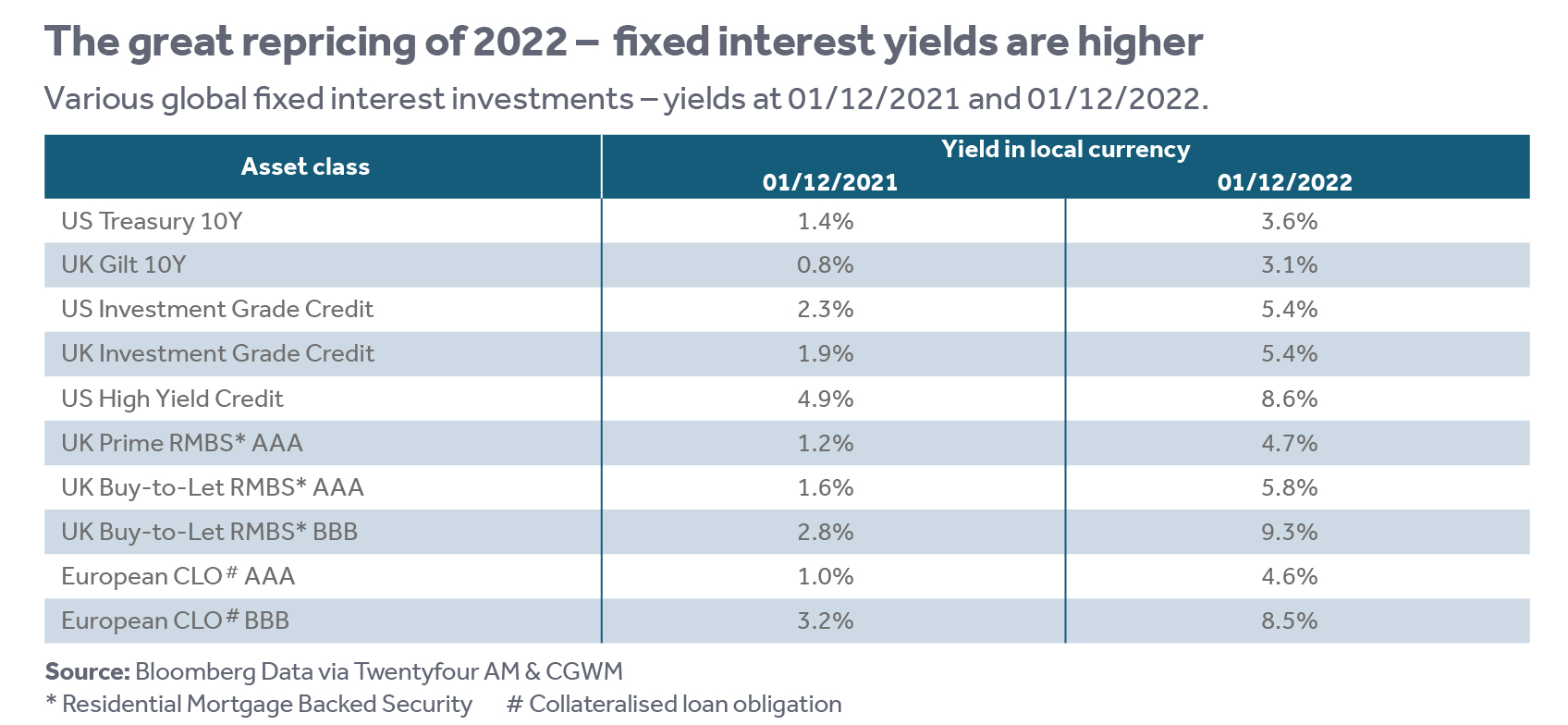 Past performance is not necessarily a guide to future performance.
Conclusions
We recognise that 2022 was a difficult year for all of us as global citizens, consumers and, of most importance here, investors. All the present macroeconomic difficulties will not suddenly be resolved in 2023, but the major difference is that 2023 is a totally changed situation when it comes to asset valuations.
We are excited by the prospects for the 'other side' of an investment world where we can use volatility to our advantage, achieve success through active investment selection and benefit from the total repricing of fixed interest investments. Until we can be more certain how the great macroeconomic tectonic plates will settle in 2023, we will remain diversified and prepared to change course. We will also embrace the words of Walt Disney, who always liked "to look on the optimistic side of life" while being "realistic enough to know that life is a complex matter".
You may also be interested in:
Need more help?
Whatever your needs, we can help by putting you in contact with the best expert to suit you.
Let us contact you
Investment involves risk. The value of investments and the income from them can go down as well as up and you may not get back the amount originally invested. Past performance is not a reliable indicator of future performance.
The information provided is not to be treated as specific advice. It has no regard for the specific investment objectives, financial situation or needs of any specific person or entity.
This is not a recommendation to invest or disinvest in any of the companies, themes or sectors mentioned. They are included for illustrative purposes only.
Charts are for illustrative purposes only and should not be relied upon for any other reason. Information is correct as at date of publication.
The information contained herein is based on materials and sources deemed to be reliable; however, Canaccord Genuity Wealth Management makes no representation or warranty, either express or implied, to the accuracy, completeness or reliability of this information. Canaccord is not liable for the content and accuracy of the opinions and information provided by external contributors. All stated opinions and estimates in this article are subject to change without notice and Canaccord Genuity Wealth Management is under no obligation to update the information.
Find this information useful? Share it with others...
Investment involves risk and you may not get back what you invest. It's not suitable for everyone.
Investment involves risk and is not suitable for everyone.