Keep calm and carry on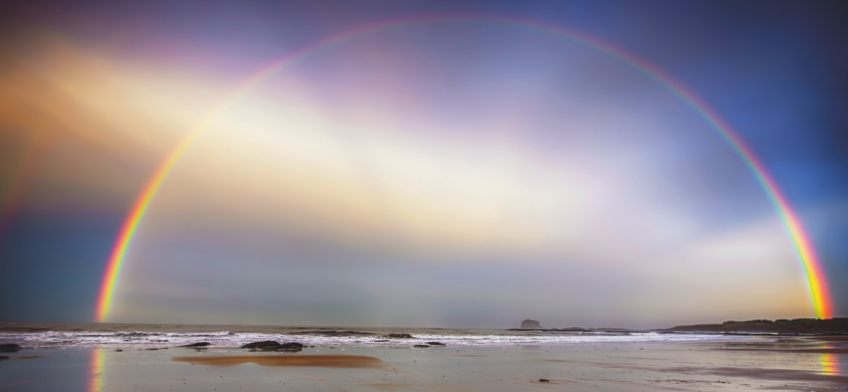 These are dark times. Yet, shining through the darkness there are shafts of light, and these we should cherish and build upon; throughout the world, the calamity of this pandemic is bringing out the best in human nature as all of us fight in solidarity and strength against the coronavirus. We are at war with it, and the nearest equivalent period in history to what we are living through today is World War Two. Just as then, we shall prevail.
There's a perception that we Brits are a uniquely stiff upper lip crew. However, this seems to be based more on theory than practice, as shown by the panic-buying of toilet paper and stripping supermarket shelves bare of cleaning products and tinned food. In that regard we seem to be not dissimilar to Australia or the US, or a myriad of other countries. As human beings, that which makes us the same far outweighs that which makes us different.
The famous UK Ministry of Information poster, 'Keep calm and carry on', was produced in summer 1939. It was a response to the fear of aerial bombardment engendered in 1937 and early 1938 following the Nazi bombing of Guernica, the Italian bombing of Barcelona in the Spanish civil war, and the Japanese bombing of Nanjing and Shanghai in the Chinese war of resistance against Japan. In fact, the blitz proper didn't start until September 1940, and the poster was almost never used.
It feels as if a similar public morale effort would be appropriate now, for once again we are afraid – not of death from the air, but of the unknown, the random and the seemingly inescapable.
Amongst the turmoil caused by COVID-19, the collapse in the oil price and the plunge in share prices around the world, we remind ourselves in this article that all is not entirely bleak in the UK.
Healthcare
In the past, some people may have seen the National Health Service (NHS) as a sclerotic and inefficient behemoth. But right now, it seems unutterably precious – a beacon of light and hope in an uncertain world. For other nations, the NHS is an exemplar of a cost-efficient universal healthcare system. Just ask an uninsured or uncovered American, when they go into their local hospital to take a coronavirus test. Here in the UK, it's free. In the US, that'll be US$3,000 please. Imagine testing your entire family. The NHS also happens to be one of the world's largest employers, with some 1.7 million workers, even before the current recruitment drive brought back many retirees.
It's not just the UK's health service that gains plaudits. The UK benefits from some of the highest quality medical research anywhere, bolstered by the academic prowess of its universities, charitable endowments like the Welcome Trust and world-leading pharmaceutical companies. Research and prowess for which we will be very grateful if they help to stem the tide of COVID-19.
Finance
The City of London may not be everyone's favourite 'best of British' right now, but we should not get defensive about the benefits of hosting one of the world's leading financial centres. Whether it is in banking, foreign exchange trading, equities and fixed income, asset management, wealth management, legal services, accountancy or consultancy, the UK is a leading provider of professional advice across the world, bolstered by the much admired benefits of English law.
Sport
The current dearth of sport to watch or take part in reminds us of what we're missing. The UK is one of the most fertile countries for sport anywhere, with many global sports originating or administered from these shores. Whether this is Premier League football (soccer to our American friends), Formula 1 and motor sport, rugby union, cricket or athletics, the UK punches above its weight, as our haul of medals from the Olympic Games in 2012 (at home, of course) and 2016 (away) illustrates perfectly. We may not be able to add to it in Tokyo this year, but our athletes are no doubt all training fiercely in isolation, ready for when sport returns to our lives.
Specialist technology
Although the UK stock market does not include any of the global technology titans, we do have clusters of excellence in a variety of significant technology niches. In financial technology (so-called 'fintech') and education technology ('edtech'), the UK has a leading presence, with a strong group of thriving companies in London's Shoreditch and based around our top universities for example. We enjoy a strong position in artificial intelligence, and Google's Deep Mind business is based here. We head the competition in the roll-out of open data, which allows individuals and companies to interact with government and company information more intimately and more easily than any other major economy.
According to emarketer.com, an online digital market research company, we enjoy the highest penetration of internet retailing anywhere. Despite having less than 1% of the world's population, we rank number three in the absolute number of online shoppers, number four for the aggregate volume of internet sales by value and number three for the proportion of the population that shops online. We may well be increasing our ranking during the current crisis, as more people turn to internet orders for home deliveries.
London
The UK is lucky to have one of the world's foremost cities as its capital. London is one of the most cosmopolitan places on earth and is blessed with probably the most beautiful open spaces of any comparable city. Let's look forward to a time when its restaurants, nightlife, theatres, museums and art galleries can reopen, restoring it to the vibrant, creative city we know and love.
Green initiatives
There was a time when Britain was known as the 'dirty man of Europe', dumping acid rain on the continent and polluting the Irish Sea with radioactive discharge from Sellafield's nuclear site. Today, however, the UK leads the world in carbon emissions reduction. We also have one of the fastest-growing and largest wind power networks (both onshore and offshore) which you can read more about here. We lead the way in animal welfare, and along with the rest of the EU, in food standards – potentially tricky topics in upcoming trade negotiations both with the EU and the US.
In addition, the British Isles are renowned for their natural beauty. In few countries is there such a diverse range of landscapes: from the mountains of Scotland and Wales, to the Lake District, to the Dales, to the Sussex Downs and to the moors of the West Country. Those of you who are lucky enough to live amid such glorious scenery can hopefully enjoy it from your windows; the rest of us look forward to visiting when the crisis has passed.
Education
Although many of them are currently closed, our private schools attract pupils from across the globe. Supplemented by our leading universities, the UK is home to some of the world's best education establishments – albeit for those who can afford to pay for them. Three of the top 10 universities in the world, as categorised by the Times Higher Education World Universities Ranking of 2019, are British (Oxford and Cambridge are numbers one and two respectively, Imperial College London number nine). British authored academic articles are twice as likely to be cited in other academics' own papers as any other nationality, on a per capita basis.
Creativity
The UK is renowned for the quality and depth of its creative arts. We may not currently be able to enjoy our British stars at galleries, cinemas, theatres or concert halls, but we can catch up with TV drama and arts programmes, or watch classic Royal Opera House performances streaming on Facebook and YouTube. Whether you enjoy film, literature, pop music, architecture or theatre, the list of British artists, from Danny Boyle to JK Rowling and from Sir Norman Foster to Dame Judi Dench, shows that the UK can boast an unmatched list of globally-recognised leaders in their respective fields.
Reasons to be cheerful
There are many other areas where the United Kingdom takes the lead – in fact, too many to mention here.
But why are we looking at all these areas of excellence? Well, quite apart from cheering us up at a time when morale is under pressure, the key point is that all these areas support a great infrastructure of companies, both large and small. These companies gain a huge competitive advantage from the cutting-edge technologies, services and engineering associated with all these world-leading activities.
The UK is blessed with a huge array of great companies for us to invest in for our discretionary clients, including
Healthcare – through diagnostics, vaccines, immunotherapy, novel drug research or medical technology
Fintech – to support our financial services industry
Engineering – for Formula 1 or defence
Edtech – to support our learning institutions
Leisure services – underpinning our arts, tourism and sports teams
Innovative companies – delivering green infrastructure and technologies to meet the challenges of de-carbonising society in the face of the climate emergency.
One day, hopefully soon, the coronavirus crisis will be over, and markets will once again look for opportunities to support and benefit from these great companies. It is a message of hope at this time of difficulty and a reminder, should we need one, that the sun rises every day and that the night is darkest before the dawn.
In the meantime, we should indeed 'keep calm and carry on'; work from home, maintain social distancing and wash our hands frequently. Stay safe everyone.
Make the most of our small company expertise
Small UK companies can offer excellent investment opportunities. However, they're often ignored by investment and wealth management companies, who may lack the expertise and experience to evaluate small businesses, spot opportunities and invest on your behalf.
At Canaccord Genuity Wealth Management, we do have that expertise and believe smaller companies can be a very important part of a truly diversified and well balanced portfolio. Small companies however, are high risk, so we'll only suggest them as part of your discretionary or advisory portfolio if they're appropriate for your investment risk profile
If you're interested in learning more about our , talk to your Canaccord Genuity Wealth Manager. They will listen to your request and carefully assess your needs and preferences.
Found this interesting? Read more
Investments in smaller companies are not suitable for all investors as they are high-risk as they tend to be more volatile and illiquid. Selling may be difficult and they can fall further than the wider market. They are more exposed to fluctuations in the domestic economy and growth is not guaranteed.
Investment involves risk. The value of investments and the income from them can go down as well as up and you may not get back the amount originally invested. Past performance is not a reliable indicator of future performance.
The information provided is not to be treated as specific advice. It has no regard for the specific investment objectives, financial situation or needs of any specific person or entity.
The information contained herein is based on materials and sources that we believe to be reliable, however, Canaccord Genuity Wealth Management makes no representation or warranty, either expressed or implied, in relation to the accuracy, completeness or reliability of the information contained herein. All opinions and estimates included in this document are subject to change without notice and Canaccord Genuity Wealth Management is under no obligation to update the information contained herein.
Find this information useful? Share it with others...
Investment involves risk and you may not get back what you invest. It's not suitable for everyone.
Investment involves risk and is not suitable for everyone.