Responsible investing is here to stay
Responsible investing is here to stay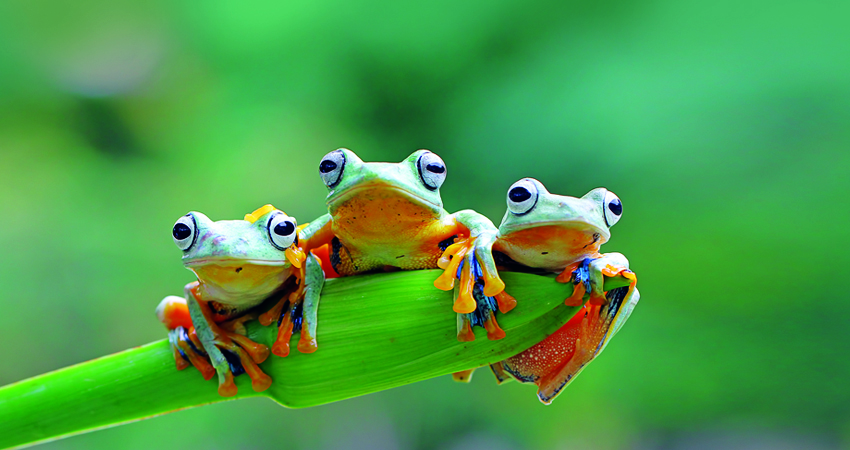 The move towards more responsible investing is a 'mega trend' according to our Head of ESG Investments, Patrick Thomas – and is here to stay.
If you are considering a socially responsible investment strategy, in this short video Patrick explains why demand for socially responsible investing is being driven by changing consumer attitudes, corporate regulation and governance, as well as companies' increasing awareness of managing non-financial data.
What is the future for responsible investing?
The future looks bright for investors looking for socially responsible investment strategies, such as the one we use in our ESG Portfolio Service . The emergence of socially responsible funds and/or portfolios, like ours, means there are plenty of opportunities for responsible investing. They help you invest in funds that work towards making the world a better place, while also doing your best for your long-term financial security. They allow you to invest consciously while still aiming for positive returns.
How does non-financial data help socially responsible investing?
Businesses are recognising that issues around non-financial data can create reputational damage which could impact their financial performance compared to peers. We only have to think about the reputational challenges affecting Facebook, BP or Volkswagen in recent years and the impact these issues had on their share price at the time. Facebook saw responsible investors defect to Microsoft, as a result of their concerning ambivalence about subscriber data privacy and poor regard for shareholder rights.
With more non-financial data now available, investment analysts can implement more socially responsible investment strategies and try to avoid some of these reputational issues which could detrimentally impact the share price and your investment returns.
Non-financial data can also help investment analysts identify new and different investment ideas - and ultimately create more interesting, as well as socially responsible, investment portfolios.
How do ESG factors relate to responsible investing?
ESG (environmental, social and governance) factors are another aspect of non-financial data that responsible investors are increasingly considering.
ESG stands for environmental, social and governance: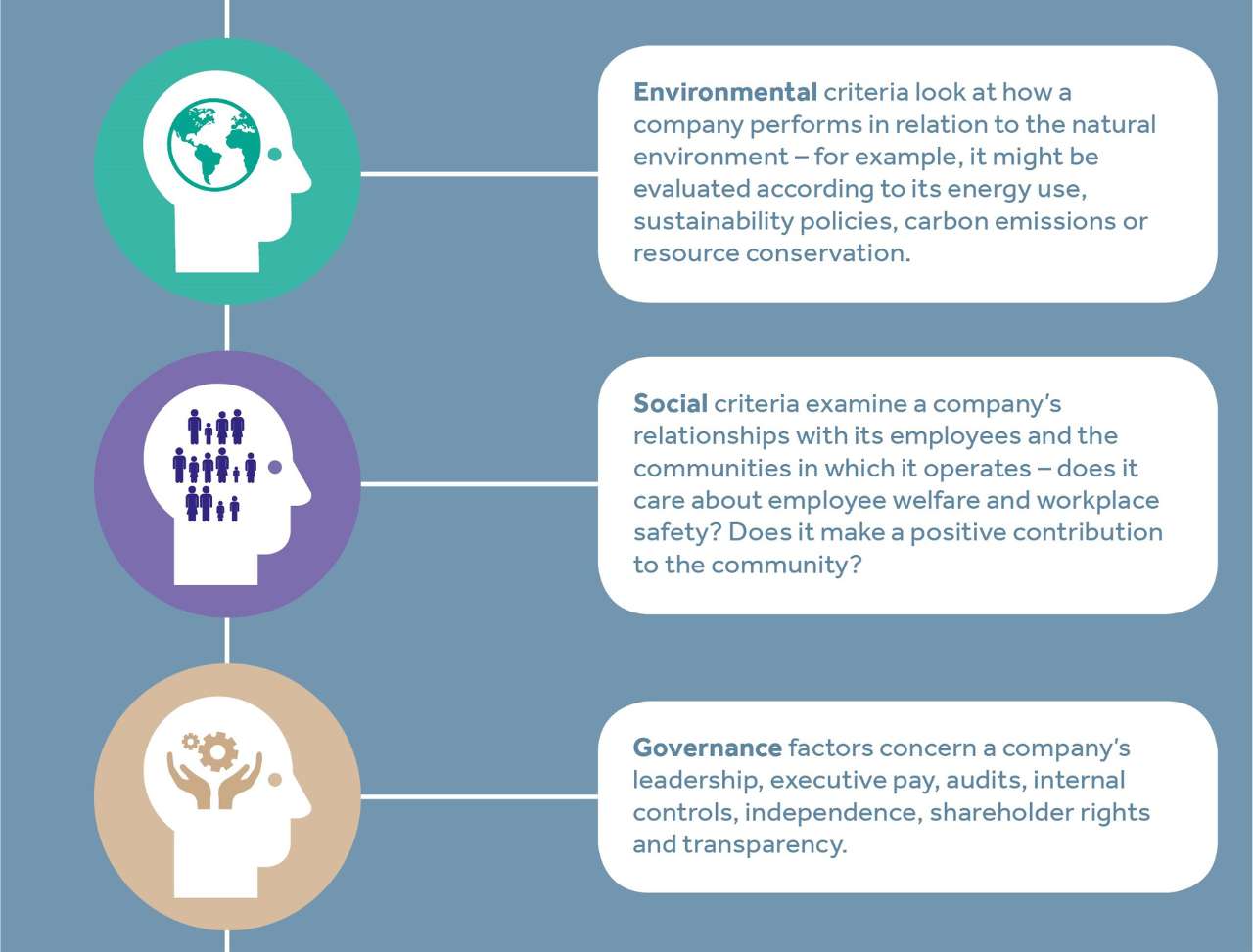 Environmental criteria for example look at a company's energy use, sustainability policies, carbon emissions, resource conservation or animal rights amongst other things
Social criteria examine a company's relationships with its employees and the communities where it operates
Governance concerns factors such as a company's leadership, executive pay, audits, internal controls, independence, shareholder rights and transparency.
ESG investing considers the above factors alongside traditional financial metrics, with the objective of creating a more responsible investment portfolio.
However, 'ESG investing' has more definitional rigour than terms like 'ethical investing' or 'socially responsible investing' which we explore further in our article when we discuss the definition of 'sustainable investing'. ESG investing is also more data driven, with companies reporting on areas like resource efficiency, employee training and board independence.
Good investment returns or good works – do you still have to choose?
Until recently, allocating capital was viewed as binary. You had to choose between philanthropy and profit – you couldn't have good returns generated by doing good. Now though, the evidence suggests that well-governed companies that put thought into their environmental and social mission can deliver better investment returns.
Some of these well-governed companies are also making a positive difference by solving real world problems, such as water scarcity or waste management or cancer [click here to read more about our top five ESG sustainable and responsible themes]; others are more focused on avoiding risks to their business model. Think of a seatbelt manufacturer preventing road deaths, or a drinks manufacturer making lower-sugar products.
The industry has responded positively to this trend:
The number of signatories to the United Nations supported Principles for Responsible Investment (PRI) — the principal framework for investors committed to integrating ESG issues into their decision-making — has been increasing. It stood at more than 3,000 as at 31 March, 2020. Led by institutional investors, AUM of these PRI signatories has grown from less than US$6 trillion at PRI's launch in 2006 to US$103.4 trillion by the first quarter of 2020[1] .
According to Morningstar, during the first quarter of 2020, globally ESG funds attracted record inflows with of US$45.7bn.
In a recent analysis of selected ETFs and mutual funds, S&P Global Market Intelligence analysed the performance of 17 ESG ETFs and mutual funds with more than US$250m in AUM. For the year-to-date period to May 15, 2020, 83% of them outperformed the S&P 500.
Morningstar's 'ESG Indexes Protect on the Downside' concluded that 72% of Morningstar equity indexes that incorporate ESG screens lost less than the market during down periods for the five years through the end of 2019. A follow-up study after the Q1 2020 selloff found that 51 of Morningstar's 57 ESG-screened indexes, or 89%, outperformed their broad market equivalents in the first quarter of 2020.
Slow and steady progress towards responsible investing and ESG themes
What's promising about the shift towards responsible investing is that interest in it is huge, but the mechanics are happening gradually, so things like portfolio diversification are not being upended. There is a push towards preferring investments in companies that score well on ESG, rather than an ideological purge of half the Dow Jones Index. Sensible portfolio management principles, like diversification, have not been abandoned at the altar of moral virtue.
We see ESG as a structural investment theme rather than a cyclical one. A combination of attractive performance characteristics and inflows into the asset class make it impossible to ignore.
Our ESG Portfolio Service does not compromise our philosophy of investing globally and across asset classes
It does not deviate from our belief that diversification is essential for both growth and wealth preservation
Most importantly, it does not inhibit our ability to deliver the expected returns our clients need.
Found this interesting? Read more on ESG:
Speak to one of our experts
If you have any further questions about ESG investing or the current environment, please get in touch with us or email wealthmanager@canaccord.com. Please remember, you can check your portfolio value at any time, through Wealth Online or by getting in touch with your Investment Manager.
Let us contact you
If you're unsure which of our teams to contact, let us help you. We can put you in touch with one of our experts who will discuss your wealth management needs with you.
Find out more
Investment involves risk. The value of investments and the income from them can go down as well as up and you may not get back the amount originally invested. Past performance is not a reliable indicator of future performance.
The information provided is not to be treated as specific advice. It has no regard for the specific investment objectives, financial situation or needs of any specific person or entity.
The information contained herein is based on materials and sources that we believe to be reliable, however, Canaccord Genuity Wealth Management makes no representation or warranty, either expressed or implied, in relation to the accuracy, completeness or reliability of the information contained herein. All opinions and estimates included in this document are subject to change without notice and Canaccord Genuity Wealth Management is under no obligation to update the information contained herein.
---
[1] Source: Principles for Responsible Investment, as of March 31, 2020.)
Find this information useful? Share it with others...
Investment involves risk and you may not get back what you invest. It's not suitable for everyone.
Investment involves risk and is not suitable for everyone.