20170714 - Investment opportunities in Europe – forget the macro – focus on the micro
Forget the macro – focus on the micro. Small cap investment opportunities in Europe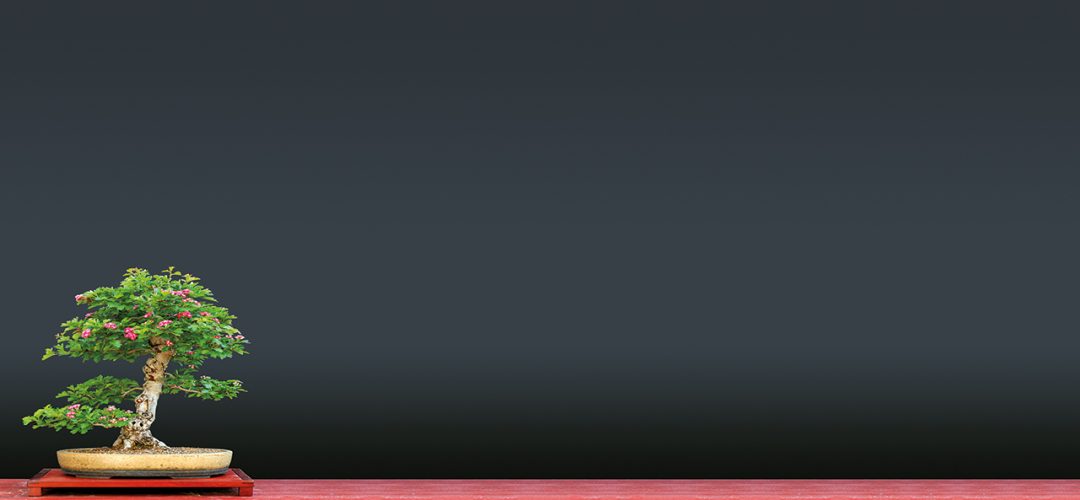 The European Union is a challenging place. While it has lofty ambitions, the reality is that when you try to identify, reconcile and codify the interests of 28 member states, it's inevitable that things could get a little tricky. To our mind, this is where the interesting investment opportunities in Europe arise from the shadows.
Of late, Europe has struggled with a series of debilitating challenges, but has endured. In his 1888 work Twilight of the Idols, or How to Philosophise with a Hammer, Nietzsche suggested "That which does not kill us, makes us stronger" and if the text was intended to foretell the ambitions and woes of the European Union, Nietzsche got it absolutely right.
With debt crises, political instability, social unrest, external pressures and a few member states dancing near the exit, the union has been anything but harmonious. However, we could argue that, in working to overcome so many obstacles, the EU is testament to Darwin's evolutionary spirit, and we are now witnessing the survival of the fittest. We can draw evidence to support this from a range of economic, market and social metrics, but maybe the clearest proof comes in the form of earnings being generated by European companies, as they provde a guide to corporate profitability.
Europe yearly earnings trend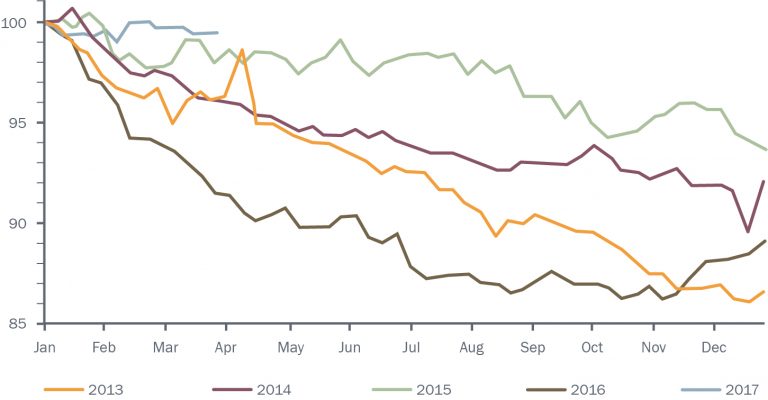 Source: Earnings trend chart, JP Morgan Cazenove, IBES – 2017
The chart above tracks the earnings per share (EPS) of European companies over the last five years. Call it a frailty of human nature, but each year begins with optimistic estimates and a quick glance will show you that, as the year progresses, the direction of travel is generally from top left to bottom right, reflecting a sequence of downward revisions and disappointing economic activity.
Recently, however, this downward trend for investment opportunities in Europe has reversed. Looking at the EPS for 2016, there's a strong shift higher in the closing stages of the year and, at present, not only are the EPS for 2017 proving resilient, they are indeed being revised upwards. This would suggest, at least at a corporate level, that Europe is in good economic health.
The real interest however, lies in the disconnect between the broad economic activity in Europe – call this the 'macro', and the performance of small European companies – the 'micro'.
Where are the investment opportunities in Europe?
Ask a passer-by to name a few European companies and you'll be told about Airbus, Nestlé and Volkswagen. In reality, although these are prime examples of world-class companies headquartered in Europe, the bulk of their earnings come from outside Europe, so their economic performance is driven predominantly by the global economy. If you want to benefit from economic activity in domestic Europe, you instead need to focus on the micro.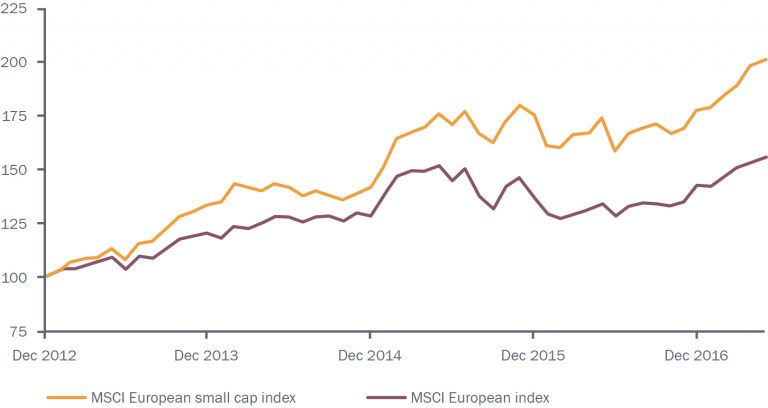 Source: MSCI – Bloomberg, 2017
This chart contrasts the performance of the broad MSCI European Index and the MSCI European Small Cap Index. While the broad index captures all companies, the key determinant for inclusion in the Small Cap Index is that the company is somewhere between €300 million and €2 billion in size. Typically, smaller companies are much more domestically orientated and, since they are small, they have the potential to surprise.
Why are smaller companies offering these investment opportunities in Europe?
In 17 of the last 26 years, European smaller companies have delivered faster earnings growth than their larger peers and, to put it simply, compounding stronger earnings growth delivers stronger returns for investors. Since the end of 2012, the Small Cap Index has delivered twice the return of the broad European Index.
Going back to our random passer-by, while they'll be able to name a few large European companies, they're unlikely to know many, or even any small European companies, and this unfamiliarity extends into the analyst community too. A large company might attract significant coverage, but a small company attracts very little, and this imperfection again highlights the investment opportunity.
The evidence shows that smaller companies are overlooked by the analytical and investor communities and, while inefficient European markets might be a source of frustration to large companies, they are a source of opportunity to small companies.
By way of example, let's take a manufacturer of household appliances. When designing and distributing products, the manufacturer needs to understand and accommodate regional variations. From Sweden to Spain, there are at least seven different types of plug socket. Wherever a change is needed, any frictional cost will impact the manufacturer's profitability. However, if you look further down the production chain at the small company that makes the plug components, any regional variation presents an opportunity.
One final point to consider is the belief that small companies may be significantly more risky than big companies. As we've already shown, larger companies can be influenced by a broad spectrum of global factors, but smaller companies are likely to operate in a niche area or have a particular specialisation, which provides a degree of insulation. We're not suggesting that smaller companies are without risk but, given the level of outperformance they've delivered historically, we believe this is a risk worth taking.
The Old Mutual Europe (excluding UK) Smaller Companies Fund was added to our Approved Funds List earlier in the year. As a house, we are growing increasingly optimistic about the investment opportunities in Europe. For the first time in a long while, the political outlook looks calm, underlying fundamentals are healthy and, the market is trading at an attractive discount to its historic long-run average and other parts of the world. To our mind, the future of micros looks bright and we are positioning our portfolios to participate.
If you would like more information on small cap investing or have any questions about investing in Europe, we would be very pleased to hear from you.
Your capital is at risk. The value of investments and the income from them can go down as well as up and you may not get back the amount originally invested.
The information provided is not to be treated as specific advice. It has no regard for the specific investment objectives, financial situation or needs of any specific person or entity.
Find this information useful? Share it with others...
IMPORTANT: Investment involves risk. The value of investments and the income from them can go down as well as up and you may not get back the amount originally invested. Past performance is not a reliable indicator of future performance.