The food choice and sustainability revolution
Future investments – the food choice and sustainability revolution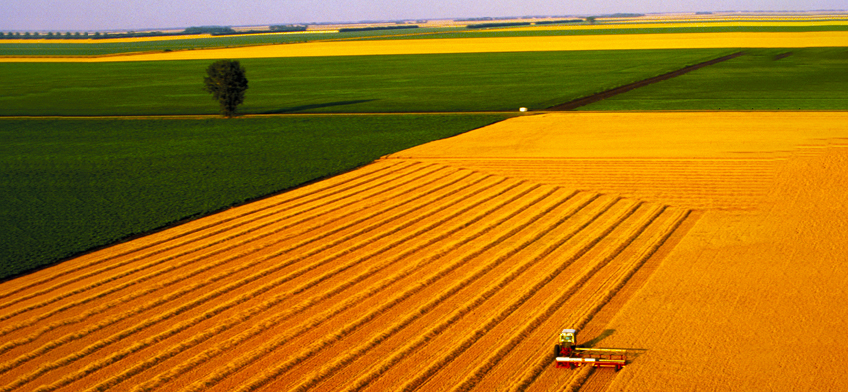 In this article we explore the challenges facing global food production and the future investment opportunities offered by meat-alternatives and developing agricultural technologies. The rise of vegetarianism and veganism has pushed companies to develop tasty meat and dairy alternatives, which, in turn, has led to more vegan and plant-based investment funds. Advances in sustainable packaging also mean new and exciting investment opportunities are rippling out across the food supply chain.
Here's our Head of ESG investing's latest thoughts on how sustainable food investing is looking like a crucial ingredient in the plant-based revolution mix.
The huge environmental cost of food production
The world is facing a huge challenge. Global resources are dwindling and the population growing. By 2050, global food systems will need to meet the dietary demands of more than 10 billion people, compared with 7.8 billion today. (1)
Unfortunately, food production takes a significant toll on the environment. It creates greenhouse gases and pollution, depletes land and water resources, leaches phosphorus, and affects soil biology and function through the use of herbicides and pesticides.
The world needs a sustainable food system to provide nutritious food efficiently to a growing population. At the same time we need to reduce environmental damage by developing sustainable agricultural practices and food distribution systems, as well as reducing food waste. (2)
What's wrong with conventional food systems?
Conventional food systems are largely based on the availability of inexpensive fossil fuels, which are necessary for mechanised agriculture, manufacturing chemical fertilisers, processing foods and packaging food products
Demand for cheap, efficient calories has climbed as populations have expanded, resulting in a general decline in nutrition
Industrialised agriculture often leads to the compromising of local, regional and even global ecosystems through fertiliser runoff, nonpoint source pollution and green gas emissions. (3) The need to reduce costs encourages businesses to move food production to areas where economic costs (labour, taxes, etc.) are lower or environmental regulations laxer, but which are usually further from the end consumer markets.
For example, the majority of salmon sold in the United States is raised off the coast of Chile, due in large part to less stringent Chilean standards regarding fish feed – and regardless of the fact that salmon are not indigenous in Chilean coastal waters. (4) The globalisation of food production can result in the loss of traditional food systems in less developed countries, and have negative impacts on health, ecosystems, and cultures in those countries.
The World Resources Institute has warned that:
"If today's levels of production efficiency were to remain constant through 2050, then feeding the planet would entail clearing most of the world's remaining forests, wiping out thousands more species, and releasing enough greenhouse gas emissions to exceed the 1.5°C and 2°C warming targets enshrined in the Paris Agreement, even if emissions from all other human activities were entirely eliminated." (5)
Food choice and sustainability - changing consumer preferences
Today we see a strong movement towards healthy food choices and sustainable eating.(6) Again according to the World Resources Institute, the increasing instances of obesity and related diseases are making consumers more health-conscious and they are demanding food and beverage products that are natural and low in fat and calorie content.
Studies claim a whole-food, plant-based diet can prevent and even reverse a litany of food and lifestyle-borne illnesses, including heart disease and type 2 diabetes.(7) And according to the European Commission's 'Sustainable Food' report 2020, "The promotion of a healthy diet also reduces the environmental footprint of food consumption in Europe and globally." (8)
Sustainable food investing - how do we invest on the right side of this disruption?
Responsibly meeting the sustainable food needs of a growing population means there is a significant and developing market opportunity, which could whet the appetites of hungry investors.
The good news is that the food industry has begun to respond. We see expanding plant-based protein options; new technologies penetrating farming, aquaculture and supply-chains; and changes in the packaging used to wrap our food, among many other things.
These changes are a response to a consumer shift away from animal products, largely due to rising concerns about animal welfare, personal health, and how they impact the planet's natural ecosystems (forest/habitat loss and methane emissions, waste discharge and freshwater usage). The United Nations Food and Agriculture Organisation estimates that livestock production is responsible for 14.5% of global greenhouse gas emissions, while other organisations, including the World Watch Institute, have estimated it could be as much as 51%. (9)
The rise of organic and plant-based investment opportunities
This is creating investment opportunities in the plant-based and organic foods sectors. Companies in this sub-sector are predominantly focused on producing and delivering plant-based foods and alternatives to meat and dairy. Demand for these foods is rocketing – in the US alone, retail sales of plant-based foods grew 29% over 2018 and 2019 to a record US$5bn (10) – and is anticipated to grow exponentially over the coming years.
The demand for organic foods is also expected to continue growing, as consumers learn more about the impact of intense agricultural practices that maximise yields at the expense of the health of the soil and the end consumer.
Initial Public Offerings (IPOs) of Beyond Meat and Impossible Foods have recently highlighted the market's interest in plant-based catering.
Dairy alternatives are another area of interest. Walking into our local supermarkets, we seem to notice new brands of nut milk almost daily, attesting to the fact that consumers are expanding their horizons. One only has to look at the recent IPO of Oatly, the Swedish oat milk company: the company's shares soared when they made their public market debut in May 2021. The global milk alternatives market, valued at US$20.5bn in 2020, is currently expected to grow at an annual compound growth rate of 12.5% between 2021 and 2028, according to Grand View Research.(11)
This is not a recommendation to invest or disinvest in any of the companies, funds, themes or sectors mentioned. They are included for illustrative purposes only.
Time to put sustainable food investing on your menu?
While we are not specifically recommending investing in the plant-based companies mentioned in this article, these activities reveal the level of market interest in this exciting new theme. For most investors looking for exposure to sustainable food, it is likely to be through a specialist fund – and our investment managers can suggest a number of options to incorporate into your portfolio.
Ultimately, we see sustainable food as a great example of how investing in the future of our planet is also an incredible opportunity to deliver returns.
If sustainable food investing appeals to your taste buds, please get in touch to arrange a complimentary initial consultation with one of our personal wealth managers today.
Find this useful? Read more here:
New to Canaccord Genuity Wealth Management?
If you are new to wealth management and would like to learn how this can benefit you, we can put you in touch with our team of experts that can help.
Get in touch
Investment involves risk. The value of investments and the income from them can go down as well as up and you may not get back the amount originally invested. Past performance is not a reliable indicator of future performance.
The information provided is not to be treated as specific advice. It has no regard for the specific investment objectives, financial situation or needs of any specific person or entity.
The information contained herein is based on materials and sources deemed to be reliable; however, Canaccord Genuity Wealth Management makes no representation or warranty, either express or implied, to the accuracy, completeness or reliability of this information.
[1] WRI, "How to Sustainably Feed 10 Billion People by 2050, in 21 Charts", August 2020 https://www.wri.org/blog/2018/12/how-sustainably-feed-10-billion-people-2050-21-charts
[2] Food and Agriculture Organisation of the United Nations, "Sustainable food systems: Concept and framework", 2018. http://www.fao.org/3/ca2079en/CA2079EN.pdf
[3] Our World in Data, "Environmental impacts of food production", January 2020. https://ourworldindata.org/environmental-impacts-of-food
[4] Al Jazeera, "Are Chile's industrial salmon farms changing the seas?", November 2019. https://www.aljazeera.com/ajimpact/chile-industrial-salmon-farms-changing-seas-191110182531076.html
[5] World Resources Institute, "Executive Summary Synthesis", December 2018. https://research.wri.org/wrr-food/executive-summary-synthesis
[6] Retailer Leader, "Consumers want more fresh, less processed food", October 2017. https://retailleader.com/consumers-want-more-fresh-less-processed-food
[7] US National Library of Medicine, "A plant-based diet for the prevention and treatment of type 2 diabetes", May 2017. https://www.ncbi.nlm.nih.gov/pmc/articles/PMC5466941/
[8] European Commission, "Sustainable Food", 2020. https://ec.europa.eu/environment/eussd/food.htm
[9] Sentient Media, "The Climate Crisis Secret", 2020. Available https://sentientmedia.org/the-climate-crisis-secret
[10] Grand View Research Plant Based Meat Trends Report https://www.grandviewresearch.com/industry-analysis/plant-based-meat-market
[11] Grand View Research Alternative Milk Trends Report https://www.grandviewresearch.com/industry-analysis/dairy-alternatives-market
Find this information useful? Share it with others...
Investment involves risk and you may not get back what you invest. It's not suitable for everyone.
Investment involves risk and is not suitable for everyone.