Services for US citizens in the UK
Navigating the complexities of cross-border investing needs diligent planning. To start with, the rules around Passive Foreign Investment Companies (PFICs) are raising high hurdles for Americans in the UK who want to invest wisely and efficiently. On top of that, the Foreign Account Tax Compliance Act (FATCA) has made managing your investments even more complex.
At Canaccord Genuity Wealth Management, we provide a comprehensive investment management service specifically designed for US citizens resident in the UK. We deal in US equity and fixed income markets, and have extensive research teams in North America and London.
Our services include:
Specialist investment management designed around your needs
Discretionary or advisory portfolio management
Custody in the UK, Guernsey, Jersey, Isle of Man or New York
US tax year accounting in dollars
US-compliant individual retirement accounts (IRAs)
Tax reporting documents required by the IRS.
As we don't offer tax advice, we will work closely with your tax, accountancy or legal advisers, to make sure the decisions we make on your behalf dovetail with the arrangements they've set up for you.
Some of these services are provided by Pershing Securities LLC New York.
Why choose our services for US citizens?
You will benefit from our in-depth investment expertise
Our specialist team has over 50 years' combined experience of managing assets for US expats
We offer a choice of discretionary or advisory investment management in both US dollars and sterling, to ensure your investments work efficiently from both a UK and US tax perspective.
Watch our specialist Investment Manager, Roy Clouse talking about helping Americans living in the UK to invest wisely and efficiently.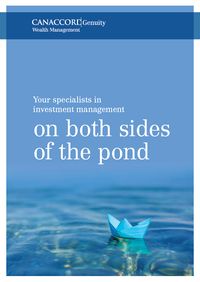 Download our US citizens brochure
Read about our experience in looking after US citizens

Find out more about our range of services for US expats

Meet our specialist team.
Download
How can we help?
If you would like to know more about our services for US citizens resident in the UK, or want to speak to one of our team, get in touch. We will be delighted to give you more details.
Keeping you informed
Investment market update - Are things looking up for investors in the UK?
We ended 2018 in a funk. Investors were beginning to panic that the global economy was entering a period of sharp downturn, the US yield curve was close to inverting, the Chinese economy seemed to be in trouble, Europe was back in the doldrums and President Trump had engaged in a trade war with China and, at the same time, shut down a big chunk of the US government.
Read more
Why diversity and inclusion should matter to investors
'Diversity' and 'inclusion' are no longer just buzzwords. In this article, Patrick Thomas, Head of ESG Investments explains why both can improve company culture, performance and even national GDP, and how we at CGWM assess D&I factors when investing on behalf of clients.
Read more
IMPORTANT: Investment involves risk. The value of investments and the income from them can go down as well as up and you may not get back the amount originally invested. Past performance is not a reliable indicator of future performance.