#cando athlete | Luke Sinnott
27 August 2019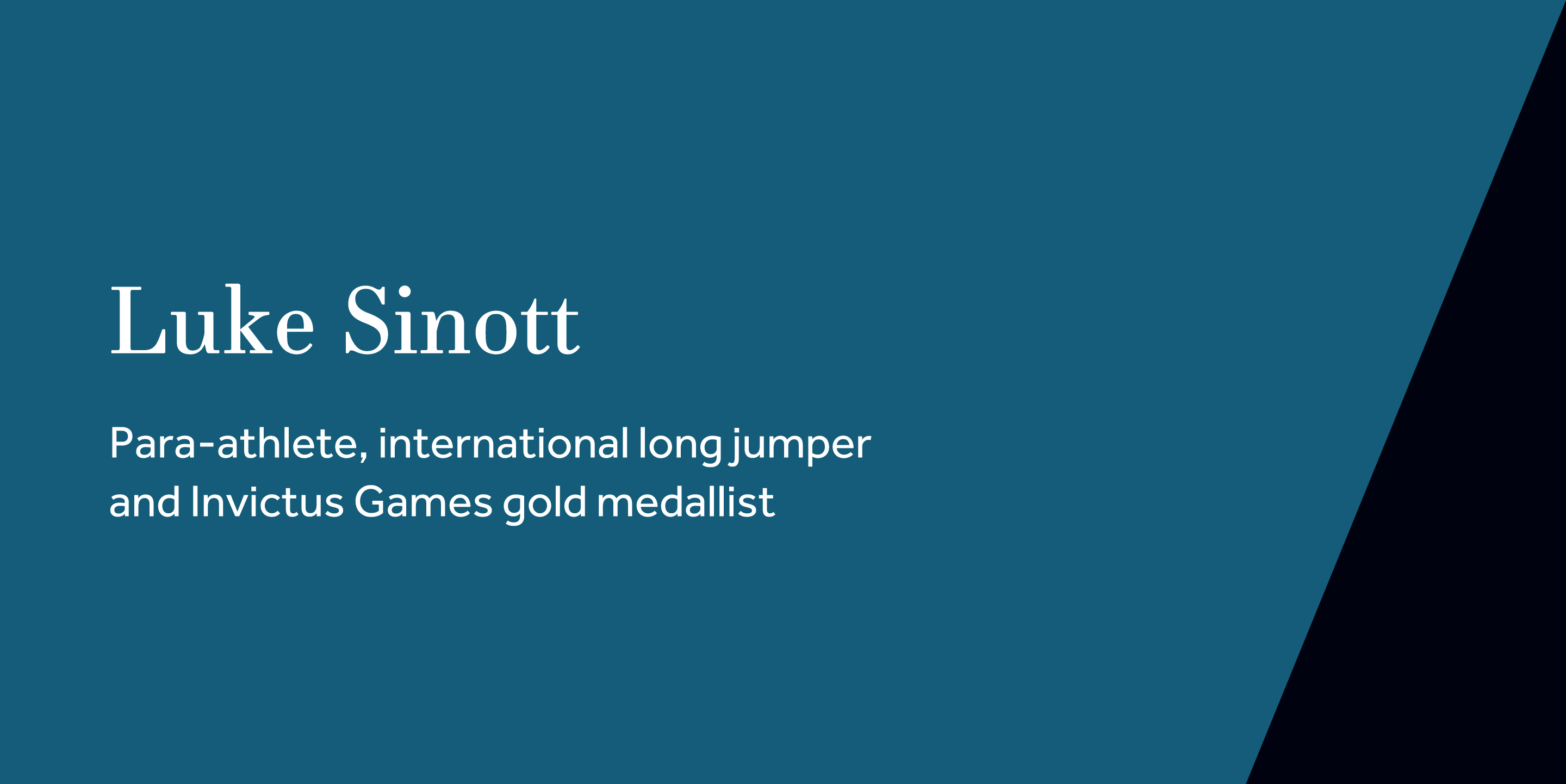 Para-Athlete | International Long Jumper | Invictus Games Gold Medallist
One of our #cando athletes is Luke Sinnott, an international long jumper. We had a Q&A with Luke to find out a little more about him, his story and sport.
1. How did you get into the sport you're competing in?
Originally, it wasn't long jump that I turned to after my injury. It was sailing. Before I joined the Royal Engineers, I had been a sailing instructor and Flotilla skipper and just four months after my injury I was back out on a boat. Sailing played a huge part in my recovery and I still sail, but no longer competitively. After four years of competing, I wanted a change. I had a young family and I wanted to spend time with them, however, sailing isn't really the best sport for that. You have to go away, and it is extremely weather dependent which means plans change, often at the last minute. So, I decided to take a break which lasted about a year because I got restless.
While I had been in the hospital recovering from my injury back in 2010, I decided fairly early on that I wanted to focus on sport and represent Great Britain at the Paralympics. At first, I considered pole vaulting. I thought: "It's a less popular sport so as long as I make it over the pole I should win by default, right?" I was on a lot of painkillers then. Pole vaulting is still on my list of things to try in the future. Long Jump was a step down from pole vaulting and I remembered enjoying it when I had been at school. So, I called British Athletics to find out if there was even a chance that I could do long jump, they said yes, and now here I am.
When you have a disability, you need to look for a sport that works for and compliments your disability as well as your passions. For me, I am a double above the knee (DAK) amputee and I had severe damage to my arms, and I had always liked technical sports; which was why sailing had always appealed to me. I liked running but I didn't think that just running would be enough to keep me interested. But adding the jumping? Now, that does keep me interested, because it is technical. After all, running on blades for a DAK amputee is tough. Running at full speed while balancing on bouncy blades and jumping from a small wooden board into sand is a unique skill to say the least.
2. What have been the major achievements in your journey as an athlete?
My injury gave me a second chance to be an athlete, so this journey has been a major achievement in itself. After all, I was injured at 30 and when I started long jump, I didn't look at all like an athlete. I looked like a sailor. British Athletics really took a punt on me. So, being accepted and making it onto a world-class programme was amazing.
And then, making the World Championship was something else entirely – this competition is for the best worldwide, not just in UK so it is really difficult. And in the three weeks leading up to the competition, I broke three running blades. I was given a new set of blades that I only had three days to get used to and despite that, I achieved a new personal best.
Then more recently, in the European Championships in Berlin, I snapped a blade during the competition. Thankfully, one of the athletes (who had one leg) had a spare blade that he let me borrow. So, I competed on a pair of mismatched blades and the borrowed one was not designed for me, it was almost asking to be broken. Throughout this journey, I believe I have really shown my grit and determination as an athlete! (Not least because I have broken eight blades since starting and I'm sure I will be breaking some more as I aim for reaching the Paralympics.)
3. What have been your greatest challenges to get this far?
My injury was a blast injury which means there was a lot of damage and there are a lot of issues. It's not a clean disability. There a lot of challenges. To get this far, to be running and jumping … No one else with a blast injury has wanted to attempt it. So, the greatest challenge really was that I felt that I was on my own. I had to work this all out by myself. But with the help of my team, I'm paving the way rather than following a route.
Running would have been the easier choice, but I've never been one for the easy option. Then again, it's also the nature of long jump. Everyone jumps differently because no one has the same injury or disability, so we all have different methods. But this makes it a fascinating sport to watch because it's almost like watching a car crash until the jump is made and there is the sigh of relief as everything comes together and the jumper succeeds.
4. What is your greatest sporting memory so far?
The Invictus Games are amazing events, they're family focused and because everyone is a veteran there is a shared camaraderie. So, my greatest sporting memory so far has to be when I won my gold medal at the Invictus Games. I took my two children onto the podium with me. It's those moments to remember when the training may not be going so well that helps you to get through it and ultimately makes all of the hard work and pain worth it.
5. What do you hope to accomplish in the future?
Getting to Tokyo is one of my goals and breaking the world record is the other – achieving that seven-metre jump. It's very easy to get tunnel vision on the podium placement and the competition, but for long jumpers, I think we're all more focused on the world records and personal bests. If you achieve that then you're likely to get the medal anyway. I'm focusing on the distance and on myself. This is the goal I've been striving for over the last few years, and I still have a way to go. It won't be easy. I need to keep gaining confidence, make sure I have the right running blades, and keep focused.
6. Who is your role model and why?
In the world of athletics, my role model is Daley Thompson. You could call him the Rockstar of athletics, he is a proper warrior. Once, he snapped his pole vault while jumping and it hit him in the groin and he just got back up, walked it off and carried on competing. Also, he used to train on Christmas Day because of the competitive edge it gave him, and he was always looking for that edge over his competition. I like the way he approached athletics. He was one of the best in the world and has now gone into a quiet retirement. I train on Christmas Day, and just having that extra hour, is an hour that my competition won't necessarily have.
Outside of athletics, my role model would have to be Brian Jones. He flew around the world non-stop in a balloon and on his first attempt to do this, he knocked it out of the park. He works hard behind the scenes. I've had the pleasure of flying with him, he actually taught me how to fly a balloon. He's in his seventies and he's still flying. He was the right man, in the right place, at the right time for his achievement and he's used his notoriety to do good. Also, he's ex-RAF. But I admire his determination and how he creates opportunities for other people, which is something I try to do.
7. What does having a can-do attitude mean to you?
For me, having a can-do attitude means never knowing when to quit. No matter what obstacles are thrown your way, you see it through to the end. And that's what I've done in my both my military and athletics career.
8. What advice would you give to the Canaccord Genuity staff considering taking up a sport/entering the 2019 challenge?
Participating in a sport or a challenge can be really tough, especially if you don't enjoy it. So, find something you enjoy doing, not just the outcomes. Enjoy the journey!
Also, get used to being cold and wet or else you should find an indoor sport.
Remember and think about all of the benefits. You'll be more energetic, you'll be healthier, and it will release endorphins. Exercise has a knock-on effect. So, gain confidence and improve your performance because you can become unstoppable.
For many, the fear of failure can stop you before you even begin. But, rather than fear failure, embrace it. Failure isn't a bad thing. It's a part of life and it helps us to improve. So, embrace it. Failure gives us a second chance and that's life. Learn from your failures and knock it out of the park next time.
9. Please share your top 3 training tips for the staff/readers?
Make sure you refuel your body after a workout. Eat something (such as a protein supplement) within thirty minutes of finishing your workout.
Have a robust and flexible plan for training so when life gets in the way you won't stress too much – because let's face it, life always has a habit of getting in the way. It's about creating a balance of work and sport. Yes, it's painful when you switch from always doing a morning run to an evening run because of what might be happening that week, but it is worth it. Adapt to your situation and achieve your training goals by hook or by crook – that's what I do.
And lastly, go for good equipment. Never settle for cheap equipment. It's a lot easier to think about finances and avoid the occasional treat so you can replace and invest in equipment than it is to recover from an injury because of poor equipment. (It's also such an easy injury to prevent.) You learn in the Military to take care of the basics and it is a lesson that I have carried through to sports. So, remember to take care of the basics! For example, trainers are a big one. Invest in a new pair that are good and designed for the sport you do and save yourself that possible injury.
10. How is Canaccord Genuity supporting you in your development?
I'm a family man, so I mostly train from home. I have my garage set up as a workshop and a home gym. So, there's always equipment I need to purchase and that is how Canaccord Genuity are helping me. I will be using the money to purchase some new weights for deadlifting and I've also been saving up for a Keiser machine (which is a resistance machine, like a force multiplier) and these will really help to boost my training.
To find out more about Luke and follow his journey you can sign up to our #cando updates using the form on the left or follow us on social.
Find this information useful? Share it with others...
Investment involves risk and you may not get back what you invest. It's not suitable for everyone.
Investment involves risk and is not suitable for everyone.