#Cando athlete | Richard Chiassario
27 August 2019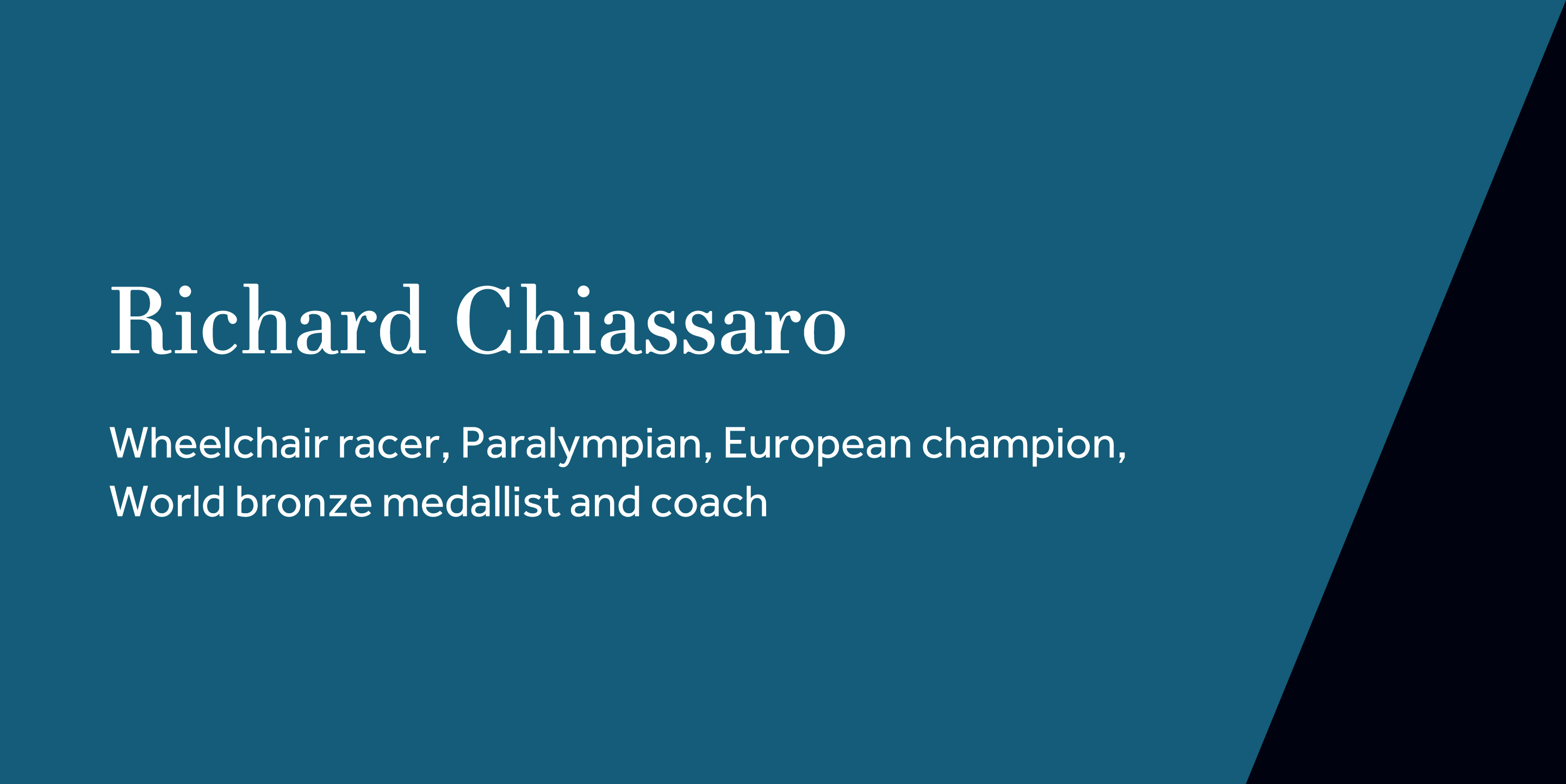 Wheelchair Racer | Paralympian, European Champion and World Bronze Medallist | Coach
One of our athletes is Richard Chiassaro, a wheelchair racer and coach. We had a Q&A with Richard to find out a little more about him, his story and sport.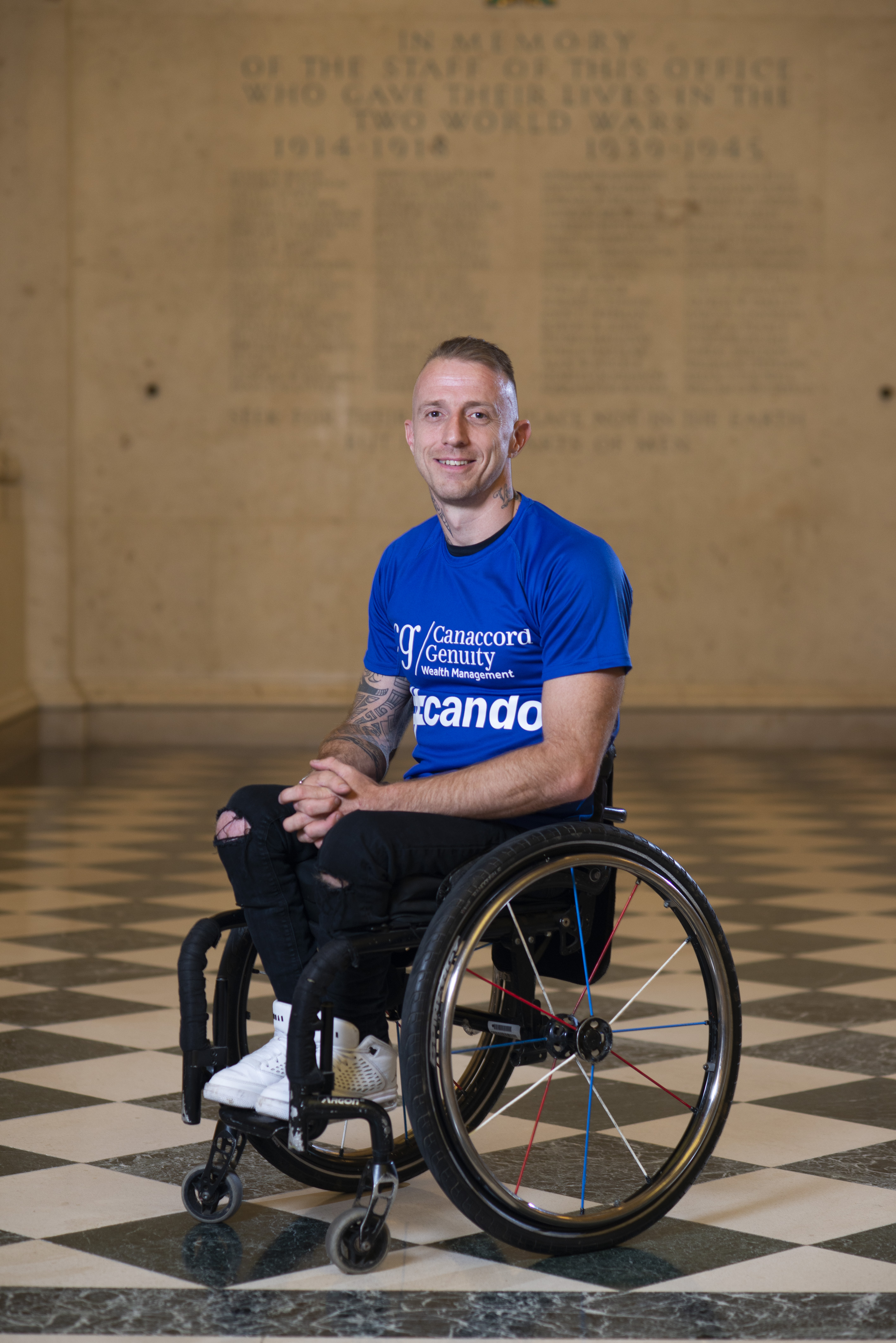 1. How did you get into the sport you're competing in?
When I was younger, all I wanted to do was play football with my friends. Unfortunately, this was rather difficult because I was in a wheelchair and schools were not as inclusive as they are now. So, I turned to wheelchair basketball. Competing in a team sport was so important to me because of the social aspect and camaraderie that team sports provide. As well as keeping fit, I would be able to meet new people and make new friends. I joined the London Bullets Basketball Team when I was thirteen and I loved it. I played with them for about five years.
There was a period where I strayed off the tracks and gave up basketball. This is something I continue to regret, though there is no doubt that this led me to where I am today. Thankfully, I found my way back to sports. After a nasty surgery and recovery that really had an impact on my mindset, I signed up to a lower league basketball team, gained my strength, improved, made my way up to the Premier Division in the UK, and I got faster and faster. But I wanted to do more.
At the request of a friend's aunt I went to a local disability club to try athletics. I decided I wanted to help coach the kids and I also gave wheelchair racing a go. Originally, this decision was just to try a new sport, but I loved it and took to it like a duck to water. So, I kept going. It's a lot harder than basketball and I liked that extra challenge. Then, my goal soon became reaching the Paralympics.
Every time I reach one of my goals, a new one opens up and that's what I love about this sport. It's a continuous journey.
2. What have been the major achievements in your journey as an athlete?
In my journey as an athlete, I would have to say that my major achievements are:
Winning a bronze medal in the 400m at the 2017 Wold Championships in London.
Breaking the 800m world record in 2018 and being the first athlete to achieve a time under a minute and thirty-one seconds for this distance.
Getting the British record in the 200m, 400m, 800m, and 1500m and the European record in the 400m, 800m, and the 1500m.
Being one of only two athletes to achieve a time of under forty-five seconds in the 400m.
3. What have been your greatest challenges to get this far?
The greatest challenge for me had to be when my racing chair was destroyed by vandals.
It was the year before the Rio Paralympics, and I had been preparing for the warm weather training in Australia before selections for the European Championships and for Rio. About a week before I was due to leave, I arrived at the sports centre to fund my racing chair destroyed. The wheels had been kicked in leaving great big holes, the steering had been snapped off, and the frame was bent. Gutted is an understatement for how I felt. Racing chairs are custom made with an eighteen-week build time, and my chair was beyond repair. With the help of a BBC news report, I was able to raise enough money to buy a cheap second-hand chair that I could take to warm weather training. However, the chair was miles too small and cut my ribs up so much every day that I ended up taping washing up sponges to the mud guards to try to stop this. The whole month was the most painful training I have ever experienced, mentally and physically. My focus was making the team for the European Championships in Italy then the team for the Rio Paralympics. During the warm weather training I covered over 600 miles on the Australian road, but it felt like 10,000 miles. I had lumps and cuts on my ribs, and I was honestly black and blue from the chair cutting me, but I completed the training and I was ecstatic. And once I had my new chair, I improved even more and achieved both of my goals.
Close behind that is crashing in the final of the 800m race at the 2017 World Championships with only 200m to go and being the world number one in the most distances, get to the 2018 European Championships and then get Pericarditis and have to withdraw on medical grounds.
4. What is your greatest sporting memory so far?
My greatest sporting memory is breaking the 800m world record. The time was so fast that the commentator used some not quite so family friendly language over the tannoy. He said something along the lines of "Holy ****! Richard Chiassaro is ******* fast!" Unfortunately, I only held this record for ten days before an American athlete broke it again. But I'm determined to hold that record again.
Saying that though, you do have some amazing moments anyway as you compete. Another incredible memory I have is winning bronze in the 400m at the 2017 World Championships in London. I'd crashed the day before, so I was pleased with my performance, but what made the achievement all the sweeter and so much more special was the fact that my family and the kids I coach were in the audience.
5. What do you hope to accomplish in the future?
I really want to win a medal at the World Championships in Dubai this year and then also at the Tokyo Paralympics in 2020.
In the racing world my nickname is Big Chief and all of the athletes in my squad are known as my Mini Chiefs. I am so proud of my squad and all of their achievements on and off the track. So, on top of my own racing goals, one day I hope to watch them compete for Great Britain in the Paralympics.
6. Who is your role model and why?
There are many people I look up to and take inspiration from. I like a good leader, someone who is driven, and those who are real team players. But my main man is Steven Gerrard. I admire the passion he showed for his sport and his team as well as his ability in leading Liverpool. That passion and his leadership was outstanding.
7. What does having a can-do attitude mean to you?
Having a can-do attitude means exactly that!
I can do anything that I put my mind to and achieve great things through dedication and commitment. Anyone can do anything!
I think my story reflects this. In truth it's never too late. I'm living proof that you can turn your life around and learn from your mistakes. If you never quit, you can achieve anything.
Through my squad for disabled kids and adults I try to share and encourage this attitude. I love coaching and helping these kids, not only in the sport itself but also how to deal with their disability in everyday life. Being a kid with a disability is very hard and adapting to life can be even harder. I show them how to race and how to do things differently to make living with their disability easier. I managed to turn my life around and succeed, so they can most definitely achieve anything they set their minds to. That is true for everyone and anyone who tries and is willing.
8. What advice would you give to the Canaccord Genuity staff considering taking up a sport/entering the 2019 challenge?
My advice is to have fun. That's really the most important thing. If you love what you do, you'll be committed, and you'll get the results that you want.
9. Please share your top 3 training tips for the staff/readers?
My top three tips would be:
Learn the techniques to the sport. These are key and mastering them will make the sport even more enjoyable.
Commit to training. It's so easy to say, "I'll start tomorrow" and keep endlessly putting tomorrow off. Get out of that habit now. Just get out and train because when you start seeing the results it will all be worth it.
Eat well. Not having the right fuel in your body will make things harder. You will fatigue quicker which in turn will make training harder and far less enjoyable.
10. How is Canaccord Genuity supporting you in your development?
Canaccord Genuity are helping me to focus on my training and achieve my goals by providing financial support and through that peace of mind.
Wheelchair racing is really expensive with chairs costing anything from £5000-£8000 and carbon wheels costing £2000. That's without the little things like tyres, gloves, and push rims, which also cost hundreds of pounds. Their help means this is no longer a continuous concern so I can focus on my training and improving my times. And on top of that, they are helping me to promote this amazing sport.
To find out more about Richard and follow his journey you can sign up to our #cando updates here or follow us on social.
Find this information useful? Share it with others...
Investment involves risk and you may not get back what you invest. It's not suitable for everyone.
Investment involves risk and is not suitable for everyone.