20171211 - 2017 look back
A look back at our 2017 predictions - were we right?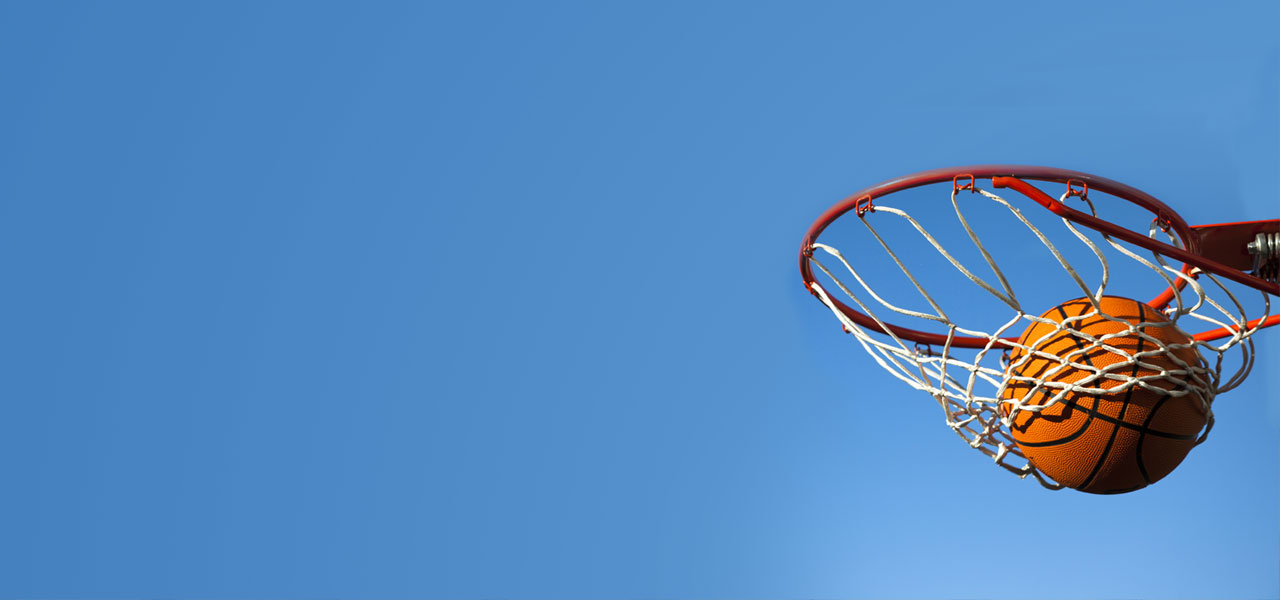 As 2017 draws to an end, we are turning our attention to the key investment drivers for the year ahead – how will investment markets evolve and what challenges and opportunities can investors expect to see? First though, we check on what happened in 2017 as we re-visit last year's predictions and give ourselves a score.
Prediction 1 – despite uncertainties, 2017 will be a good investment year
While there are many unknowns at present, the world at the end of 2016 seemed even more uncertain:
Donald Trump had only recently secured a decisive election victory and it was unclear just how different Trump the president might be compared to candidate Trump. The answer, we have since learnt, is not very different at all.
While the UK electorate had decided they preferred to be free from the shackles of the EU, formal exit negotiations had yet to begin. A year on, and we are no further forward on the terms of the UK's withdrawal, and the possibilities of a 'hard' or 'soft' Brexit remain open.
Financial markets were beginning to focus on 2017's schedule of European elections. There were fears that extreme left- or right-wing factions could gain further power and destabilise the geopolitical landscape.
Amid these uncertainties our overriding message was one of confidence; we believed 2017 would prove to be a lucrative and stable year. This confidence has stood us in good stead and ensured that our positioning was not overly defensive in what ultimately proved to be a supportive investment landscape.
Score 8/10.
Prediction 2 – Monetary policy is dead; long live fiscal policy
Our central contention was that fiscal policy would become more important than unorthodox monetary policy in supporting global economic activity. While there has been some moderation in central bank support, it is difficult to argue that governments have taken up the baton in any meaningful way.
Reform of the US tax system may ultimately achieve this aim, but the impact is still unclear. The US Federal Reserve (Fed) has begun raising interest rates as well as taking the first steps in reducing the size of its US$4.5 trillion balance sheet. It will, however, be four or five years until it is reduced to a more acceptable US$3 trillion.
Figure 1: US budget deficit likely to increase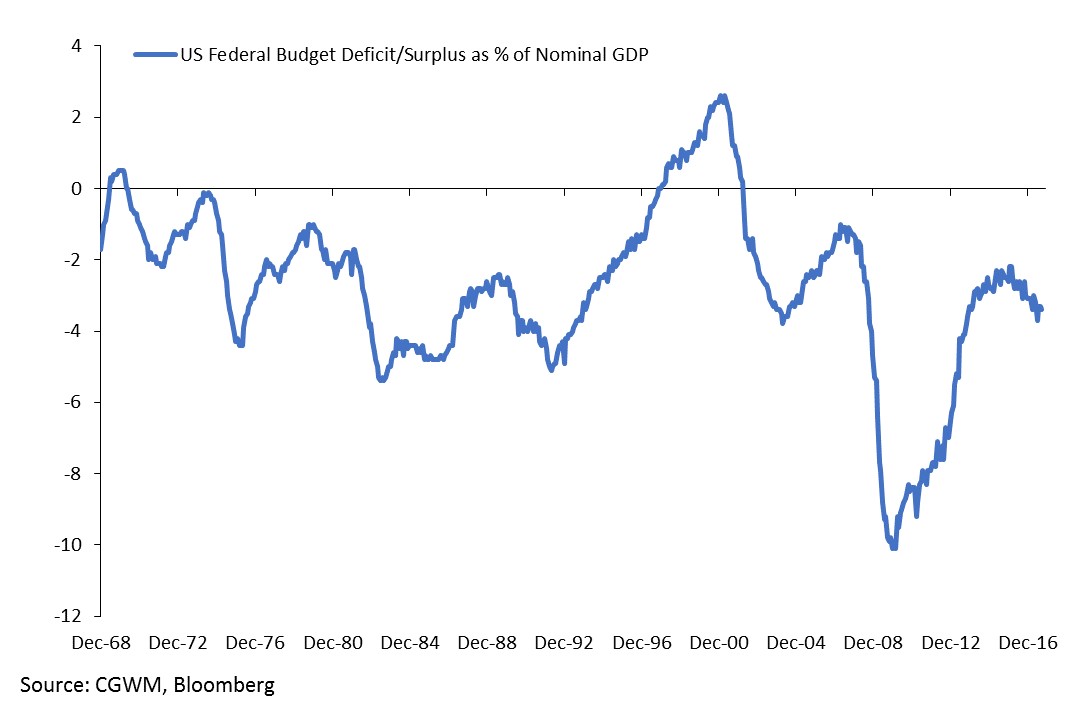 The Bank of England has also initiated its first interest rate increase in 10 years, while the European Central Bank will cut its bond buying from €60 billion a month to €30 billion until at least September 2018. The Bank of Japan's monetary support is undiminished but overall it appears that 2017 marked a peak in central bank support.
Governments have not been as forthcoming, although arguably this has not been necessary given the synchronised nature of the global economic recovery.
Score 6/10
Prediction 3: A year of political perils and possibilities
We highlighted that while elections in Italy, the Netherlands, France and Germany all had the potential to introduce greater political instability, these fears were likely being over-played. As we concluded, "There's life in the continent's old order yet."
Aside from the Catalonia independence vote, the political landscape did not change as much as feared. The German election brought an increased support for the right-wing Alternative for Germany, while Emmanuel Macron resisted the challenge of the National Front. It took the Netherlands over 200 days to form a government in 2017, and Italy seems set to hold yet another parliamentary election in March 2018. All told, while European politics held the potential to act as a destabilising force, our sanguine view proved correct.
Score 7/10
Prediction 4: We're going on a bond bear hunt
As one of the more market specific themes, we felt that government bond yields would trend higher in a volatile fashion, but that any rise would be self-limiting.
Figure 2: 10-year generic government bond yields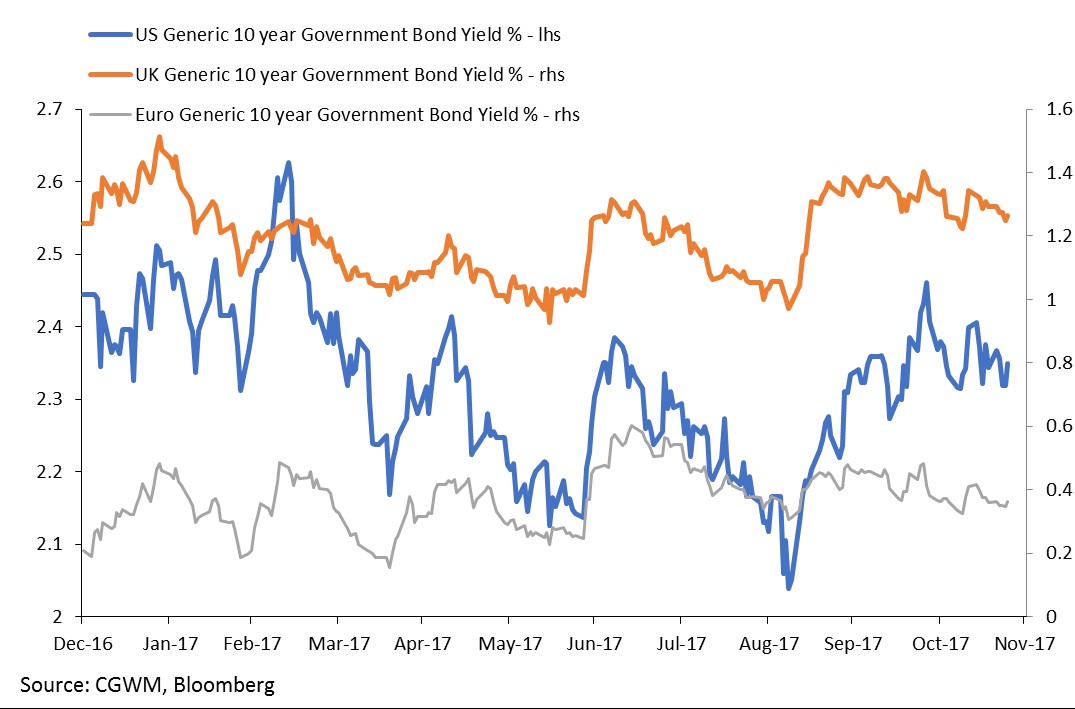 While longer-term yields have been underpinned, our broad expectation proved correct. We saw both volatility and a general upward trend in yields, particularly over the second half of the year.
The prices of short and medium-dated UK Gilts fell as a less benign interest rate and inflation backdrop were extrapolated. Ten-year US Treasury yields traded in a relatively wide range of 2.04% - 2.63% and the yields of shorter dated maturities moved higher in response to Fed tightening. Euro sovereign issues also offered a higher yield at the end of 2017 than they did 12 months earlier. As we surmised, the bond bear market may have awakened from hibernation, but it is still early days.
Score 8/10
Prediction 5: Down but not out – why it makes sense to hold on to the bond proxies
When referring to bond proxies and 'quality' stocks, we meant equities which offer bond-like characteristics in terms of sustainable and attractive dividend yields, or companies that evidence strong cash flow or low borrowing, or where the earnings are underpinned by high regulation. A significant exposure to emerging markets was also a potential characteristic. As shown by two of the stock examples used – WH Smith and Unilever – these companies were an astute investment during 2017.
While utilities underperformed over the year, other 'quality' stocks continued to demonstrate their worth. Companies such as BAT, Reckitt Benckiser and Compass all outperformed strongly in the first half of the year, although the second half proved more challenging given the rise in bond yields and certain stock specific issues.
Score 6/10
Prediction 6: Chinese year of the rooster – luck, romance and prosperity
"While there may be concerns about property prices, debt and growth within the Chinese economy during 2017, these fears are likely to be overplayed."
Figure 3: Chinese growth and property prices; still on an even keel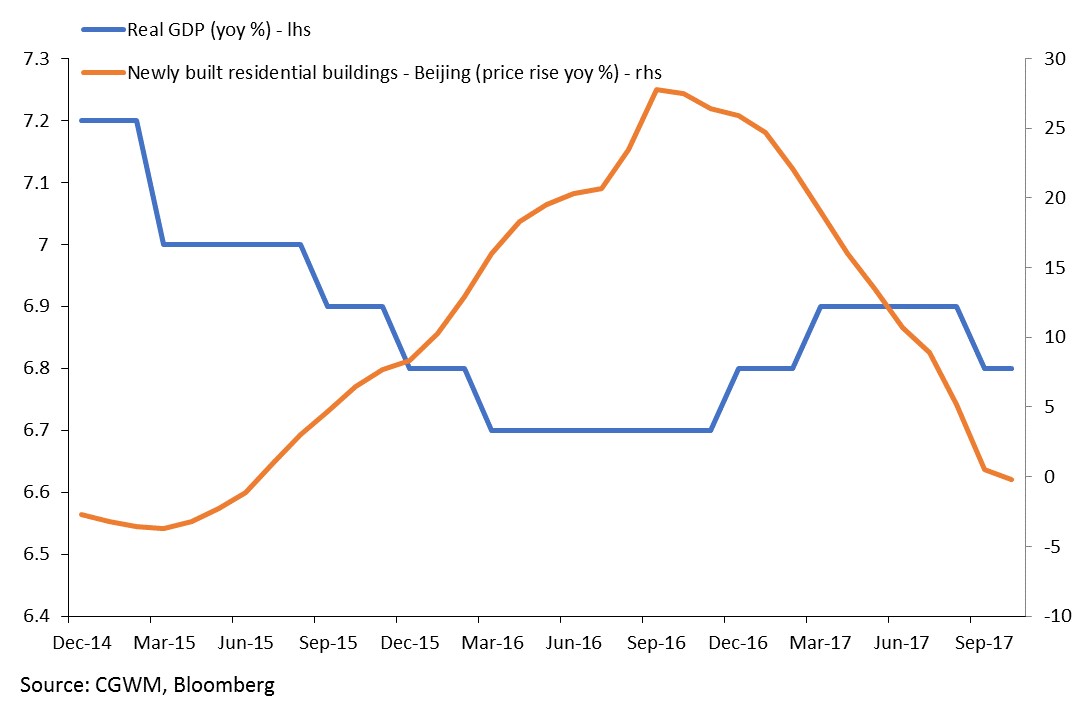 The predicted collapse in the Chinese economy did not materialise and the 19th Party Congress in October suggested that the leadership remains committed to doubling China's GDP between 2010 and 2020. This requires average growth of 6.3% per year between 2018 and 2020 – an achievable target.
Debt concerns persist but supply-side reforms remain in focus and the slowdown in the property market did not appear to have a significant impact on the wider economy.
Score 8/10
Prediction 7: Equity valuations – how to keep the party going in 2017
Our expectation that there was "potential for reasonable returns from shares over the next 12 months" may have been an understatement, given the subsequent performance of stock markets.
We felt that the expansion of price/earnings (p/e) multiples would likely be minimal and that stock market gains would need to be driven by profits growth. Using the S&P 500 as a proxy, this too proved correct, with the p/e of the market broadly unchanged over the year.
Figure 4: S&P 500 earnings per share and price/earnings ratio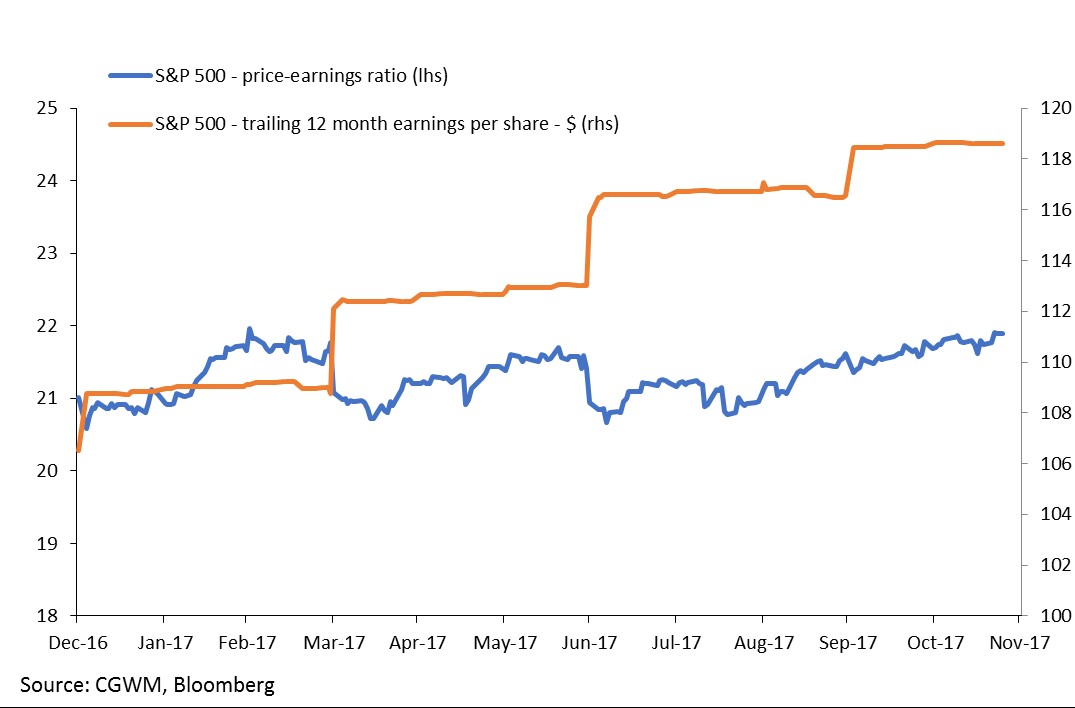 With Europe, Japan and emerging equity markets all performing extremely well, the party remained in full swing in 2017.
Score 8/10
Where now?
While we are pleased with our 2017 predictions and the subsequent implementation within portfolios, 2018 may prove to be more challenging on a number of fronts. There are some long-term themes that we need to dig into again, such as inflation and the potential for new investment opportunities which may be presented through evolving markets and trends. We hope our forthcoming predictions will prove as accurate, and help us navigate markets successfully over the coming year.
If you'd like to read our 2018 predictions, you can sign up for our regular newsletters or come back to the wealth blog in the New Year. Otherwise, if you would like to speak to us about your investment plans for 2018 call/email:
Email: CGWM_UK@canaccord.com
Telephone: +44 20 7523 4600
Investment involves risk. The value of investments and the income from them can go down as well as up and you may not get back the amount originally invested.
The information provided is not to be treated as specific advice. It has no regard for the specific investment objectives, financial situation or needs of any specific person or entity.
Past performance is not a reliable indicator of future performance.
Where investment is made in currencies other than the investor's base currency, the value of those investments, and any income from them, will be affected by movements in exchange rates. This effect may be unfavourable as well as favourable.
Find this information useful? Share it with others...
IMPORTANT: Investment involves risk. The value of investments and the income from them can go down as well as up and you may not get back the amount originally invested. Past performance is not a reliable indicator of future performance.