Bank of England raises interest rate
Bank of England raises interest rate by 0.25%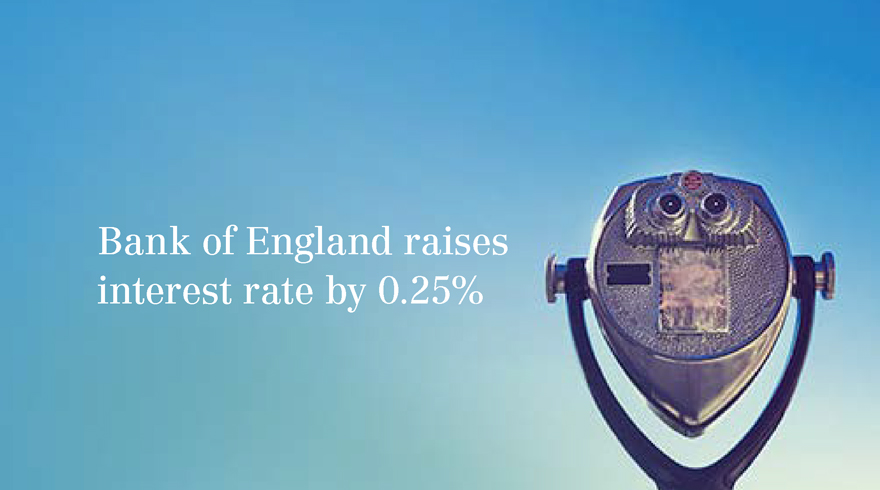 As widely expected, today the Bank of England raised its policy rate from 0.5% to 0.75%. Although in line with market expectations, the fact that all nine members of the Monetary Policy Committee voted in favour of the hike, was seen as somewhat hawkish.
In the press conference, Governor Carney described the UK economy as stronger than previously expected, with an average growth rate of 1.75% through 2020 - higher than the 1.4% this year, as the Q1 slowdown was likely caused by the weather. Growth should remain 'above trend'. He also stated that inflation, currently at 2.4% after having fallen from the post-referendum peak, would probably remain above the Bank of England's 2% target over the next three years if interest rates were to remain where they are now - clearly outlining a rising path for interest rates. He said that "policy needs to walk, not run, to stand still".
Carney remarked that the economy was at full employment and the output gap was mostly absorbed, leading to higher pay growth. He saw income growth rising from the current 2.75%. He did express some concern, however, that 3% wage growth with 1% productivity growth could add to inflationary pressures. For the first time, the BoE gave future interest rate guidance (with a 'neutral interest rate' known by the jargon term R*), but the low level of detail and the long time horizon seem to have disappointed the markets.
Governor Carney explained that Brexit was a major area of uncertainty for economic forecasts and hence future interest rates, but he mentioned that a "cliff-edge" departure from the EU carried a very low probability, so the forecasts are based on a "relatively smooth transition". The BoE nevertheless has made contingency plans for a potentially disorderly Brexit, which he did not elaborate on. He spoke less about trade wars, only saying that last night's tweet about additional US tariffs "is not in the forecast". He did not yet see any impact on business confidence.
Market reaction
Markets reacted quickly to the rate rise - and sterling rose, but corrected during the press conference - and gilt yields dropped slightly. The drop in sterling enabled UK equities to cut their losses for the day, as global markets were down this morning in reaction to more trade threats from President Trump.
Our view
In our view, the rate rise reflects a somewhat sanguine Brexit view against the backdrop of strong world growth - and could be unwound quickly if the Brexit outcome were more difficult. The BoE has to deal with inflation consistently above 2% and hence needs to raise rates progressively - not as fast as the Federal Reserve but still steadily.
Find this information useful? Share it with others...
IMPORTANT: Investment involves risk. The value of investments and the income from them can go down as well as up and you may not get back the amount originally invested. Past performance is not a reliable indicator of future performance.