20180103 - Emerging market technology
New technology in the emerging markets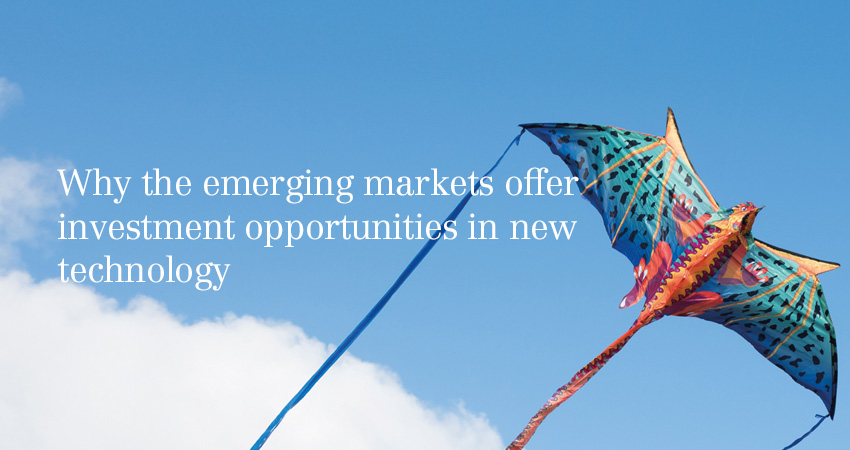 There are still some emerging markets (EM) that engage in mass export of commodities and cheap factories, but they are fewer than before. There are also enough large EM countries with a technological footprint to make a difference in our daily developed market lives and create attractive investment opportunities.
The obvious examples are South Korea and Taiwan, exporters of electronic components for decades. Today, companies like Samsung Electronics and Taiwan Semiconductor, which compete with the likes of Intel, are at the forefront of DRAM and NAND semiconductor technology, a US$400bn industry. This is not news for industry followers, who have long been interested in emerging market funds. However, what may be news is the way emerging markets like China and India have developed to challenge major US technology firms and change people's way of life beyond recognition.
Leading the way in emerging markets technology
Today, China is one of the leaders in technological developments, and in many parts of China, technology is a way of life:
It has the highest rate of internet sales in the world (at 20%, ahead of the US and the UK)
Its internet banking payment systems, Alipay and Tenpay, are used by 520 million and 360 million people respectively
Many Chinese today do not use cash or credit cards and pay exclusively through these platforms
The social media mobile app WeChat has close to 1 billion subscribers; it is known in Asia as the 'App for Everything' and boasts an augmented reality platform and 3D appearance
The country has three times as many smartphone users as North America
Alibaba's Singles' Day in China dwarfs Black Friday in the US and is a digital shopping affair
Next year, China is slated to overtake the US in research and development spending.
How did China's technology drive begin?
China's technology drive actually started as a protectionist move to stop US firms moving into the country, but since then these businesses have expanded outside China, giving US internet giants a run for their money. Their growth and stock market performance have been every bit as stellar as those of the large US firms.
Today, some Chinese technology companies are the equivalent of their US counterparts in most sub-sectors of the technology world:
Alibaba and JD.com are like Amazon
Baidu like Google
Sina Corp like Twitter
Ctrip like Expedia
Vipshop like Groupon
Tencent like Facebook.
How does China technology compare with established competitors?
China's three large internet companies, Alibaba, Baidu and Tencent, are among the top 10 in the world.
In the recent Communist Party Congress, China set itself an ambitious plan to develop sectors like robotics, semiconductors, artificial intelligence, big data, electric vehicles and alternative power, as well as biotech, where it already has a large footprint. Whether they succeed or not is anybody's guess but the resolve, funding and government backing should not be underestimated.
Advances in India
India is also ahead of the developed world – and other emerging markets – in various areas. The Indian software engineer may be a folk figure in most western countries, but the reality is that a country sorely lacking in basic infrastructure has leapfrogged western technology. Following the demonetisation reform last year, where 85% of the currency was removed without warning, India's merchants have been racing towards digital payment systems like Paytm. Crucially, the groundwork for the next step in payments has been laid.
What is the Aadhaar system?
The Aadhaar system is a 12-digit unique-identity number issued to all Indian residents, based on their biometric and demographic data. Over 1.171 billion people have had their fingerprint and iris scan registered, creating the largest digitalised database in the world and turning India into a digital economy, with the ability to bypass credit and debit cards altogether. This enables people to open a bank account in 10 minutes with a mobile phone and fingerprint reader. Soon this will lead to purchases without any credit card or phone. Over 99% of Indians aged 18 or over have been enrolled in Aadhaar.
In addition, India now has the world's largest dedicated 4G LTE network. Its data usage has already surpassed China and the US.
Is it a good time to invest in emerging markets?
Most investors still believe that emerging market funds and equities are driven by commodity prices and cheap labour in basic manufacturing. In fact, close to 30% of EM equity indices are technology. We think it won't take long before investing in emerging markets is finally seen for what it really is: a great investment opportunity and access to a new world that is not bound by the economic traditions of western countries.
This new world is the future of technology.
Risk Warning
Investment involves risk. The value of investments and the income from them can go down as well as up and you may not get back the amount originally invested. Past performance is not a reliable indicator of future performance.
The information provided is not to be treated as specific advice. It has no regard for the specific investment objectives, financial situation or needs of any specific person or entity.
The information contained herein is based on materials and sources that we believe to be reliable, however, Canaccord Genuity Wealth Management makes no representation or warranty, either expressed or implied, in relation to the accuracy, completeness or reliability of the information contained herein. All opinions and estimates included in this document are subject to change without notice and Canaccord Genuity Wealth Management is under no obligation to update the information contained herein.
Where investment is made in currencies other than the investor's base currency, the value of those investments, and any income from them, will be affected by movements in exchange rates. This effect may be unfavourable as well as favourable.
Find this information useful? Share it with others...
IMPORTANT: Investment involves risk. The value of investments and the income from them can go down as well as up and you may not get back the amount originally invested. Past performance is not a reliable indicator of future performance.