International financial advisers
Please note: this content is only applicable to an offshore audience.
Services for international financial advisers
Having worked with international financial advisers for many years, we understand the sorts of solutions you need for your clients and the high level of service you provide. Our main objective is the same as yours: to ensure your clients feel confident, valued and satisfied.
How we help international financial advisers
We offer a range of investment solutions for your clients including a selection of UCITS registered risk-profiled funds which can be accessed directly through us, via our administrator, Northern Trust or via third-party life companies
We'll provide consolidated performance and tax reporting for your clients
If you want to check how we're succeeding at any time, you can clearly assess our performance with a range of investment consultants, including Enhance and Morningstar.
Canaccord Genuity Wealth Management does not make any warranties, express or implied that the products, securities or services mentioned are available in your jurisdiction. Accordingly, if it is prohibited to advertise or make the products, securities or services available in your jurisdiction, or to you (by reason of nationality, residence or otherwise) such products, securities or services are not directed at you.
Intermediary platforms
Our range of risk-rated model portfolios are also available via a wrap on a variety of platforms.
A wrap is a secure internet-based account that lets you and your clients view the current performance of their investments at any time. It is called a wrap because client investments can be wrapped up in a single account.
The aim of a wrap is to allow advisers to select and purchase investments from a wide range of solutions. These investments may sit within wrappers that enjoy certain tax advantages and typically include ISAs, SIPPs, Personal Pensions and Investment Bonds.
Please be aware that all platforms operate in a different way which will affect the nature of your relationship with Canaccord Genuity Wealth Management. You should ensure that you clearly understand the nature of a platform's service prior to engagement.
For further details, please click on the logos below: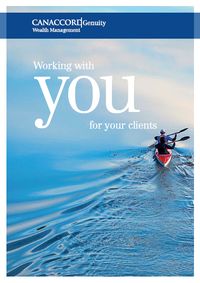 Download our intermediary brochure
Find out more about our investment process
How we'll keep you up-to-date
Our range of services.
Download
How can we help?
If you'd like to know how we can help with your clients' investment needs, our intermediary team will be delighted to answer your questions and provide more details of our services.
IMPORTANT: Investment involves risk. The value of investments and the income from them can go down as well as up and you may not get back the amount originally invested. Past performance is not a reliable indicator of future performance.