Centralised investment process
​Take advantage of our rigorous, robust, and highly analytical investment process
Our goal is to meet your clients' personal investment needs and achieve the best possible returns for their chosen level of risk.
Based on a global asset allocation framework, our rigorous, robust, and highly analytical investment process includes in-depth research, continuous monitoring, and the interaction of a number of investment committees.
Like a combination lock, each layer of our investment process must be aligned before we can start to create a risk-adjusted portfolio, flexibly tailored to your clients' individual needs.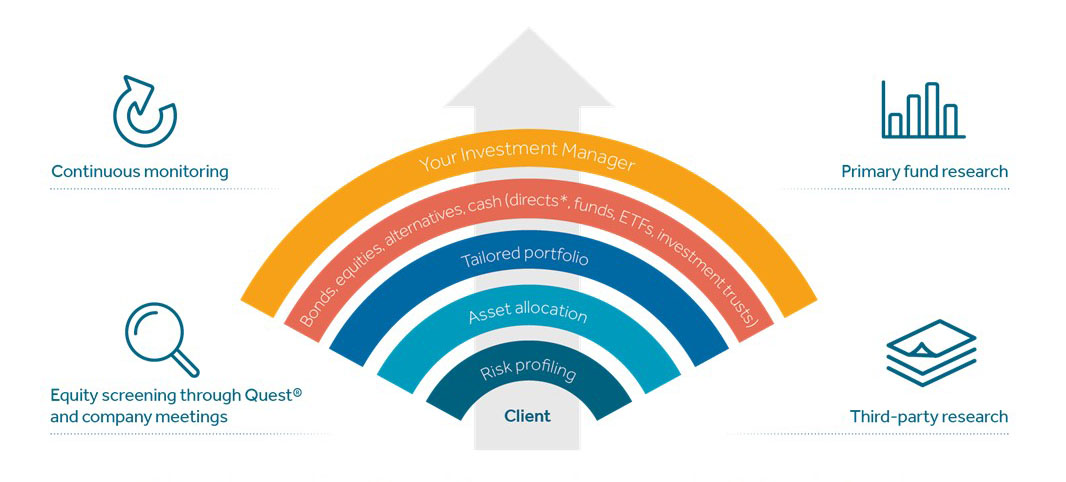 We have 14 investment committees, 76 in-house researchers and analysts and industry-leading tools.
*Directs - direct bond, equity, alternative and cash holdings, rather than via a fund or other investment vehicle.
Our investment philosophy
Our clients are at the centre of what we do and helping them to meet their personal investment requirements is our primary objective.
The best way for us to achieve this over the long term is by aiming to grow the real, inflation-adjusted value of each client's assets in accordance with their individual risk profiles.
How can we help?
Speak to us to find out how we can work with you to help your clients.
Get in touch
Investment involves risk. The value of investments and the income from them can go down as well as up and you may not get back the amount originally invested. Past performance is not a reliable indicator of future performance.
The tax treatment of all investments depends upon individual circumstances and the levels and basis of taxation may change in the future. Investors should discuss their financial arrangements with their own tax adviser before investing.
The information provided is not to be treated as specific advice. It has no regard for the specific investment objectives, financial situation or needs of any specific person or entity.
Investment involves risk and you may not get back what you invest. It's not suitable for everyone.
Investment involves risk and is not suitable for everyone.