Independent financial advisers
Important information
For financial advisers and investment professionals only
The information in this area of the website is aimed at financial advisers and other professional financial intermediaries in the United Kingdom and it is not intended for direct use by private investors or onward distribution to retail clients or the general public. Please visit our home page for information and resources for private clients.
The website is for information purposes only and is not to be construed as a solicitation or an offer to purchase or sell investments or related financial instruments.
I confirm that I am an investment intermediary authorised and regulated by the Financial Conduct Authority. I have read and understood the legal information and risk warnings.
Services for independent financial advisers
We will tailor our partnership to meet your needs and preferences as well as your clients', and your lead manager will build an enduring relationship that works for you and your firm.
You can choose how we work together:
You may wish to retain the responsibility for assessing the risk and suitability of your clients' investments
If you prefer, we can take over all these responsibilities for you
Or we can agree a joint 'hybrid' working relationship.
Whichever working relationship you choose, we will make sure it enables both of us to use our time and resources efficiently, and ensures compliance.
How we help IFAs
We will provide consolidated quarterly client valuations, with a market commentary
We will also provide you and your client with comprehensive tax reporting
You and your clients can access their accounts online 24/7 to view investments, transactions and up-to-date valuations
Our highly analytical investment process includes in-depth research and continuous monitoring
We will communicate with you regularly in whichever way suits you
Your clients' wealth is in safe hands – we have a strong track record of meeting our clients' wealth management needs and delivering consistent returns
If you want to check how we're succeeding at any time, you can clearly assess our performance with ARC, Defaqto, Distribution Technology and FE.
An interview with Sean Taylor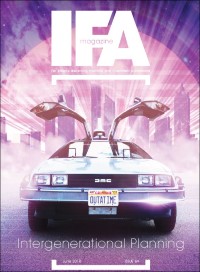 IFA Magazine talks to Sean Taylor, of Canaccord Genuity Wealth Management, about the business and how its collaborativeapproach to working with advisers is driving success.
Read more
Intermediary platforms
Our range of risk-rated model portfolios are also available via a wrap on a variety of platforms.
A wrap is a secure internet-based account that lets you and your clients view the current performance of their investments at any time. It is called a wrap because client investments can be wrapped up in a single account.
The aim of a wrap is to allow advisers to select and purchase investments from a wide range of solutions. These investments may sit within wrappers that enjoy certain tax advantages and typically include ISAs, SIPPs, Personal Pensions and Investment Bonds.
Please be aware that all platforms operate in a different way which will affect the nature of your relationship with Canaccord Genuity Wealth Management. You should ensure that you clearly understand the nature of a platform's service prior to engagement.
For further details, please click on the logos below: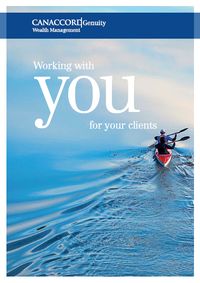 Download our intermediary brochure
Find out more about our investment process
How we'll keep you up-to-date
Our range of services.
Download
How can we help?
If you would like to know how we can help with your clients' investment needs, our intermediary team will be delighted to answer your questions and provide more details of our services.
Keeping you informed
Investment market update - Are things looking up for investors in the UK?
We ended 2018 in a funk. Investors were beginning to panic that the global economy was entering a period of sharp downturn, the US yield curve was close to inverting, the Chinese economy seemed to be in trouble, Europe was back in the doldrums and President Trump had engaged in a trade war with China and, at the same time, shut down a big chunk of the US government.
Read more
Why diversity and inclusion should matter to investors
'Diversity' and 'inclusion' are no longer just buzzwords. In this article, Patrick Thomas, Head of ESG Investments explains why both can improve company culture, performance and even national GDP, and how we at CGWM assess D&I factors when investing on behalf of clients.
Read more
IMPORTANT: Investment involves risk. The value of investments and the income from them can go down as well as up and you may not get back the amount originally invested. Past performance is not a reliable indicator of future performance.