About us
Investing with Canaccord Genuity Wealth Management gives you access to a broad range of wealth management solutions.
Wealth management that revolves around you
Canaccord Genuity Wealth Management (CGWM) is one of the top 10 wealth managers in the UK, with offices nationwide, as well as international investment teams and operations in the Crown Dependencies.
Our CEO, David Esfandi, explains who we are, what we do and what differentiates us.
About our business
We have successfully grown our business and reputation over the years, and now provide large numbers of high net worth clients with expert wealth management to help them reach their objectives. Our investment management and wealth planning specialists work in combined teams to ensure these services work holistically together.
Our locations
With offices in 14 regions across the UK and Crown Dependencies, we have enough size and scale to deliver experience and expertise, combined with a highly developed and up-to-date technical infrastructure. This provides efficient and effective investment management, as well as economies of scale that allow us to be price competitive. At the same time, we are small enough to provide a personal relationship-led service with direct access to our people and their knowledge.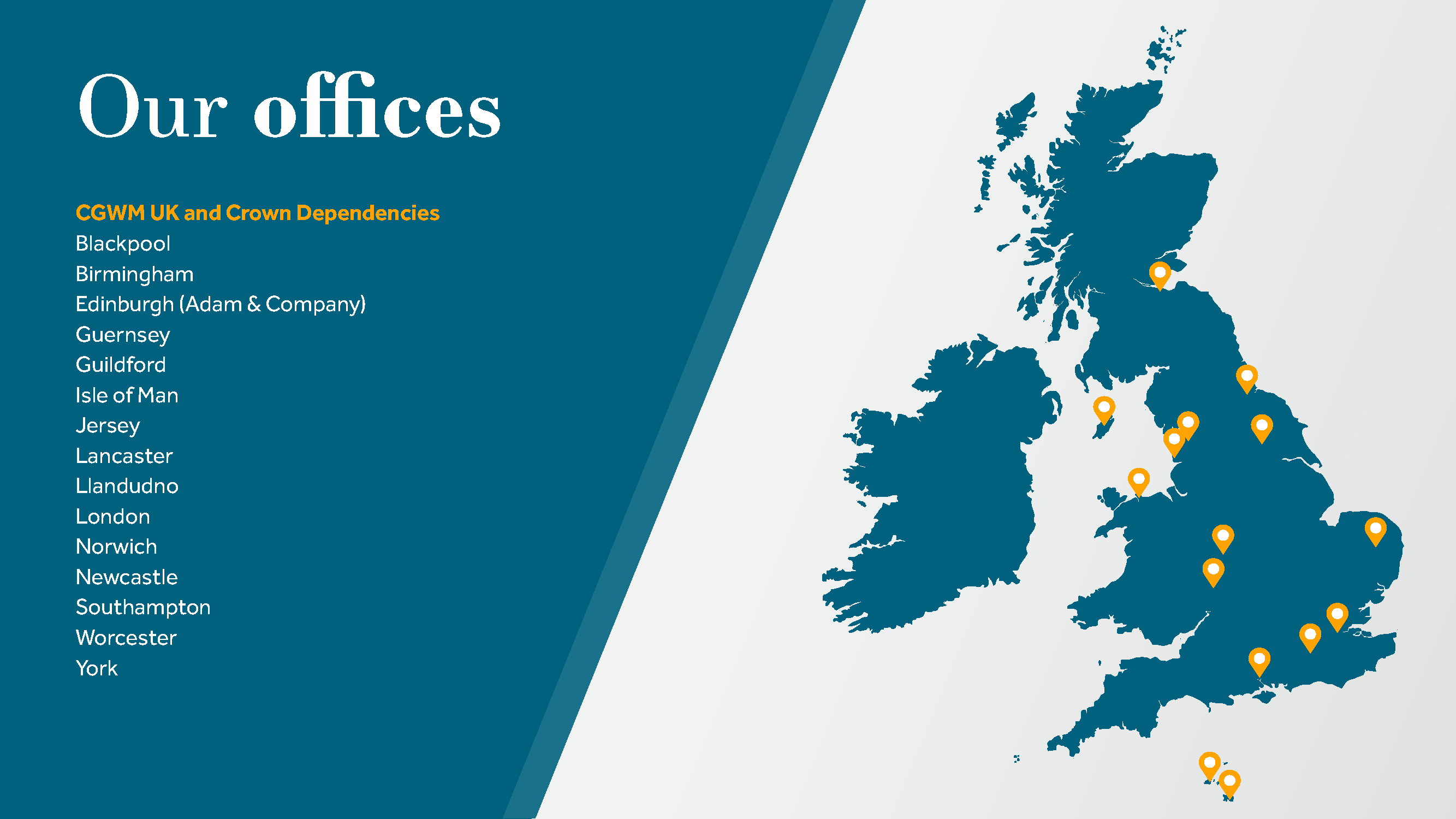 Here from Scotland?
Head over to Adam & Company, the Edinburgh arm of our business dedicated to our Scottish clients.
What our clients say about CGWM
Investment management
We offer a range of specialist investment services, from discretionary portfolio management to stockbroking. Supported by 14 experienced investment committees and 76 in-house researchers, our centralised investment process is rigorous, robust and based on our global outlook, investing in markets around the world.
Discover our investment management services
Wealth planning
In the UK and from our Adam & Company office in Scotland, we provide a holistic wealth management service including wealth planning. Our Wealth Planners work with clients to help each one plan towards a more secure financial future, from setting up retirement plans to passing on wealth in a tax-efficient manner.
Find out more about our wealth planning services
New to wealth management?
Get up to speed on how it can help you achieve your goals.
How can we help?
If you would like to know how we can help with your investment management, wealth or financial planning needs, get in touch. We will be delighted to provide more details of our services.
Investment involves risk and you may not get back what you invest. It's not suitable for everyone.
Investment involves risk and is not suitable for everyone.