The portfolio management service tailored to you
With our discretionary portfolio management service your dedicated Investment Manager will build and run a personalised portfolio on your behalf without needing to ask your permission each time they want to make an adjustment.
We believe it is more important to manage your portfolio to meet your risk objectives than to chase short-term returns, so we will design and manage your investment portfolio to meet your personal needs and attitude to risk.
A bespoke portfolio crafted around your unique needs
Managed by your personal Investment Manager
Our collective investment expertise working on your behalf
Access to a wide range of asset classes and markets
24/7 account access via our online portal
Regular market updates and expert analysis
Book your free portfolio management consultation
Arrange a no-obligation, complimentary consultation with one of our investment experts to discuss how our portfolio management service can help you grow your wealth for the future.
Get in touch
Why choose discretionary portfolio management?
Looking after your own investments to achieve your long-term goals requires commitment, knowledge and objectivity. Managing your own portfolio can also be labour intensive and time-consuming. Discretionary portfolio management allows you to delegate responsibility for your investment portfolio to a dedicated and experienced Investment Manager.
The benefits of discretionary portfolio management include:
Freedom
You will be freed from having to make all day-to-day investment decisions
Expertise
A qualified Investment Manager, experienced in the markets, will act on your behalf
Stewardship
Your Investment Manager will get to know you and your circumstances and ensure their investment strategy is aligned with your long-term goals, values and attitude to risk
Advantage
Your Investment Manager will have access to the latest research, market analysis and investment themes, and is better positioned to respond to events and new opportunities
Oversight
You will be kept informed of the changes made to your portfolio, with regular reviews of your situation and objectives to ensure the investment approach is always aimed towards delivering your future goals
Portfolio management centred on you
As our client your needs will always be at the centre of our investment philosophy and process. Our primary objective is to meet your unique investment needs and achieve the best possible returns for your chosen level of risk.
When you entrust your investment portfolio to Canaccord Genuity Wealth Management (CGWM), you can depend on our in-depth knowledge and experience.
Your personal Investment Manager will:
Spend time getting to know you, your risk appetite, your long-term goals and timings, and forge a trusting relationship with you over time that will adapt to your changing needs
Use this knowledge to build you a unique portfolio tailored closely to your needs and ensure our recommendations are always relevant and personal to you
Manage your investment portfolio on your behalf, taking charge of day-to-day decisions to save you time and hassle
Look for suitable investment opportunities from around the world for added diversification and access to a wide range of investment styles and strategies
Be on hand whenever you need them and keep you informed on the performance of your portfolio and the actions we are taking to optimise it.
Portfolio management supported by our meticulous investment process
Based on a global asset allocation framework, our rigorous, robust and highly analytical investment process includes in-depth research, continuous monitoring and the interaction of a number of specialist investment committees who combine their knowledge to agree the best positioning for your portfolio.
We offer seven different risk profiles to suit your attitude to risk
Our in-house experts select investments from the open market to create a range of quality opportunities for you, including equities, funds, exchange-traded funds (ETFs), investment trusts, alternatives, bonds and cash
We check your portfolio against your objectives to make sure it's on track and actively manage and monitor your investments to maximise returns and minimise losses
We can work closely with your tax, accountancy or legal advisers, to make sure our decisions dovetail with your other arrangements.
Like a combination lock, each layer must be aligned before your dedicated Wealth Manager can start to create and manage your risk-adjusted investment portfolio, flexibly tailored to your individual needs.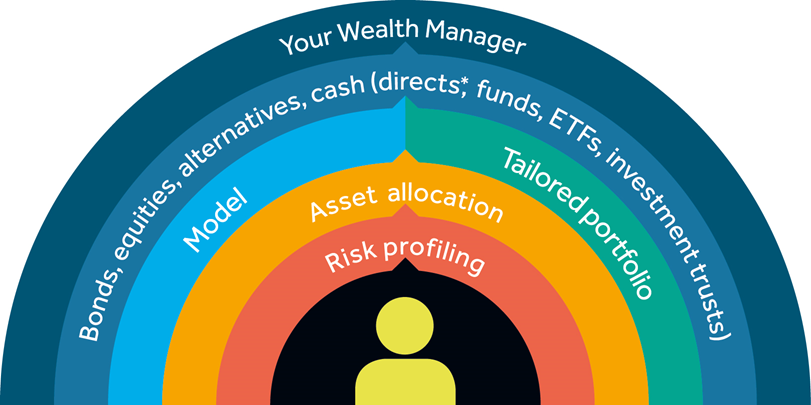 * Directs – direct bond, equity, alternative and cash holdings, rather than via a fund or other investment vehicle.
Speak to one of our investment experts
Arrange a no-obligation, free consultation with one of our Investment Managers.
Get in touch
Investment involves risk. The value of investments and the income from them can go down as well as up and you may not get back the amount originally invested. Past performance is not a reliable indicator of future performance.
Our portfolios are designed to work over a typical investment cycle of 7-10 years, so we recommend you stay invested for at least seven years.
The information provided is not to be treated as specific advice. It has no regard for the specific investment objectives, financial situation or needs of any specific person or entity.
Thinking about changing your wealth manager?
Book a free service review to share your concerns and learn how much more we can-do for you and your long-term prosperity.
Find out more
Portfolio management – your questions answered
Portfolio (or investment) management, involves building and overseeing a portfolio of assets, such as stocks, bonds and cash, that will help a client meet their long-term financial goals and risk objectives
Discretionary – this means an investment manager can run a clients' portfolio without needing to ask their permission each time they want to make an adjustment, taking into account the clients' individual needs and risk objectives
Non-discretionary (also known as advisory) – is when an investment manager requires a clients' approval before buying and selling assets within their portfolio
Active investing - is when an investment manager builds a portfolio which attempts to outperform the returns of a specific index by strategically buying and selling stocks and other assets
Passive investing - is when an investment manager builds a portfolio which attempts to track the performance of an index by replicating the stocks held within this index. It is commonly known as 'index tracking'.
Portfolio management (also known as investment management) involves building and overseeing a client's investment portfolio, ensuring it meets their long-term financial goals and risk objectives
You should always have a good relationship with your portfolio manager and be happy that your money is working as hard as you would like. However, if you are starting to question your relationship or are unhappy with your investment returns, consider the following statements. If any resonate with you, now may be the time to consider a change of portfolio manager.
1. The relationship doesn't feel at all personal
2. Your circumstances have changed but the advice hasn't
3. Your investments aren't performing too well
4. You get little more than an annual review
5. The service you are receiving is outdated and inflexible
6. You're not sure you're getting value for money
Other specialist portfolio management services
Book a free

consultation with a discretionary Investment Manager
What happens next?
1. Arranging an initial consultation
First you can expect to receive an email from our team within 48 hours to find a suitable time that works for you, to arrange a voice or video call for an initial consultation.
2. Your consultation
During this consultation, a member of the team will discuss your situation with you to understand your requirements and answer any questions you might have about Canaccord Genuity Wealth Management and the services that we provide.
3. Referral to a Wealth Planner or Investment Manager
If you decide to progress with us, you will be referred to one of our Wealth Planners or Investment Managers to discuss your situation and requirements in more detail. They will then design a bespoke proposal detailing a unique investment portfolio that matches your individual requirements and attitude to risk, to meet you and your family's needs.
4. Working with you long-term
With our wealth planning and investment management professionals, your wealth is in expert hands. Our mission is simple - to help you build your wealth with confidence. We will always keep you informed about your investment portfolio and performance and will continue to work with you to build our relationship on your terms. We can meet with you face-to-face, by phone or by email, whichever is more convenient for you. You can also access your account online at any time through our app. Our wealth management professionals are always readily available to speak with you.
Investment involves risk and you may not get back what you invest. It's not suitable for everyone.
Investment involves risk and is not suitable for everyone.