Investment management designed for charities
When you're choosing your organisation's investment manager, you need to be sure they understand the unique needs and objectives of charities and foundations – and of your charity.
At Canaccord Genuity Wealth Management, we know that, as a trustee looking after the investment of a charity or foundation, you face a challenging responsibility. So we've created a service to help you in any way we can. We have extensive experience in looking after charitable organisations, with over £1bn in charity assets under management.
How we can help
You'll have a dedicated Investment Manager who will spend time getting to know you, so we can tailor our service and your portfolio - and you can be confident that both are right for your organisation. They will keep in regular contact and you can decide when you want to meet face-to-face, including attending trustee meetings if you need.
The goal of our flexible process is to meet your charity or foundation's investment needs and achieve the best possible returns for your chosen level of risk and within your Investment Policy Statement (IPS).
We offer a range of different investments, including securities, equities, funds, exchange–traded funds (ETFs), investment trusts, alternatives, bonds and cash
We also offer a specific in-house ESG portfolio service which filters in 'responsible companies'
Our in-house experts select investments from the open market to create a blend of quality investment opportunities for your charity or foundation
Our specialist investment committees combine their knowledge to agree the best positioning for the portfolio
We measure risk through our in-house portfolio risk management calculator, and build portfolios from our approved lists
We regularly check your portfolio against your organisation's objectives to make sure it's on track and still meets your IPS standards
We actively manage and monitor the investments to maximise returns and minimise losses.
We know that you need to manage your charity's fund effectively and show that you are using them for the benefit of others. We will ensure you have the right advice and support to help you achieve this.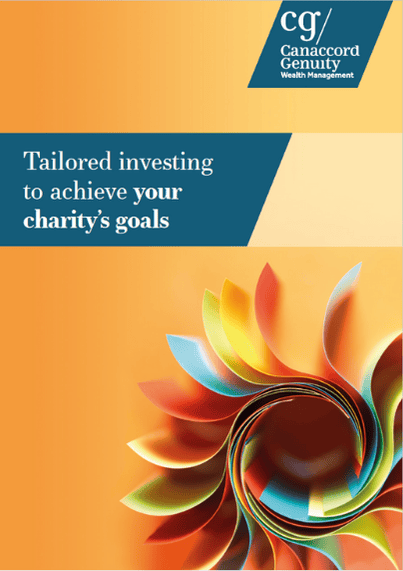 Download our charities brochure
Find out more about our charities service
How we can help you
Working within your Investment Policy Statement.
Speak to one of our investment experts
To discuss your investment needs, book a complimentary, no-obligation consultation.
Request a consultation
Investment involves risk and you may not get back what you invest. It's not suitable for everyone.
Investment involves risk and is not suitable for everyone.