CGWM is 10 years old
1 December 2022
This year, CGWM celebrates 10 years in the UK and Crown Dependencies
It has been 10 years since the acquisitions that led to the formation of CGWM in the UK and Crown Dependencies. In that time, we have broadened our scale as a fully integrated, well-rounded wealth management service.
Our assets under management (AUM) have quadrupled in size to £32.3bn (as of September 2022) compared to £8.3bn AUM when we launched
Our colleague numbers have increased from c.250 to over 700
Our footprint across the UK and Crown Dependencies has increased from 5 offices to 14
What has this meant for clients?
Building clients' wealth with confidence
Our capacity as a business has increased in line with the growing number of employees, and we now have regional offices throughout the UK, enabling us to provide a better quality of service to more clients across the country.
We are committed to investing in our colleagues and their training which ensures that each region has a strong team of experts available to talk to clients.
We've also invested considerably in our technology. In creating Wealth Online, we've been able to improve the client experience, giving them instant access to their portfolio reports. As part of these technological developments, we've improved our capacity to manage client portfolios. We are nimble and can react to market movements – leaving us better placed to protect our clients' wealth from extreme market conditions.
The past ten years have seen some tumultuous market events from the European Debt Crisis through to the COVID-19 pandemic and we have worked hard to support our clients through these challenging times.
Paul Derrien, Investment Director, explained the changes as follows:
Becoming a bigger business has made us a more professional business, and as a result, we generally achieve better outcomes for clients.

I've worked with my clients through these huge market events over the past ten years. I've been able to add value in difficult times, and give my clients confidence that I'll get them through to the other side.

That's our job on the front line: being the personality that gets the client through. We don't just manage client money; we also manage their emotions in reassuring them and giving them as much stability as we can.
Paul Derrien, Investment Director, 25 years
What do our colleagues say?
'Brilliant minds, brilliant prospects'
CGWM would not have reached where it is today without the hard work and commitment of its employees. In looking back , we discovered that over half of the workforce who were here when the firm became CGWM in 2012 are still working here today – a real testament to CGWM being a great place to work.
We spoke to 10 of these long-standing employees about their experience and asked them why they have stayed at CGWM for such a long time.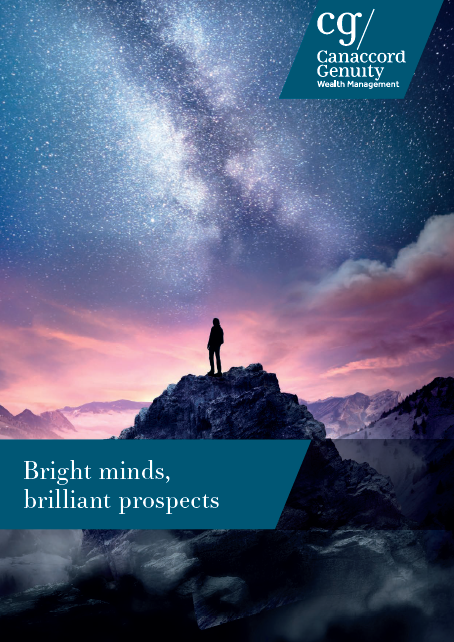 Download our brochure
Read the full brochure to discover why CGWM is a great place to work
Opportunities for career progression
A key reason long-term colleagues gave for never having moved away from CGWM was the opportunities provided as the firm has grown over the past 10 years.
I think the company trusts colleagues with their responsibilities and are keen to promote personal and professional growth. I feel that if you do a good job your contributions will be recognised.
Darren Batiste, Senior IT Systems Administrator, 18 years
Andy Finch, who started back in 2002, is a great example of this. Andy has risen through the ranks at CGWM over the past 20 years and is now our International CEO. "CGWM has proactively supported my career progression. I was lucky to join a firm, way back in 2002, that would offer me a succession of opportunities to develop my career. It's a firm that understands the importance of investing in our colleagues by giving everyone the opportunity to grow and develop."
Our 'family-feel' culture
Others gave the culture as a reason for the high staff retention rate. Although the business has grown significantly, many employees asserted that the 'small-firm', friendly feel remains.
Darren Batiste sees the growth as a 'best of both worlds' outcome. "I think CGWM has changed in the sense you are now part of a larger group and can turn to other parts of the business for assistance; however, the 'friendly' feel of a smaller business is still there."
This culture has been fostered through our embedded values. Our four key values – being accountable, aligned, ambitious and approachable – are absolutely at the heart of our 'friendly feel', and the reason we have been able to maintain this throughout our significant growth.
Our colleagues also highlighted the ways in which they are encouraged to speak their mind. Over recent years, CGWM have worked to ensure that all employees have the opportunity to give their honest opinions through one-to-ones, team meetings, formal reporting and anonymous channels.
"Canaccord has always had a family feel to me, so being open and honest has come naturally with any problems I have faced both in work and personal aspects," says Kelly Ogier, who has worked at CGWM for over 22 years. "I have always felt supported."
Our people
However, the aspect of CGWM that all 10 of the colleagues mentioned as a key feature of their time here, and a reason for the longevity of their tenure, was the people they work with.
What I've enjoyed most about working at CGWM has been the opportunity to work in a team. They're really efficient and great to work with.
Stewart Cooper, Receptionist, 28 years
Ben Bavin, who joined CGWM back in 2010, said he would recommend friends to the business for this reason, "I work with some extremely talented and supportive people and still learn new things on a daily basis. I would encourage my friends to work at CGWM for this reason alone."
Unwavering support in challenging times
The changes that the last 10 years have brought have been challenging for many, but we at CGWM have seen growth, diversification and improvement due to the efforts of our colleagues and the loyalty of our clients. We are proud that our firm's 'can-do' attitude has fostered an environment where our colleagues feel valued and supported, and look forward to seeing where we can take CGWM over the next 10 years and beyond.
Working with us
Find out what opportunities CGWM might hold for you on our careers page.


Find this information useful? Share it with others...
Investment involves risk and you may not get back what you invest. It's not suitable for everyone.
Investment involves risk and is not suitable for everyone.