International Women's Day 2022 - Amy McMonagle's story
17 March 2022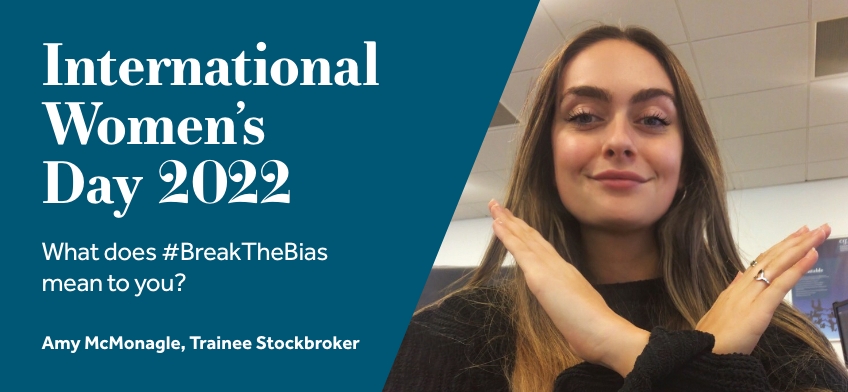 For International Women's Day 2022, CGWM talked to allies and colleagues that identified as women about their experiences.
Here is Amy McMonagle's story.
Tell us a bit about yourself
I'm currently a trainee stockbroker working in CGWM's Jersey office. I joined last year after completing a degree in law. Whilst studying, I noticed that business and contract law became my two favourite modules, which led to my interest in the corporate world. I also gained invaluable experience and exposure to ESG (environmental, social and governance) investing at university by representing Jersey in a Commonwealth Parliamentary Association event which was dedicated to climate change and sustainable investing.
What attracted you to CGWM?
During my degree, I completed a legal research project on gender diversity in FTSE100 companies which sparked my interest in the investment industry. I initially wanted to pursue a career in investment management, but recently decided to pursue a career in advisory stockbroking. CGWM has a great reputation in wealth management in Jersey so applying to the firm was a no brainer for me. Since joining CGWM, I have benefitted from the endless scope for progression - I am currently studying toward my final Investment Advice Diploma exam and then I am going to sit my Private Client Investment Advice & Management later this year.
Tell us more about your job. How do you serve our clients?
My role is multifaceted which is why I love it so much. On the advisory side of things, I research and analyse the market using various platforms. I pick out companies or trends that I find interesting and send this research over to my colleagues. On the trading side, I input trades for our execution only clients and assist the senior members of my team with their trades. My day-to-day relationship with clients varies too. I could be involved in anything from answering clients' 'whys' on market trends to sharing performance to being asked my own opinion on what's going on in the wider economy.
This year's International Women's Day focuses on #BreakTheBias. What does this mean to you?
As a woman, I'm well aware of the lack of gender diversity in senior roles across the finance industry. Within wealth management in particular, I've noticed that it's often men who lead all the investment management decisions for their families. So, to me, #BreakTheBias means not only empowering our female colleagues across the industry to develop and grow their careers but also our female clients in making their own investment decisions.
How can allies better use their privilege to #BreakTheBias
Having hard-hitting conversations can often be uncomfortable but the experiences of women shouldn't be silenced. I believe that all allies within the industry should better use their privilege in creating safe spaces for transparent dialogue. But, real change comes when we speak less and do more.
What are some key changes you'd like to see in the finance industry?
I firmly believe that all companies and the industry need to examine their talent pipelines. The number of female clients is growing and it's important that their advisers look like them so they can better relate to their struggles, passions and journeys.
Find this information useful? Share it with others...
Investment involves risk and you may not get back what you invest. It's not suitable for everyone.
Investment involves risk and is not suitable for everyone.