International Women's Day 2022 - Jane Parry's story
30 March 2022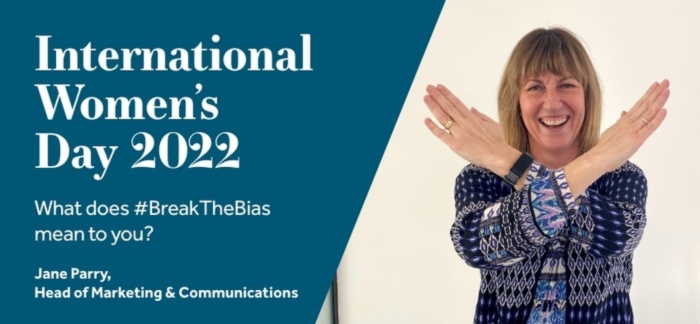 Tell us a bit about yourself.
I'm the Head of Marketing and Communications here at CGWM. I joined the business over six years ago, but I've worked in financial services for around 35 years. I started my career at Barclays where I became the marketing director for their premier banking business. I then worked for HomeServe briefly, before joining Skandia then Duncan Lawrie.
My goal at CGWM has been to create a strategic marketing function and a brand that ensures consistency in the way we interact with all our clients. I had the opportunity to shape the way the brand looks and feels - and after analysing what we're good at, I also came up with our three A brand values (accountable, aligned and approachable).
Since coming on board, the marketing function has achieved so much and now comprises eight people, touching pretty much every marketing channel there is, from digital to print.
How do you serve your clients?
My clients are both internal and external stakeholders. Internally, my team and I support the business with its growth plans. This could be through brand integration such as Adam & Company and the upcoming PSW acquisition, or it could be growing our lead-generating marketing strategy through constant digital optimisation.
For external clients, my work is all about conveying information to them on financial services and what we do in a language they understand. I always try to ensure we're getting out the message that we're experts and we add value. In such a competitive environment, it's so important to let people know that our client centric approach is at the heart of what we do.
What attracted you to Canaccord and what keeps you here?
I've been in both big and small businesses, but I have always loved a challenge and wanted to continue to stretch myself and make an impact. After leaving boutique firm Duncan Lawrie, I was looking for a role where I could get that stretch and make an impact but on a larger scale. So, when I looked into Canaccord and the firm's growth plans, it felt like an exciting opportunity to continue building my career.
Since joining, I'm proud that we have really created something! When I joined, we had £12bn assets under management (AUM) and no brand identity. That was six years ago. Now, we're close to £40bn and have really made our mark. I've also found that there is no shortage of projects. Every six months there's something new and exciting to get involved with. That dynamism and change wouldn't suit everyone, but it definitely keeps me motivated.
But it's the people at Canaccord that really keep me here. The firm has a good team and that's because we hire good people. The nature of my work means I can work across the business, from business support functions through to our front office - and in numerous geographical locations. It's nice that we all have one objective: to do the right thing for our clients and our business.
This year's International Women's Day focuses on #BreakTheBias. What does this mean to you?
For me, bias is two pronged. Do I have a bias and do others have one of me? Both are battles that must be fought.
Bias is fundamentally wrong. It's such an unreasonable thing but I have my own fair share of bias, like we all do. But I always try to not assume so much and accept people for who they are.
I've experienced bias too. While things are getting better now, when I started my career in the financial services sector, I found that to be seen as credible as a woman I needed to carefully consider my opinions. My responses, ideas and approaches had to be rooted in both data and draw on my unique experience and perspective - which meant that I was (and still am) able to offer something new and different to the table.
What are some of the ways you have broken the bias?
With one employer, I was proud to be the first woman on the board.
At Canaccord, as well as being a member of the executive committee and the Divisional Leadership Group, I'm part of various diversity, equity and inclusion (DE&I) committees. I recently won the 'Gold Woman of the Year - Business Services (SME)' award at the 2022 Powerwoman Awards by Citywealth.
And way back when I was a small business bank manager, I helped set up 'Enterprising Women' – a networking group designed to provide small businesswomen with the opportunity to build connections, collaborate and share best practices. Backed by my employer at the time, our members would be able to network with like-minded women and corporate managers who were able to impart their specialist knowledge and expertise as these inspiring women founded, maintained and grew their businesses.
Hopefully, these examples and how I behave day-to-day go some way to break the bias and support others.
What are some of the key changes you'd like to see in your industry to #BreakTheBias?
I've worked in different functions and business during my time in financial services, but I think we do a poor job at advertising the extent and opportunity of the many different types of jobs on offer. Whether they be client facing or business support roles, the beauty of financial services is that it's a successful industry to be part of that needs all types of people to grow sustainably.
It may sound radical, but I'd love to see women making up 50% of investment directors. In part to reflect our client base, but also because I learned a lot more about myself during my more challenging developmental roles and in my junior years. All that growth and development has led to a long and fulfilling career and I'd like other women to have that opportunity too if they want.
There's a broader question I believe on how we can build a fairer way for our female colleagues to manage their work and family lives. Women shouldn't have to sacrifice one for the other and I think the industry needs to wake up to this question.
Is there anything else you'd like to mention?
We need to encourage people to speak up about bias and bring new ideas to the table on how we can all strive for a more equitable industry.
Find this information useful? Share it with others...
Investment involves risk and you may not get back what you invest. It's not suitable for everyone.
Investment involves risk and is not suitable for everyone.