Pride 2022: An interview with Martin MacLachlan
24 June 2022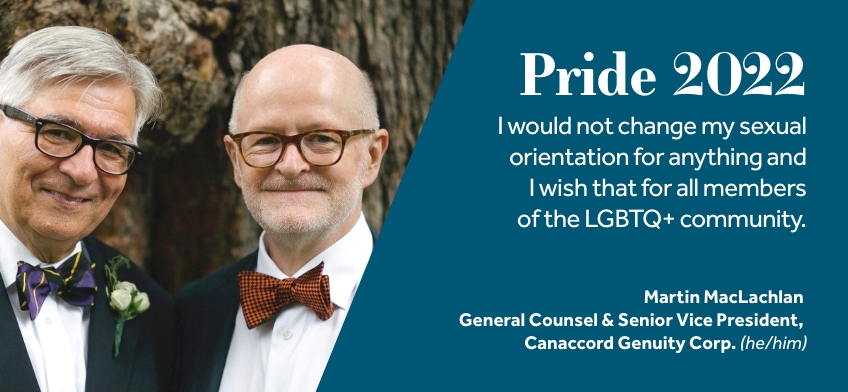 To celebrate Pride month, CGWM UK spoke with LGBTQ+ colleagues and allies across our business to find out what Pride means to them.
Our first interviewee is Martin MacLachlan (he/him). Read on for Martin's take on Pride, identity, international LGBTQ+ human rights and diversity.
Thanks for talking to us today, Martin. Would you be able to introduce yourself to our readers?
I'm the General Counsel for both Canaccord Genuity Corp., the Canadian operating company, and Canaccord Genuity Group Inc., which is the parent company for the Canaccord group and listed on the Toronto Stock Exchange. I joined Canaccord in 2004 when the company went public.
I studied commerce and law at the University of British Columbia. I then undertook my articles at a firm in Vancouver of which Canaccord Genuity was a major client. With a short break to complete my Master of Laws at the London School of Economics and Political Science, I stayed there for around 23 years before moving to Canaccord Genuity.
Do you have any remarks on the changes you have seen over your career?
I've been fortunate to enjoy a really long career. I've been in law for around 40 years and have witnessed huge change, from the way the profession and the business world operated all the way to my experiences as a gay man.
Would you mind sharing your experiences on the changes you've witnessed as a LGBTQ+ person?
Well, if you would have told me when I started out that, 40 years later, I would be the General Counsel for an investment bank, in Toronto, having met and married my husband and that I would be living openly as a gay man with the support of my colleagues, friends and family, then I would have thought that inconceivable.
During my postgraduate studies, I was a young LGBTQ+ man in London during the AIDS epidemic. When I watched the TV series It's a Sin, it resonated strongly with me. I was on the edges of the London queer scene and the destruction that the HIV/AIDS epidemic caused was horrific. I'm sure that if others, including the people during the time of It's a Sin, were to wake up in today's world, they too would find it unrecognisable.
As a lawyer and a queer man, what are the international issues affecting the global LGBTQ+ community?
As someone who can enjoy being openly gay, it's important to me that I remember my privilege. It's important not to forget that many don't enjoy the freedoms we do and that many are still suffering from the scourge of HIV/AIDS and in countries where it is very difficult or illegal to live openly as LGBTQ+ people. My career and my life experiences have informed me how far we've come but also how much more needs to be done.
What is Canaccord Genuity doing to help promote LGBTQ+ equity and inclusion?
One example is that Canaccord Genuity in Canada is hosting a panel discussion with Rainbow Railroad, a global not-for-profit that helps LGBTQ+ people facing persecution for their sexuality, gender identity and sex characteristics. This is important now more than ever with the crises we're seeing in Afghanistan, Eastern Europe and beyond.
What queer activism have you been involved in?
Although I am now in Toronto, I spent most of my career in Vancouver. During the earlier years of my career, I volunteered legal services to help LGBTQ+ people with legal issues they were facing and I was one of the founders of the organisation that today operates the Qmunity LGBTQ+ resource centre in Vancouver.
What does Pride mean to you?
Pride is important. I think it's an important corporate initiative. It reflects a company's values and it's an important way to demonstrate support for diversity and inclusion. I'm proud of Canaccord Genuity's efforts; I think we have actually made a difference.
How do you think allies at Canaccord Genuity and across the world can leverage their support and privilege?
Showing support is important. Turning up to events and listening to queer people talk about their experiences and the issues in the community conveys support and is an educational experience for allies.
Showing support means that you're prepared to be identified as an ally. I hope that, if an occasion arose, an ally would speak up. I also hope that allies consider the advancement and development of their LGBTQ+ colleagues.
To my fellow LGBTQ+ colleagues, at Canaccord Genuity and across the industry, we need to ensure that we couple support we get from allies with our own support for intersectional identities within the LGBTQ+ spectrum. For our trans colleagues, we're in this together and we stand with you.
Do you have any advice or reflections for colleagues that are openly LGBTQ+ or are still navigating that space?
It's difficult to provide any advice. I've benefitted from a lot of privilege and I came out in a different age.
Most queer people know they're queer at a young age. For me, it was 12/13 and while I became comfortable with my family and my friends at university, I didn't feel comfortable to be out to all my work colleagues. I was careful not to talk about my identity as a gay man and in a way, I left a part of me at home. That wasn't to do with my employers but mainly the way LGBTQ+ people and issues were seen by society overall. Over the years, I've become more and more comfortable with my identity, and I've noticed it also matters less and less.
Do you have any parting comments?
My sexual orientation shaped the way I view the world; I would not change that or who am I for anything and I wish the same for all members of the LGBTQ+ community.
Also, tolerance towards LGBTQ+ people isn't enough anymore. It's active support and embrace that the LGBTQ+ community needs.
Find this information useful? Share it with others...
Investment involves risk and you may not get back what you invest. It's not suitable for everyone.
Investment involves risk and is not suitable for everyone.