Canaccord Genuity Wealth Management London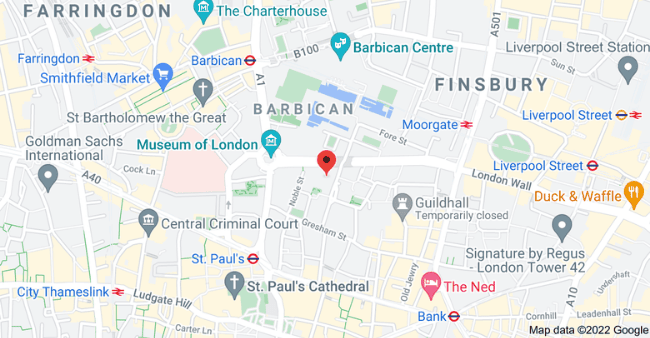 About us
Our London office sits in the heart of the City of London, the epicentre of the UK finance sector. A stone's throw away from the Guildhall, the home of the City of London Corporation.
Canaccord Genuity London was established in 2012 following the acquisition of Collins Stewart Hawkpoint PLC and Eden Financial.
As part of the Canaccord Genuity Group, we have access to the resources and cutting edge technology needed to provide our clients with highly effective wealth management services at a fair price, and our London team of investment and financial planning experts is dedicated to providing quality advice tailored carefully to each client's unique needs.
Speak to one of our investment experts
To discuss your investment needs, book a complimentary, no-obligation consultation.
Get in touch
Client enquiries, legal and compliance matters and complaints
If you need to talk to our expert teams regarding legal and compliance or client-related matters, use our emails below.
If you'd like to make a complaint, please see our complaints page here.
Legal and compliance contact
Client-related enquiries
Canaccord Genuity Group
We're part of Canaccord Genuity Group Inc., a publicly traded company under the symbol CF on the Toronto Stock Exchange. Established in 1950, it is now a leading global financial services firm, operating in wealth management and capital markets.
The Group has offices in 10 countries, including wealth management offices in the UK, Channel Islands, Isle of Man, Canada and Australia. Canaccord Genuity; our international capital markets division, operates in Canada, the US, the UK, France, Ireland, Hong Kong, China, Australia and Dubai.
Find out more
Investment involves risk and you may not get back what you invest. It's not suitable for everyone.
Investment involves risk and is not suitable for everyone.