Wealth Confidence Tracker
How confident does the UK's wealthy feel?
Based on the results from our latest Wealth Confidence Tracker, high net worth individuals (HNWIs) are more confident in their financial future now than they have been in the past three years. The results show that 91% have said they feel confident compared to 89% in 2018 and 87% in 2017.
Out of the individuals surveyed, only 9% said they do not feel confident and this is mainly due to worries about the macro economic and political environment. This mirrors the trend from 2018 when 10% of respondents said their lack of wealth confidence was the result of the macro economic and political environment too.
92% of those who feel confident said this was a result of making good financial provisions.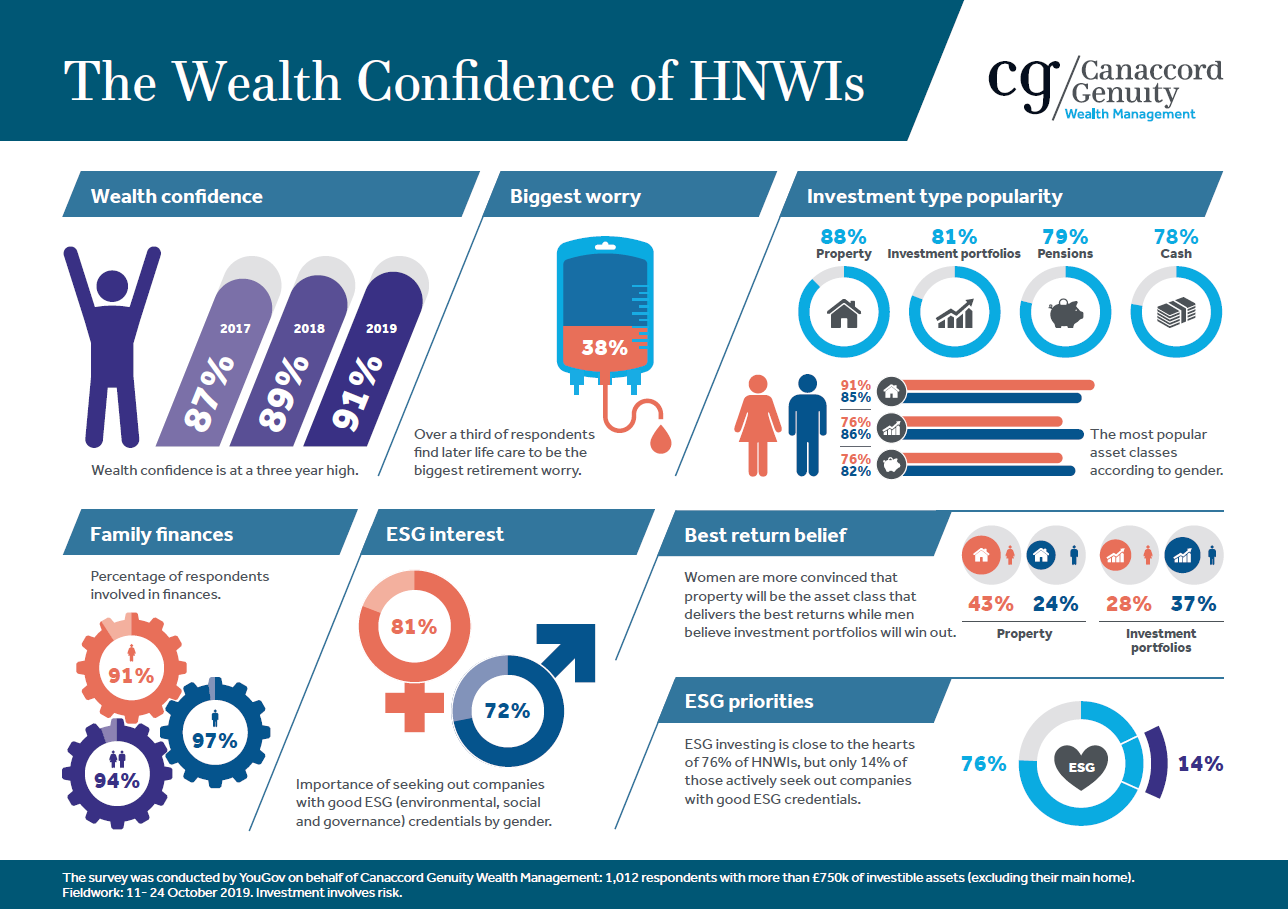 What did our survey uncover?
This year's survey found that in 2019, property (33%) and investment portfolios (33%) equalised as the asset classes inspiring the most confidence when thinking about what areas of investment would contribute most to the long-term future. Pensions followed with 25% of high net worth individuals believing they would contribute most to their long-term financial future. This shows an increase in property, as in 2018 investment portfolios was the most popular choice (35%), with property second at 31%.
Men and women differ in their approach to investments
Interestingly, we see that there are differences between genders, with wealthy women trusting that property will contribute more to their long-term wealth (43%) than men (24%) - for whom property is their third choice after investments (37%) and pensions (29%). The 2019 survey uncovered that HNWIs currently have most of their money invested in property (88%), followed by investment portfolios (81%) and pensions (79%).
It is surprising that over three quarters of high net worth individuals (78%) still hold a significant sum in cash expecting it to give them a return, despite the current situation of rock bottom interest rates. What's more, 24% of women surveyed do not have a pension or an investment portfolio. In contrast to this, only 14% of the males surveyed do not have an investment portfolio and 18% don't have a pension.
Some of the other key statistics from the 2019 Canaccord Genuity Wealth Confidence Tracker include:
Pessimistic about future generations: 45% of the HNWIs surveyed feel more pessimistic about the standard of living for future generations than previous years (43% in 2018). Due to increasingly common issues for younger generations such as the inability to get on the housing ladder, struggling with university debt and a change in pension schemes, we believe this may continue to be an upward trend.
The rise of the 'level headeds': the HNWIs surveyed can be categorised into three investment styles. Over half of those with an investment portfolio are the 'level headeds' (take an element of risk but have a balanced portfolio). 28% are the 'cautious and carefuls' (cautious investors taking very little risk). 15% are the 'risk takers' (those who believe that taking risks will bring financial benefit). The proportion of 'level headeds' has risen this year and the number of 'risk takers' has dropped. This may be the result of the volatility in the markets in 2019 and events, such as Woodford.
Savers or spenders? The post retirement HNWIs can be divided into three different personas; the balanced, 'save some, spend some' (78%), the 'cautious' who aren't taking any risks and save everything (13%) and the 'spendthrifts' who live for today and don't believe in saving for rainy days (7%). Interestingly, we have seen that there is a decrease in those that are classified as 'cautious' when it comes to their finances compared to last year (19%).
Glass half full: wealthy men are more confident in their financial future (92%) than women (89%), according to the 2019 survey. This mirrors findings from previous years.
Sustainable intentions: 81% of women with investments feel it is important to seek out companies with good ESG (environmental, social and governance) credentials, making them more 'conscious' investors – compared to 72% of men.
David Goodfellow, Head of Wealth Planning for the UK and Europe at Canaccord Genuity comments: "Financial confidence is at a three-year high, which indicates HNWIs have got used to the uncertainty in the UK and realise that – to date – it has had little impact on their wealth. Financial planning is the comfort blanket the wealthy hold on to, but they also have worries, care home fees being the main one – over a third of those asked what worried them most about retirement cited the cost of later life care (38%).
"The female story is an interesting one – reticent investors, wealthy women have more faith in property, but their confidence in pensions has grown. Last year 15% of women thought pensions was the asset class that gave them most confidence compared to 20% today. And women are riding the trend of ethical investing – they are more responsible investors than men and all the research points to the fact that ESG will become the de facto standard in investing. So women might well be ahead of this investment curve."
If you are looking to join the 92% of the UK's wealthy who feel confident as a result of making good provisions for the future, learn more about how our financial planning service can help you. Alternatively, you can get in touch with an adviser.
All figures, unless otherwise stated, are from YouGov Plc. Total sample size was 1,012 high net worth individuals. Fieldwork was undertaken between 11 - 24 October 2019. The survey was carried out online.
Investment involves risk. The value of investments and the income from them can go down as well as up and you may not get back the amount originally invested. Past performance is not a reliable indicator of future performance.
The information provided is not to be treated as specific advice. It has no regard for the specific investment objectives, financial situation or needs of any specific person or entity.
The information contained herein is based on materials and sources that we believe to be reliable, however, Canaccord Genuity Wealth Management makes no representation or warranty, either expressed or implied, in relation to the accuracy, completeness or reliability of the information contained herein. All opinions and estimates included in this document are subject to change without notice and Canaccord Genuity Wealth Management is under no obligation to update the information contained herein.
Investment involves risk and you may not get back what you invest. It's not suitable for everyone.
Investment involves risk and is not suitable for everyone.