Why investing in automation is a key investment theme in 2022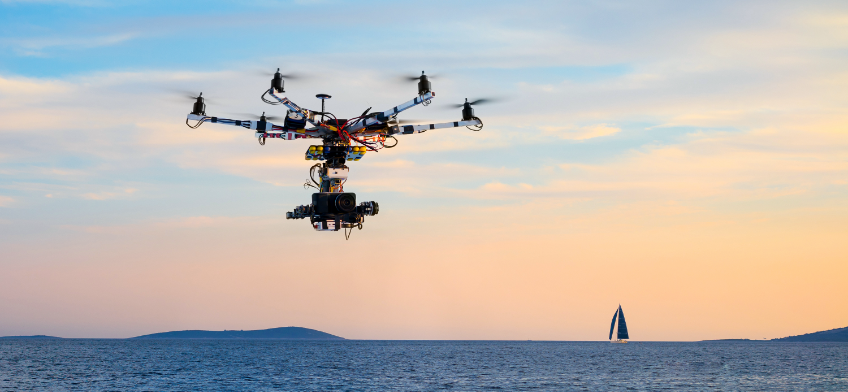 The robots are coming. We think they are here to help serve businesses, consumers and investors.
Over the past few years, it has become apparent just how many workers businesses need. Finding those workers has been particularly difficult in three main industries – food and agriculture, manufacturing, and healthcare. And this was before 'The Great Resignation' – the widespread trend of workers leaving their jobs during the COVID-19 pandemic.
In this article, we outline the benefits of investing in automation on business productivity and how robots can help solve the worker crisis in a number of key areas of the economy. Ultimately, we explain why this makes robots and automation a key investment theme in 2022 and beyond.
What can we learn from automation in agriculture?
Agriculture is a useful historical case study about investing in automation, when the tractor transformed agriculture from a human- and horse-powered industry into a mechanised one, thereby increasing farm productivity dramatically.
Between 1950 and 2015, total farm output nearly tripled, while employment dropped by more than two-thirds. Farms also switched from horses consuming the equivalent of 22% of farm-produced crops to tractors fuelled by another source of energy, which freed up crops for sale. Overall, the combined impact was to increase returns on capital employed.
What are the benefits of investing in automation?
Like farming, other industries in the process of automation are likely to enjoy increased productivity and margins, both of which should boost their returns on invested capital over time.
Essentially the productivity associated with increased automation can benefit different stakeholders in several ways:

Given the number of sectors and businesses who are still to benefit from automation, we believe investing in robots is a compelling long-term investment theme.
What is the trend in manufacturing for investing in robots?
During the early 1990s, with only 20 industrial robots per 10,000 employees, automation began to impact US manufacturing. Since then, robot density in manufacturing has increased more than ten-fold and yet, compared to the automation productivity seen in agriculture, it is still in its infancy.
Robot density remains varied. While manufacturing now has 200 robots per 10,000 employees, this is still much lower than the automotive sector which has 1,200 per 10,000 employees, or Amazon at 3,000 robots per 10,000. Indeed, Amazon has yet to reach a plateau as it moves dull, dirty and dangerous jobs to productive robots. This suggests a significant market opportunity for further automation and increased productivity lies ahead.
What is the future of collaborative robots vs. traditional robots in manufacturing?
Collaborative robots (or 'cobots') have become a disruptive force in the traditional industrial robots' industry and could turbocharge the demand for robots to levels far beyond current expectations.
Five years ago, the average traditional industrial robot cost more than US$120,000 to install, with roughly a third of the cost going to setup and programming. Though hardware costs are falling, programming and setup costs are not. As a result, high upfront costs have limited the sale of traditional robots to well-established industries who are manufacturing products in high volumes.
Collaborative robots, trained simply by people moving the robots' arms, cost roughly US$35,000 and could penetrate most manufacturing firms. Compared to traditional industrial robots, which typically are isolated from human workers, collaborative robots augment the activities and increase the productivity of human workers.
A deeper dive into manufacturing suggests that the concentration of traditional robots in the automotive industry is higher than it appears at first glance, which means that there is an even larger market for collaborative robots to takeover and penetrate than previously expected.
With collaborative robots, the low cost and ease of retraining should shift the addressable market from the automotive manufacturing industry toward smaller sized manufacturers, and help productivity in the rest of manufacturing catch up to that of the automotive sector.
How is healthcare benefiting from automation?
Healthcare costs, both on a global and national level, are rising at unsustainable levels. This is due to the growing aging population, increase in chronic disease, shortage of doctors and nurses, lack of access to care, and increase in digital demand by hospitals and patients.
Two interesting examples of automation in healthcare can be seen through telemedicine and genetic testing, which are both areas where robots are providing a solution:
The rise of the 'virtual doctor' allows patients to access physicians and clinicians via videoconferencing apps, usually on their smartphones and tablets. Telemedicine is instrumental for those patients who are unable to easily leave the home for a traditional provider visit and for those who live in remote or rural areas.
Genetic testing is an important medical tool used to assess various inheritable diseases, conditions and cancers earlier than ever before possible. Early diagnosis helps to lessen the severity of symptoms in the long term and promote a better quality of life for patients.
What impact could investing in automation have on food?
Robotics is affecting every link in the food supply chain, from farm to fork. As the global population reaches over 7.5 billion, food demand continues to rise. Food suppliers are under pressure to work more efficiently, while consumers want better quality, sustainable food. Key points here include:
The precision agriculture industry is big - and robotics is a huge part of this. Robots are planting, identifying and sorting seedlings. They are driving tractors, weeding and harvesting fields. They are also helping the dairy, poultry and beef farming industries. Traditional farm tasks like feeding, milking, egg collection and cleaning are all areas where machines can help
The value of the global food automation industry is expected to double in the next five years, reaching US$2.5bn by 2022. Robotic applications include butchery, fruit and vegetable sorting, defect removal and mixing
The entire packaging process is now also being automated
Over the last couple of years, there has been a huge spike in demand for restaurant quality, home-delivered, ready-to-eat food. Compared to the other stages of the food supply chain, cookery and delivery robots are still in their infancy.
What is undeniable is that robotics is changing the food industry.
How to invest in robots and automation?
With machine learning and connected sensors, low price robots of all sizes and capabilities should continue to empower humans. Over time, most robots will become collaborative, aiding humans and turbocharging productivity as the digital economy empowers the physical economy.
When investing on behalf of our discretionary clients, we seek exposure to the robotic investment theme by aiming to capture opportunities in three main areas:
Industrial automation - companies who are building new generations of smart robots to support industrial processes
Consumer and services applications - robotic solutions that are increasingly aimed at helping with people's everyday lives
Enabling technologies – robots will support the growth of this sector with the ability to communicate and respond to situations with a greater level of intelligence.
Robots and automation have the ability to increase productivity, reduce costs and help solve the challenges linked to an increasingly elderly population. We think the robotics sector is set to grow significantly faster than the broader economy over the coming years.
Watch our video to find out more:
Find this useful? Read more here:
Speak to one of our experts
If you have any questions about the current environment or about your investments, please get in touch with us or email wealthmanager@canaccord.com.
Please remember, if you hold an account with Canaccord, you can check your portfolio value at any time, through Wealth Online or by getting in touch with your Investment Manager.
New to Canaccord Genuity Wealth Management?
If you are new to wealth management and would like to learn how this can benefit you, we can put you in touch with our team of experts that can help.
Get in touch
Investment involves risk. The value of investments and the income from them can go down as well as up and you may not get back the amount originally invested. Past performance is not a reliable indicator of future performance.
The information provided is not to be treated as specific advice. It has no regard for the specific investment objectives, financial situation or needs of any specific person or entity.
This is not a recommendation to invest or disinvest in any of the companies, themes or sectors mentioned. They are included for illustrative purposes only.
The information contained herein is based on materials and sources deemed to be reliable; however, Canaccord Genuity Wealth Management makes no representation or warranty, either express or implied, to the accuracy, completeness or reliability of this information. Canaccord is not liable for the content and accuracy of the opinions and information provided by external contributors. All stated opinions and estimates in this article are subject to change without notice and Canaccord Genuity Wealth Management is under no obligation to update the information.
Sources:
https://www.ers.usda.gov/data-products/agricultural-productivity-in-the-us/
https://ifr.org/
https://www.mordorintelligence.com/industry-reports/food-automation-market
https://www.bcg.com/publications/2015/lean-manufacturing-innovation-robots-redefine-competitiveness
Find this information useful? Share it with others...
Investment involves risk and you may not get back what you invest. It's not suitable for everyone.
Investment involves risk and is not suitable for everyone.