Post-COVID-19 tax planning: what can I do to mitigate any tax rises after COVID-19?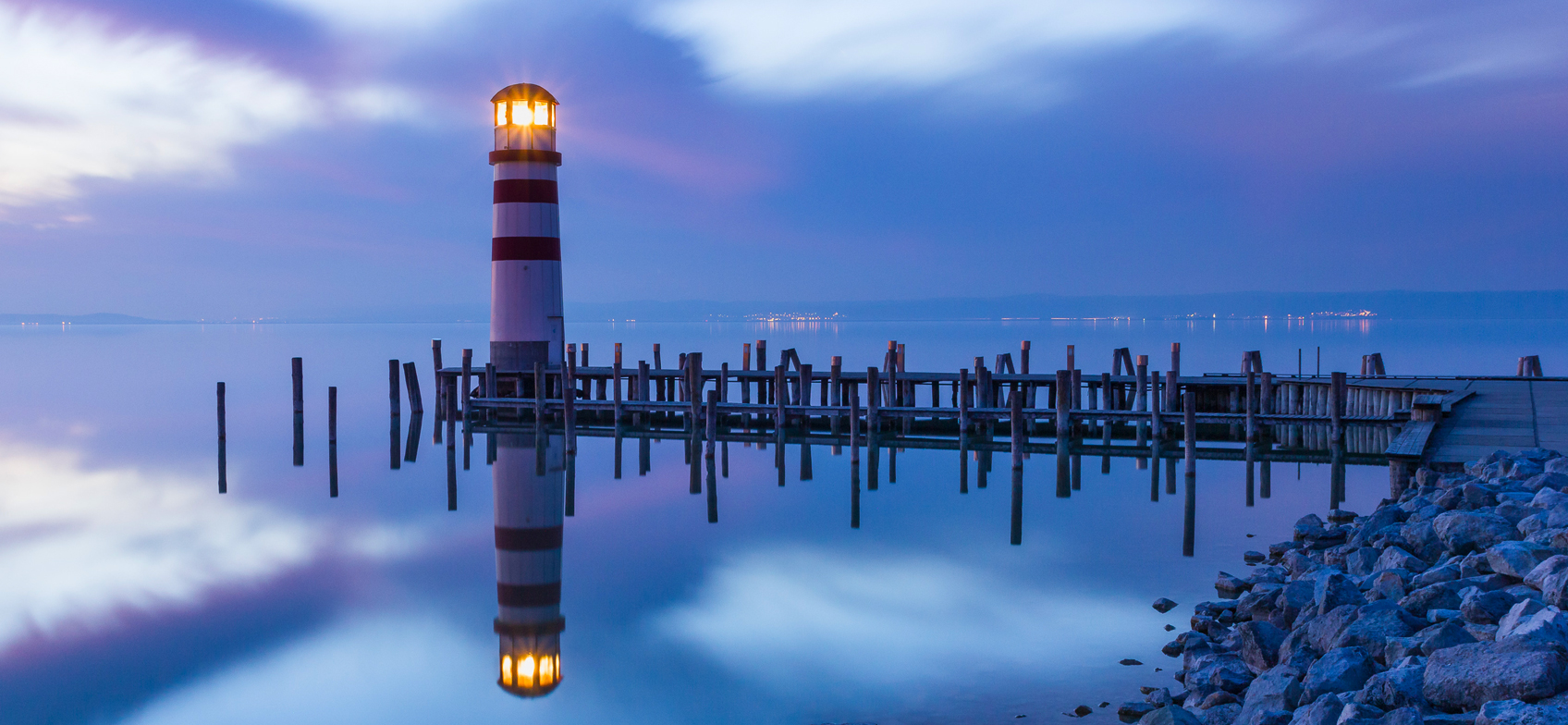 Of course, there are more important issues at stake than taxes and wealth planning. Yet for many people, having survived the crisis, these will become the most pressing things on their mind. How will their income be affected?
The COVID-19 pandemic has been a global tragedy. The human costs of the disease have been profound, widespread and life changing. Even when R numbers have been reduced to an infinitesimal level, the effects of the disease will continue to play out over the coming years, both personally and financially.
In the short term the Chancellor may be tempting people back to restaurants with VAT cuts and boosting the housing market with a stamp duty freeze. However, we are as certain as we can be that there will be significant tax increases across the board in the medium term, and that wealth planning will be vital to reduce the effects of these demands. It is essential to make full use of tax reliefs (e.g. for pensions, capital gains tax and higher rate income tax) while they are still available.
The UK government – and others around the world – are also worrying about how to pay the bills. They have accumulated a massive deficit while trying to mitigate the economic impact of the virus on individuals and businesses. And while most people don't care about government deficits, they do care about taxes.
Whatever the government decides will mean significant changes for all of us.
Why is there such a large deficit?
Even before COVID-19 reached our shores, the UK economy was burdened with heavy debts. Over the years, successive administrations consistently spent more than they raised, accumulating a substantial national debt. COVID-19 has caused this deficit to rise to record levels.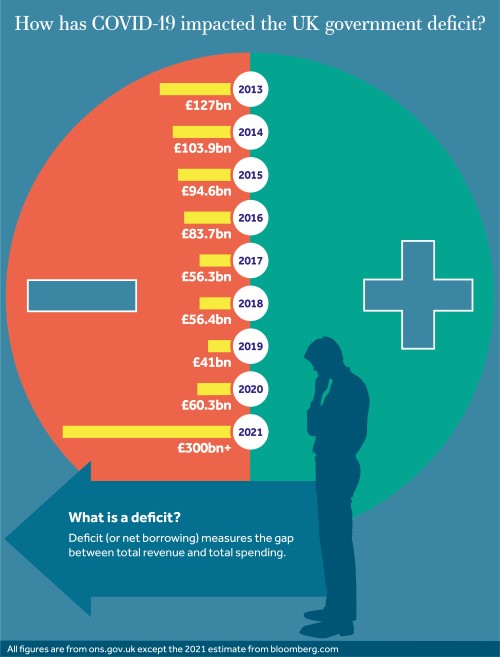 Conclusion: instead of the hoped-for decline in deficit, COVID-19 will produce the largest annual deficit since the end of WWII. The UK's total debts will increase to 97% of GDP.
How will the government raise the money it needs?
The government now has to choose between three options: do nothing, decrease spending or – most likely – increase tax.
As you can see from the pie chart below, the big three income streams for the UK government are income tax, National Insurance (NI) and VAT, and these will have to do the heavy lifting.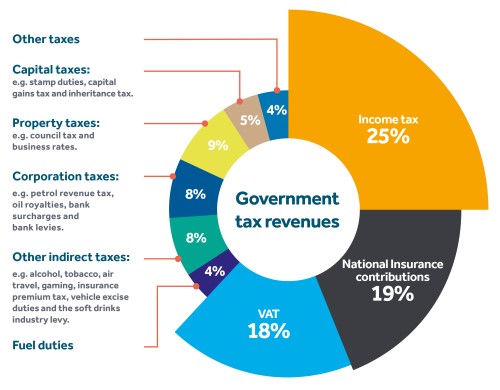 Source: IFS calculations using Office for Budget Responsibility, Economic and Fiscal Outlook, March 2017, http://budgetresponsibility.org.uk/efo/economic-fiscal-outlook-march-2017/.
Predictions source:
https://www.ons.gov.uk/economy/governmentpublicsectorandtaxes/publicsectorfinance#:~:text=Public%20sector%20finances%2C%20UK%3A%20May%202020&text=Debt%20(PSND%20ex)%20at%20the,records%20began%20in%20March%201993).
Which taxes are likely to rise?
It's possible the government might concentrate on just one of the big income streams, but in our opinion it will probably be a combination of all three. Ironically, the only opposition to this could come from within its own party rather than any of the opposition parties, who may well argue that the increase does not go far enough.
However, it will also reduce tax relief in other areas, and we believe much of the burden will fall on the individual rather than the corporate world. The better off will see the tax take increase, perhaps significantly.
Here are our predictions for how various taxes could change over the next 12 – 24 months – they are all areas where wealth planning can help you to mitigate tax liabilities:
Capital gains tax
The capital gains tax used to be at parity with higher rate income tax. Bringing it back into parity would seem a relatively easy way to raise revenue.
Pensions
The pension triple lock ensures that the state pension increases by the rate of inflation, average wage growth or a minimum of 2.5% per annum. The final element of the guarantee is most contentious and we would argue needs to be stopped. Now we are in a significant recession, the UK inflation rate is currently running at 1.5%. For many years it has been at or below 2.5%. As a result, state pensions have grown above the inflation rate. The 2.5% minimum lock is now too generous and removing it would save the government money.
The government may also look at reducing pensions tax relief. We would not be surprised if higher rate tax relief is now done away with altogether.
Inheritance tax (IHT)
This is a particularly unpopular tax for Conservative governments, so any changes would be problematic. The seven-year rule of potentially exempt transfers, where gifting to others can avoid IHT, could be attacked, through the introduction of a charge on lifetime gifts, although this would be complicated and potentially difficult for HMRC to monitor and collect. Decreasing the nil-rate band or increasing the IHT rate are also possibilities and much easier to collect.
Will income tax, NI and VAT also rise?
We believe so. Here are our predictions:
Income tax
We expect the government to increase the higher rate of income tax, and possibly the basic rate, while dropping the current threshold for higher rate tax. We don't believe these increases will be massive – just a penny here and there – but they will help to increase tax revenue.
National Insurance
We believe the government is likely to increase the NI rate from the current 12%, and perhaps also increase the level at which the reduced rate of 2% becomes payable, currently on annual earnings above £50,000. This would capture more earnings in the 12% band. In our opinion, this will not be matched by increases in employer contributions, as this would be seen as a tax on jobs.
VAT
An increase in VAT could be a long-term option. VAT affects those on lower incomes disproportionally more than those with savings and high incomes, so the Chancellor may continue to reduce VAT on necessities or on those sectors of the economy he wants to support, but we believe he will try to get some of the money back with VAT on discretionary spending and luxury items.
How could wealth planning help me to manage my tax liabilities?
We believe it is vital to reconsider your financial arrangements now – definitely sooner rather than later. Any planning should be brought forward if possible.
You will probably need to maximise your pensions and other allowances, look at the current structure of your assets and, if you haven't done so already, go through different scenarios to see which is best for you. Proper wealth planning will help mitigate some of these tax increases, even if it cannot eliminate the effects of all of them, and will mean that you are well placed to weather the coming storm.
If the pandemic has affected the way you earn, or had an impact on your plans for retirement, you may feel you would benefit from talking to one of our experts about issues that are concerning you. If so, please contact us or call us on +44 20 7523 4500.
If you would like to read more about investment in the post-COVID-19 world:
Investment involves risk. The value of investments and the income from them can go down as well as up and you may not get back the amount originally invested.
The tax treatment of all investments depends upon individual circumstances and the levels and basis of taxation may change in the future. Investors should discuss their financial arrangements with their own tax adviser before investing.
Find this information useful? Share it with others...
Let us contact you
If you're unsure which of our teams to contact, let us help you. We can put you in touch with one of our experts who will discuss your wealth management needs with you.
Find out more
IMPORTANT: Investment involves risk. The value of investments and the income from them can go down as well as up and you may not get back the amount originally invested. Past performance is not a reliable indicator of future performance.