Market volatility - what you need to know
Market volatility - what you need to know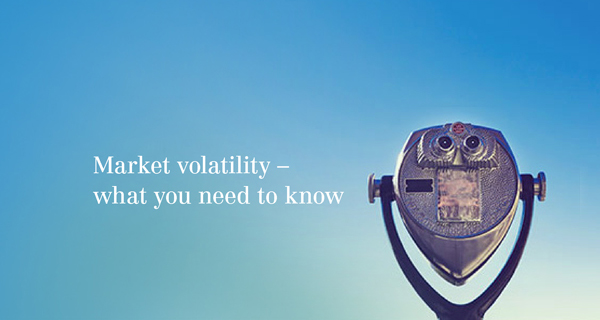 The current volatility in markets was not totally unexpected. In our recent articles we have flagged a potential increase in volatility this year as the inevitable 'price to be paid' for continued growth in equity markets. It was a matter of when not if. The question is whether the current correction is the beginning of something more sinister - leading to a bear market - or simply reminiscent of 2013's 'taper tantrum' where markets panicked in response to a pull-back in quantitative easing.
Our conclusion is that the movements of the past few days are, by and large, noise and we should not change our medium-term views or asset allocation as a result. On the other hand, should any of our clients not be fully invested, this is a golden opportunity to employ idle cash.
What has caused the market volatility?
We believe a significant part of this correction was caused by the exponential rise in markets (particularly the US) in January, following President Trump's Tax Cuts and Jobs Act. Markets had to come back down to earth at some point - and this is it.
Margin calls and algorithmic trading may have exacerbated the falls, and Friday's US employment data gave the drop an additional fillip surfacing latent inflation fears. The current stage in the cycle has set the stage for inflation to return to the fore, with a tight labour market in the US (and in Germany, Japan and the UK), fiscal stimulus and synchronised global growth. The one ingredient that was missing was wage growth. On Friday, the US personal earnings number rose from a previous 2.5% (updated to 2.7%) to 2.9%. The difference between mid-2s and 3% is psychologically significant, as the Federal Reserve (Fed) could be expected to raise interest rates more than forecast if wages are in the 3% range.
What does this market volatility mean in the short and long term?
We believe this market tantrum is a dress rehearsal for what could well happen in a year or two, when inflation does start to seep into the system more effectively than now. For the time being, however, we see the structural and global forces holding down prices (demographics, automation, technology, internet shopping, lack of pricing power) outweighing the cyclical upturn due to a tight jobs market feeding into wage increases. (You can find out more on our outlook for inflation here.)
We also note that the current market tantrum has not been accompanied by a spike in gold or the Japanese yen and that the obvious risk bellwether, the euro, is almost unchanged at around US$1.24. This indicates that the rout in the stock market is more technical than fundamental. Indeed, the markets are still giving a Fed hike in March an 83% probability, down from 93% last week.
There is no doubt that government bond markets will remain the focus of this period, as the US government needs to raise more funds to finance its tax cuts, and the Fed is unwinding its balance sheet rather than buying new bonds. Nevertheless, equities normally thrive from the combination of higher rates and higher profits growth, and often after a volatility period similar to the one we are seeing now.
In a nutshell, the correction may well continue into this and next week, but we would not be surprised to see a rebound as most stocks are above their moving averages and the world fundamentals are as healthy as we have seen them for decades (world growth, corporate earnings, trade flows). Stay invested and, if you have cash, use it.
Risk warning
Investment involves risk. The value of investments and the income from them can go down as well as up and you may not get back the amount originally invested. Past performance is not a reliable indicator of future performance.
The information provided is not to be treated as specific advice. It has no regard for the specific investment objectives, financial situation or needs of any specific person or entity.
The information contained herein is based on materials and sources that we believe to be reliable, however, Canaccord Genuity Wealth Management makes no representation or warranty, either expressed or implied, in relation to the accuracy, completeness or reliability of the information contained herein. All opinions and estimates included in this document are subject to change without notice and Canaccord Genuity Wealth Management is under no obligation to update the information contained herein.
Where investment is made in currencies other than the investor's base currency, the value of those investments, and any income from them, will be affected by movements in exchange rates. This effect may be unfavourable as well as favourable.
Find this information useful? Share it with others...
IMPORTANT: Investment involves risk. The value of investments and the income from them can go down as well as up and you may not get back the amount originally invested. Past performance is not a reliable indicator of future performance.