Our ESG Portfolio Service
This is an opportunity to invest responsibly while still aiming for positive returns.
Many of our clients are concerned about the nature of their investments and the environmental or ethical record of the companies involved. They don't wish to invest in dubious enterprises, but at the same time they can't afford to invest their money in specialist ethical funds or businesses that offer too little return or too great a risk.
If this reflects your views, we can help with our ESG Portfolio Service.
ESG stands for environmental, social and governance, and your portfolio will be invested in companies that meet high standards according to ESG values.
The ESG Portfolio Service lets you take a more responsible approach to investing while still doing your best for your long-term security.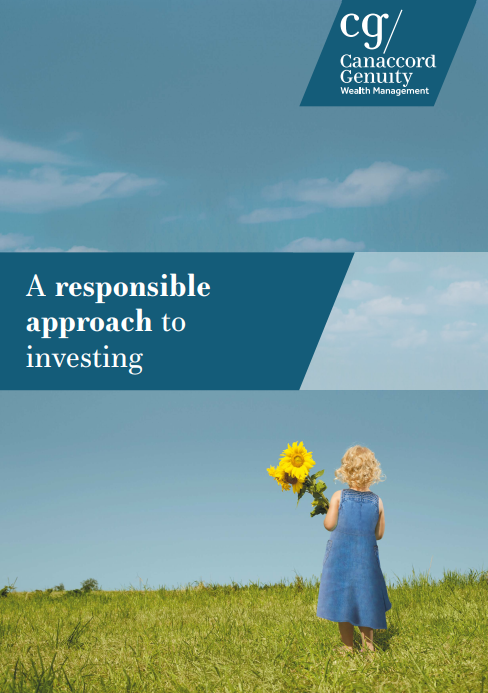 Download our ESG brochure
Find out the details of the service

Learn how we choose suitable funds

Find out about our three different ESG portfolios.
Download
This is not a traditionally negatively screened ethical or SRI portfolio where activities such as armaments, pornography, animal testing, tobacco and companies with poor environmental or human rights records would be specifically excluded by us at the portfolio level as a result of our 'screening out' process. The underlying funds in which we invest carry out screening in different ways, but we don't impose further restrictions once we've chosen a fund for our model portfolios.
If your client wants a traditional negatively screened portfolio, our ESG Portfolio Service might not be the right service for them.
Why choose our ESG Portfolio Service?
When choosing ESG investments, we look for funds that invest in businesses that generate a measurable social or environmental benefit alongside a return.
Because ESG criteria are broader than traditional ethical investing restrictions, your potential investment opportunities are greater, allowing wider diversification to protect you against possible investment risk.
The companies in the funds we select are thinking about the bigger picture and doing their best to give something back. We believe this will make them more sustainable, which is good for your investment portfolio. There is mounting evidence that companies that meet ESG standards tend to outperform those that don't.
The opposite is also true. Many companies have seen catastrophic repercussions (both ethically and commercially) for acting irresponsibly.
Your investments will benefit from the best of Canaccord Genuity Wealth Management's thinking and long-term experience. We monitor and manage your portfolio to ensure your investment risk is kept at a level that suits you through true diversification.
Canaccord Genuity Wealth Management is the only top 10 independent UK wealth manager offering an ESG Portfolio Service like this, allowing you to align your investments more closely with your own values. You'll be investing not only for your own future, but for the future of the environment and society.
How the ESG Portfolio Service works
With this service, you invest in a 'managed portfolio' which we run on your behalf. We will do all the investigating and research to find suitable ESG funds so you don't have to, and then we will continue to monitor the funds you're invested in.
We offer three ESG portfolios: Cautious Balanced, Balanced and Growth. Your adviser will help you choose the one that's right for you, based on your objectives and attitude to investment risk.
We're delighted to announce that we are now a member of the United Nations-supported Principles for Responsible Investing, joining a community of over 2,700 companies around the world. We want to publicly demonstrate our commitment to responsible investing.
How can we help?
If you would like to know more about our ESG Portfolio Service, or want to speak to one of our team, get in touch. We will be delighted to give you more details.
IMPORTANT: Investment involves risk. The value of investments and the income from them can go down as well as up and you may not get back the amount originally invested. Past performance is not a reliable indicator of future performance.